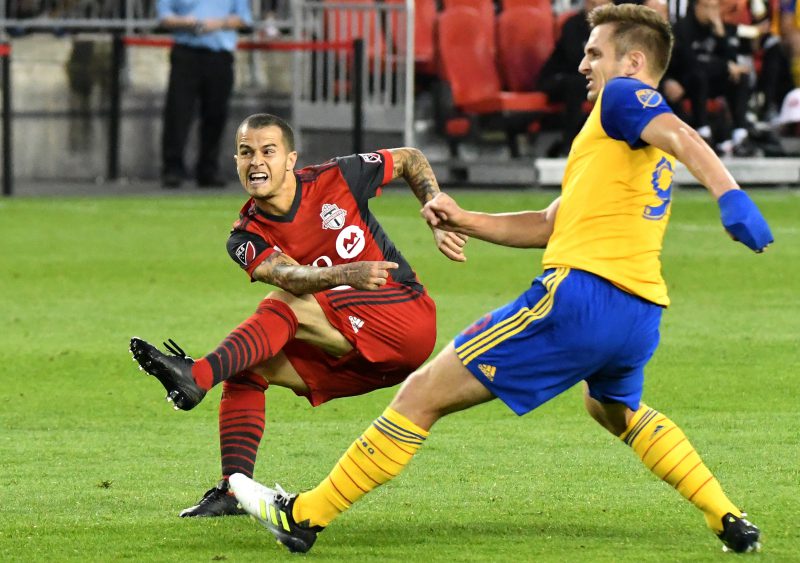 TORONTO – For weeks, Toronto FC coaches and players have praised their depth in quality and have often cited their side as the deepest in MLS history.
With Michael Bradley and Jozy Altidore with the U.S. Men's National Team, not to mention a midweek clash with New York City FC, that depth was put to the test. TFC picked up two points against New York City FC and the Colorado Rapids, but the team felt like the 1-1 draw with the Rapids was self-inflicted.
"I don't think we were as sharp as we needed to be," said assistant Robin Fraser, who took charge of the team for the suspended Greg Vanney. "I think we turned the ball over in some tough spots and lost some momentum, certainly early on, because of it. At the end of the day, we probably weren't as quick on the ball as we needed to be."
The Rapids certainly weren't at full strength, either. Goalkeeper Tim Howard is also with the USMNT, while Shkelzen Gashi, arguably Colorado's most important player, is dealing with an Achilles' injury. Even with Benoit Cheyrou and Jay Chapman, Toronto's goalscorer, checking out of the game with minor knocks, the hosts still produced 15 attempts. However, they mustered just four shots on target, equal to the visitors.
With the match still up for grabs, Toronto continued to sweep forward in search of a winner. Unlike Wednesday's game at Yankee Stadium, the Reds failed to keep up the pace until the final whistle.
"For sure we felt like we needed to get going and pick up the tempo I thought we were playing," said Fraser. "We had a few decent moments prior to that and it looked like we might have been turning things around. Again, turnovers are momentum killers. Obviously a turnover that leads to something like that is tough to come back from. It was just not us at our best."
The Rapids secured the draw late on by blocking shots, closing down Sebastian Giovinco, and effective time-wasting tactics, which paid off with their first road point this season.
It's not the first time that a visiting team has come to BMO Field and tried to frustrate TFC. Sporting Kansas City grabbed a 0-0 draw in Toronto's home opener, though Sporting was more proactive at times compared to Colorado.
Fans were clearly frustrated with the time-wasting by the Rapids, but TFC understands their rationale for doing so.
"I think that's a common theme when teams come to BMO," said Chapman. "I think it's one of the hardest places to play, especially when we're on our game. I think we're going to see a lot of teams that do that. That's something that Colorado is good at, coming in and trying to grind out results. We've just got to be a little more fluid, we have to build up our attacks and just take our chances."
"I think that they are a team that specializes in grinding and grinding out results," Fraser added. "To their credit, they came in here and got a tie and thought they did what they needed to do, and they did."
Now, TFC faces a crucial match as NYCFC comes to town on Sunday. Toronto should have most of their players available with the Gold Cup concluding this Wednesday. With the two teams separated by just three points, they will need everyone available.
"Dropping points, it's frustrating but I just know that we think we can do better and I think this will fuel our fire for things to come," said defender Nick Hagglund. "To know that when we come up against anyone, we've got to give them our best shot."
Toronto will certainly be motivated for Sunday afternoon's clash. However, these past few days have proven that even the deepest of squads is not invincible.