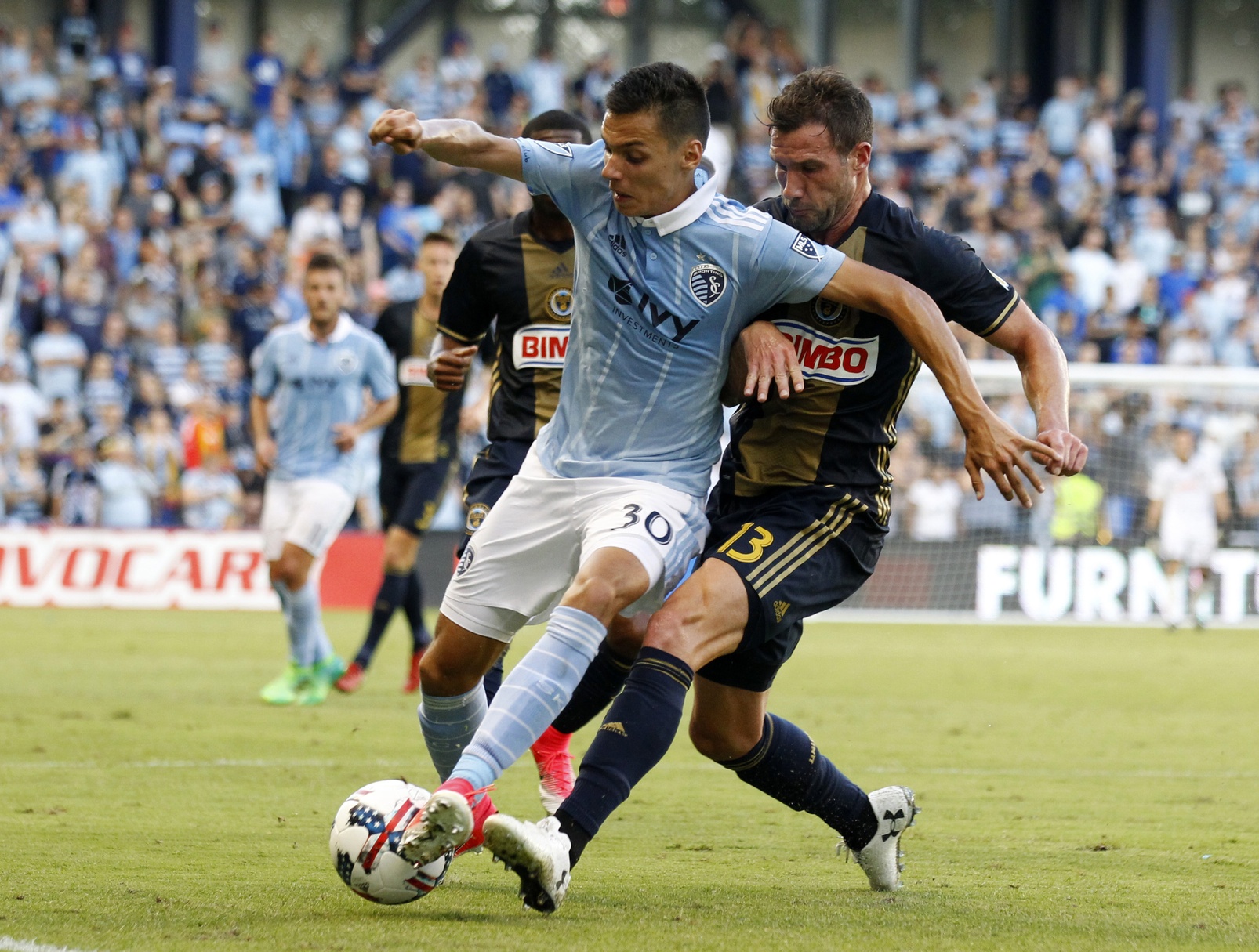 For the second match in a row, a road team battled successfully for a road point at Children's Mercy Park against Sporting KC.
This time, the Philadelphia Union came away with the result as Roland Alberg scored a penalty that answered to a Sporting KC goal delivered by another replacement striker. The Union fought off late attacking flurries, including a shocking miss from short range by young Sporting KC forward Daniel Salloi, to claim a 1-1 draw.
That replacement striker, however, looks to factor heavily into Sporting's rotation in upcoming matches. Chilean forward Diego Rubio scored a curler from 20 yards in the 49th minute. The goal sees Rubio complete a comeback from an ACL tear suffered last season.
The draw lifts Sporting KC to first in the Western Conference, one point ahead of FC Dallas, who holds two games in hand. The point for the Union places them still in eighth in the East, three points behind the New York Red Bulls.
Both teams operated shorthanded as the 2017 Gold Cup approaches. Forward Chris Pontius was called in earlier in the day to the United States team, but started for the Union on the night. Sporting KC were without key players Matt Besler, Graham Zusi and Dom Dwyer. The Union missed goalkeeper Andre Blake and midfielder Alejandro Bedoya.
Sporting KC forward Gerso Fernandes entered the match late to search for a winner for Sporting KC. Fernandes suffered an arm injury in last weekend's draw against the Portland Timbers.
The Union get a lengthy break before resuming MLS play against the Montreal Impact on July 19. Sporting KC moves on to host FC Dallas in the US Open Cup quarterfinal next Tuesday.
MAN OF THE MATCH
Few individual performances stood out on the night, but Roland Alberg stepped up clutch to deliver the road point from the penalty spot.
MOMENT OF THE MATCH
The Union snatched a creditable draw at a stadium where no away team has won. Roland Alberg's 69th minute equalizer from the penalty spot stole a point for the Union.
MATCH TO FORGET
The Union managed very little forward movement, and CJ Sapong had a particularly difficult night holding up the ball for players to run onto in the counter attack.