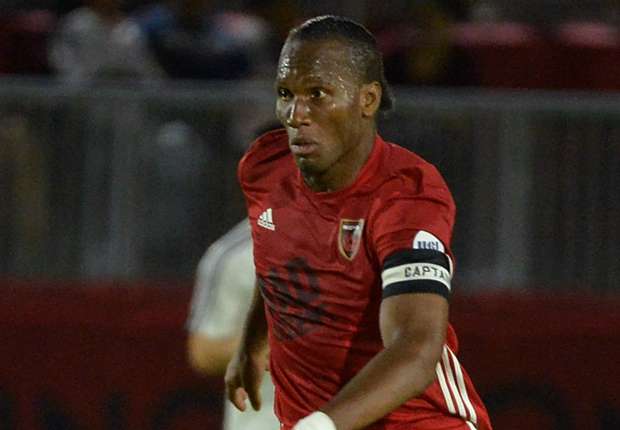 Didier Drogba and Phoenix Rising will have their biggest test to date when the Tulsa Roughnecks host them on Saturday night.
This showdown is full of table and playoff implications, and it should make for a very entertaining match. While Phoenix Rising has had trouble coming by wins in recent weeks, their ability to pick up points however they can remains a strong trait.
Let's look at the rest of the weekend's action:
Friday
New York Red Bulls II v. Toronto FC II 7 P.M.
Two struggling teams in the Eastern Conference meet Friday night in Montclair. The New York Red Bulls II are well off the pace of their 2016 record-setting season, and facing the East cellar dwellers, Toronto FC II, may be just the recipe that helps turn things around for the club. The Red Bulls are without leading scorer Brandon Allen for the rest of the season, and will need to rely on new addition Douglas Martinez to fill the void. Luca Ucello has been the man lately for TFC, and picking up points on the road
Saturday
Rochester Rhinos v. Pittsburgh Riverhounds 6:05 P.M.
The Rochester Rhinos have stumbled a bit of late after resurrecting their season from early struggles. Their opponents, the Pittsburgh Riverhounds have yet to really put it together on a consistent basis, though their draw against Bethlehem Steel FC should provide plenty of confidence. This is the first meeting of the teams this year, and the result will prove critical to whether the Rhinos hold onto seventh place in the east through the weekend.
FC Cincinnati v. Harrisburg City Islanders 7 P.M.
The Harrisburg City Islanders' statement games are coming fast and furious now. After squeezing out a 1-1 draw with Charlotte Independence, the Islanders have to take to the road to take on FC Cincinnati, one of the best home teams in the league. Expect record crowds and a tightly contested match. The Islanders' form of late has relied on stout defending and looking to score early. This match will be no exception.
Tampa Bay Rowdies v. Charleston Battery 7:30 P.M.
A few weeks ago, this would have been a matchup between the number one and number two teams in the East. The Tampa Bay Rowdies have since fallen back to earth a bit, and Charleston, though still holding onto the top spot, has started to sputter as well. The Battery are still without Romario Williams, who is performing very well at the CONCACAF Gold Cup for Jamaica. Last time out, the Battery won 2-0 at home.
Richmond Kickers v. Bethlehem Steel FC 7:45 P.M.
If not for the Portland Timbers FC 2, the Richmond Kickers would be the worst team in the league this season. A strong opponent like Bethlehem Steel will be licking their chops with three points close at hand. The Kickers have not won since April 22nd, a span of twelve games. This should be a walkover for Bethlehem Steel.
Orange County SC v. Rio Grande Valley FC 8 P.M.
Talk about a quick turnaround. After playing to a 1-1 draw Wednesday night, Orange County SC will host Rio Grande Valley Saturday night. The first matchup was punctuated by sloppy play and some defensive mistakes. Will the teams put on a better display this weekend? OCSC will still want to make use of their games in hand, but they need to pick up more wins than draws moving forward or they will find themselves in an impossible situation as their schedule suddenly compresses.
OKC Energy FC v. Colorado Springs Switchbacks FC 8:30 P.M.
OKC Energy has tumbled down the standings in recent weeks and is now winless in five straight matches. Its last win came against the Portland Timbers FC 2. Even without securing three points, OKC has put in some good performances against tough competition this year, most recently drawing 0-0 with San Antonio FC. The Switchbacks have also hit a bad run of form, winning just once in their last five matches. Teams beneath the Switchbacks on the table have not yet made them pay for their slip in form, but that will not last forever. A road win against OKC would do the Switchbacks well towards righting their ship.
Saint Louis FC v. Louisville City FC 8:30 P.M.
Saint Louis FC has a big task on the plate when Louisville City come to town Saturday. Louisville City have been a force this summer, even after dropping two matches in their last five. Louisville's success has been their team first approach; Cameron Lancaster, Brian Ownby, and George Davis IV lead the team with four goals each. Saint Louis has yet to find a consistent threat in their offense and the team has struggled. Only five players total have scored for Saint Louis this year. If they want to start picking up points, they will need more from former Rhinos striker Christian Volesky.
San Antonio FC v. Real Monarchs SLC 8:30 P.M.
Just like the Battery's game against the Rowdies, this one could have been a top seed taking on the challenger a few weeks ago. San Antonio FC and Real Monarchs have also come down to earth a bit in recent weeks, more so for the former. San Antonio kept pace with the Monarchs until a few weeks ago, and now finds themselves with a single win in their last five games. The Monarchs, even with their slip in form still sees them with a five point cushion and a game in hand over the Swope Park Rangers in second place. 
Tulsa Roughnecks v. Phoenix Rising FC 
8:30 P.M.
This game could have big implications for the winner moving forward. Phoenix Rising and the Tulsa Roughnecks are, no pun intended, neck and neck for the final playoff spot in the West. Phoenix has a game in hand advantage, but the potential for a six-point swing should be motivation enough for either side. The Roughnecks come in on a three-game unbeaten streak while Didier Drogba and the Rising carry a five-game unbeaten run of their own. This one could be explosive.
Reno 1868 FC v. Portland Timbers 2 FC 10:30 P.M.
Reno 1968 will look to gain some room in fourth place when the Portland Timbers 2 come to town. The Timbers struggles are well documented, and 1868 has done very well this year to rise up the table. Expect an easy victory for the home side, but the Timbers can give a defense fits on occasion.
Sunday
Sacramento Republic FC v. Seattle Sounders FC 2 11 P.M.
Sacramento Republic will be looking to keep pace with Reno 1868 when the Seattle Sounders 2 come to town. Seattle has gotten results, but still have defensive lapses that can make them frustrating to watch. They are also coming off of three straight losses, giving up eight goals in the process. Their stock may be falling, and the Sounders could wind up below the red line before they even kick off Sunday.