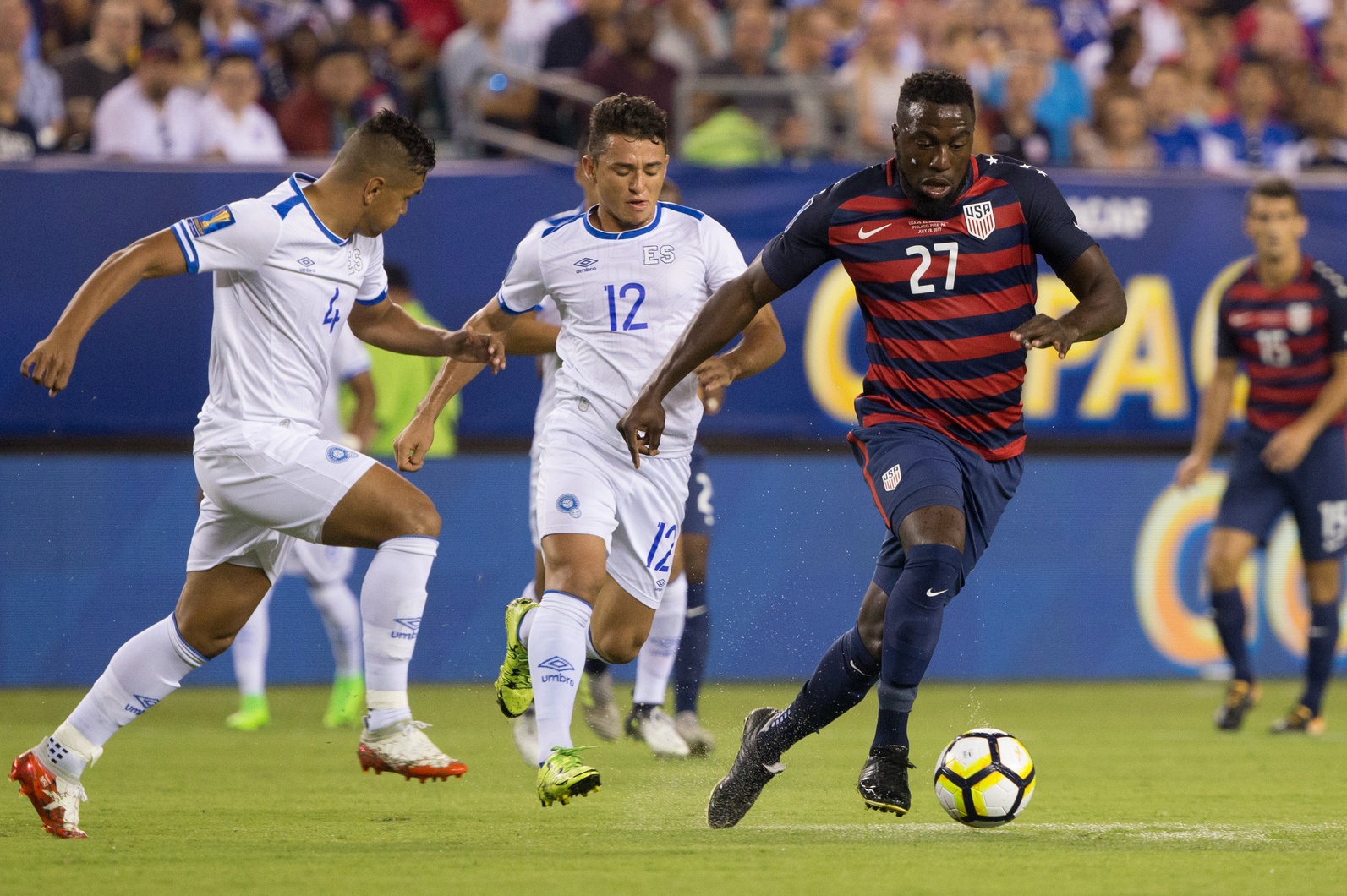 PHILADELPHIA – Just when you think the CONCACAF Gold Cup couldn't get any weirder, North America's premier tournament unleashes an experience like Wednesday night's.
Wednesday's clash between the U.S. Men's National Team and El Salvador had some of everything. Pretty goals? Sure. Defensive lapses? You bet. Nipple twists and biting? But of course! It was a stunning match in a tournament famous for absolute craziness. In the Gold Cup, hijinks are commonplace, but you never can fully predict just how far they'll come.
In between all of the body pinching and gnawing, there was some soccer played and, while it wasn't pretty, it did offer a glimpse into this current USMNT group. Playing with a majority of the team's stars for the first time, the USMNT offered good and bad, composed and calamitous.
With that in mind, here's a look at the biggest takeaways from the USMNT's 2-0 win.
SLOW START NEARLY DOOMS USMNT
At the international level, there's little room for off moments. On Wednesday, the USMNT had an off half, and they weren't made to pay for it.
They're fortunate it was only El Salvador and they're fortunate players like Omar Gonzalez and Eric Lichaj stepped up with much-needed goals. They were fortunate not to be down 1-0 or 2-0 early. They were fortunate to survive.
Those fortunes and that luck won't continue. Costa Rica won't let you sleepwalk your way through 30 minutes. Mexico won't allow hiccups like Lichaj's errant backpass or Justin Morrow's whiff of a header. The margin for error is shrinking rapidly as the USMNT heads to the semifinal round.
The good news? This group is a veteran group. Players like Michael Bradley, Tim Howard and Clint Dempsey won't let mistakes and missteps repeat, and they'd better not if the USMNT wants to win a Gold Cup.
LICHAJ REDEEMS HIMSELF
"Just when I think you couldn't possibly be any dumber, you go and do something like this…and totally redeem yourself!"
Eric Lichaj's night could have turned into it's own Dumb and Dumber moment. His backpass to Tim Howard? Incredibly dumb, and it almost cost his team a goal. For the game's first 30 or so minutes. Lichaj made dumb mistake after dumb mistake, nearly costing his team.
He never quite evolved into dumber territory, though. Rather, he stepped up out of the mess and redeemed himself with a vital insurance goal. Lichaj's finish couldn't have come at a better time, for the player or the team, as Lichaj and the USMNT entered the halftime break with an exhale.
Now, did Lichaj's performance damage his standing? Probably. There were too many defensive issues to be masked by one goal. There were too many mental blunders to overcome with one driven shot.
However, Lichaj's finish restored some measure of hope that he can be an answer at fullback, one the USMNT still very much needs one year from a World Cup.
A TALE OF TWO CENTERBACKS
One of  the USMNT's centerbacks stepped up with a Man of the Match-worthy performance. The other? Not so much.
Omar Gonzalez was almost certainly the USMNT's best player on the field on Wednesday. His headed goal was certainly his best moment, but Gonzalez was once again the steadiest member of the USMNT backline. Throughout the tournament, Gonzalez has shown poise, leadership and calm while anchoring the defense, moving ever closer to all but locking up a World Cup spot.
His partner, Matt Hedges, wasn't as composed. After a rough outing against Martinique, Hedges was also less than convincing against El Salvador. He lost his man several times. His passing was far from crisp. He got better as he went along, certainly, but he looked like he was a step or two behind many of the El Salvador attackers for large stretches.
With so many centerbacks rising up the chart, Hedges can't afford to not step up and standout. He's in a real battle for that fourth centerback spot and with players like Matt Besler, Matt Miazga, Walker Zimmerman and Tim Ream all in the mix, there's a real race to claim a coveted World Cup spot.
SET PIECES SET THE TONE
The USMNT's big breakthrough came via a set piece, but several of the team's biggest missteps also came from dead-ball situations.
On one end, Michael Bradley's pinpoint delivery to Omar Gonzalez should serve as the game's big highlight. The free kick was immaculate. It was perfectly-hit and perfectly-placed, leaving Gonzalez with little to do but put it on frame. Credit to Bradley because wow. That's all there is to say.
Bradley's set pieces also, somehow, proved to be the most difficult for the USMNT to defend. El Salvador regularly broke free on USMNT corner kicks, and Eric Lichaj and Justin Morrow struggled to defend in those situations. It's a pretty basic concept, one practiced by each and every team out there, but, on the day, the two fullbacks didn't hold up nor contain the El Salvador defense.
Set pieces are, and always have been, a vital part of the USMNT game. Wednesday showed plenty of the good and the bad, but they'll need more of the former against the region's trickier teams.
CONCACAF!
Eventually, you have to see it all, right? Only so many things can happen between those white lines. The game's been around so long, making it highly unlikely anything ever happens for the first time.
It's not often you hear the word "nipple" in a press conference. It's not often you see not one, but two, alleged bites. But it is CONCACAF, after all.
In a region defined by the absurd and unconventional, Wednesday's match was even wacky by CONCACAF standards. Jozy Altidore and Omar Gonzalez were both bitten. Altidore, on the very same sequence, had his nipple pinched. The sentences you just read are somehow describing events in a soccer game.
CONCACAF is still CONCACAF. Will there be punishments? One would hope. Somehow, there's plenty of precedent on the whole biting thing, and the powers will certainly be taking a look in the coming days.
These games never cease to amaze as they seemingly get more ridiculous each and every year.