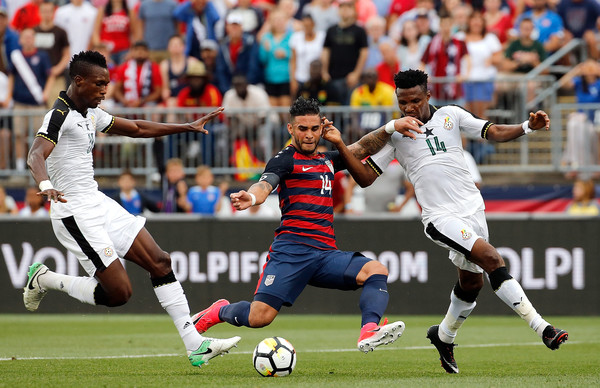 Saturday's friendly against Ghana gave us our first look at a very different U.S. Men's National Team. It's a new roster with many new faces and there was plenty to wonder about and assume before they took the field.
Their first match came against a familiar foe and, in many ways, it was a very positive run out for Bruce Arena's team.
The U.S. took the fight to Ghana and emerged with a 2-1 victory behind goals from Kellyn Acosta and Dom Dwyer. It was generally a cohesive performance from a team that had every reason to not look cohesive, given the lack of experience and time together.
It was a game that provided plenty to look at, especially because there were so many new factors on display. With that in mind, here's a  look at a few of Saturday's biggest takeaways:
ACOSTA, MCCARTY CONNECT IN MIDFIELD
Kellyn Acosta has rapidly become a legitimate first-choice midfielder for the USMNT, and it appears a partner for him has emerged ahead of the Gold Cup.
Acosta and Dax McCarty appeared to be a match made in heaven from the start of Saturday's match. The two combined masterfully in the heart of the midfield, showing that they're far and away the first-choice pairing for the Gold Cup.
We all know how good Acosta is now and can be. His attacking game has grown incredibly in such a short amount of time and his free kick on Saturday was another demonstration of how good he is on set pieces. Acosta is very much a contender to start Game 1 in Russia next year and, if his last few performances are anything to go by, it will be hard to unseat him.
McCarty, meanwhile, offers an ideal complement. The Chicago Fire midfielder sat back and did dirty work, allowing Acosta to roam forward at will. The communication was there from the start while, when he did get on the ball, McCarty was clinical, only missing on three passes.
Cristian Roldan will get his chance in the group stage. The opposition is too weak and the games are too fast for Arena to stick to just one team, but, for the opener against Panama at least, Acosta and McCarty should lead the way.
TECHNICAL ABILITY SHINES THROUGH
The USMNT will need to rely on technique for the opening matches of the Gold Cup. Teams like Martinique and Nicaragua will offer little on the attacking end and will be content to bunker defensively. It certainly won't be pretty.
To break those teams down, the USMNT will need technical ability. Speed won't be enough. Fortunately, the current group has plenty of players that should be able to provide the type of game necessary in those matches.
Kelyn Rowe, in his first USMNT appearance, looked dangerous with one early cross standing out as one of the more dangerous moments. Joe Corona lurked in behind Dom Dwyer throughout, proving the creative hub of the midfield. Paul Arriola wasn't at his best but, on his day, the Tijuana midfielder is among the more dynamic attacking wingers in the pool.
That trio in Arena's 4-2-3-1 had never played together before. They hadn't even practiced together before. But, on Saturday, they generally combined well to feed Dwyer time and time again.
Juan Agudelo is in the picture while Kenny Saeif remains a bit of an unknown quantity. There will always be room for athletic players like Jordan Morris and Gyasi Zardes, but Saturday's starters showed the technical ability to shine at the Gold Cup.
DWYER DOES HIS THING
Dom Dwyer is who he is at this point. He's 26 years old and has been around for several years. We all know his game and what he brings to the table.
That game, that style, is one that is needed right now, and Saturday's match proved he has a role to play for this team right now.
Dwyer will never be as prolific as Clint Dempsey or as strong as Jozy Altidore. He's not as technical as Bobby Wood or as fast as Jordan Morris. But his engine is something unmatched in the USMNT pool, and it showed on Saturday.
The Sporting KC forward routinely drops back to help out the midfielders behind him. He consistently pressures the backline and make dangerous runs. He also has a knack for popping up in correct positions, as evidenced by his goal just 19 minutes in.
I think it's safe to say Dwyer has a lot of work to do if he wants to head to Russia next year. He has a lot of ground to make up. But, for the here and now, Dwyer is a valuable piece that should do well at the Gold Cup. A goal against Ghana is a strong statement, and it's up to him to now add to it.
DEFENSE PASSES FIRST TEST
There are plenty of question marks throughout this U.S. defense. It's the nature of the current situation. An inexperienced roster breeds questions of how they'll perform individually and as a unit.
Defense is the unit where chemistry and experience is most important. On Saturday, that group passed its first test.
Matt Besler and Graham Zusi are experienced, although the latter is continuing to develop as a right back. Both looked very good on Saturday. Besler, who probably remains the fourth centerback, looked strong as the leader in back while Zusi handled Ghana's pacey attack well in what was his best USMNT performance at the position.
Matt Hedges, who is probably battling Besler for that fourth spot, looked solid in his first USMNT start and made several timely clearances. Jorge Villafana was the weak link as Ghana's pace challenged him. However, he's been good enough through his first handful of USMNT starts to dismiss Saturday's performance a bit.
Bruce Arena says Matt Miazga should be expected to get minutes during the Gold Cup while Eric Lichaj will also definitely get into the action. Omar Gonzalez might be saved for the bigger games, but his inclusion on this initial roster means Arena likely has some plan for him for the first three matches.
Overall, some of the bigger question marks in defense passed what might be the toughest test of the initial four-game stretch. It was a positive performance, one that offered plenty to build off of.
A BIG RESULT FROM A BIG FRIENDLY
It's a little bit contradictory, but Saturday's friendly will likely be the biggest test the USMNT faces over the next few weeks. At least until the knockout stage, this Ghana team might just be the toughest opponent the USMNT faces. Excluding Panama, the group stage pairing doesn't present a murderer's row for the USMNT.
That adds importance to Saturday's result. Was it a must-win? Absolutely not. But, for players looking to show they can play on the international stage, a strong effort against Ghana means much, much more than a flawless one against Martinique.
Knowing that, you have to look at someone like Dwyer, whose goal against Ghana is obviously a meaningful one. It was important for Corona to prove he can unlock a tough Ghana defense. It was important for Brad Guzan to organize the defense and provide a penalty kick save. It was important for these players to show well against a team that will actually fight back.
That doesn't mean the next few games aren't important. The Panama match will present an obvious challenge. Martinique and Nicaragua will provide their own challenges, even if they're much different than the ones posed by Ghana.
Still, Saturday's friendly was a bit more because of the current scenario, and Bruce Arena will be glad to see that his guys generally stepped up in what was a bigger match than meets the eye.