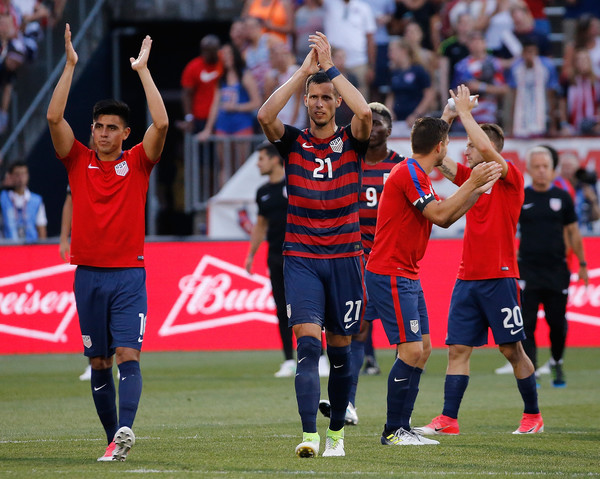 For the past year or so, we've known all about the U.S. Men's National Team's first choice centerback pairing. When healthy, John Brooks and Geoff Cameron remain the starting duo and it would be a surprise to see that change in the months leading up to the 2018 World Cup.
That said, two centerbacks does not a defense make. In tournament play, and especially at a World Cup, it's all hands on deck. Knowing that, several centerbacks continue to battle for those remaining defensive spots, including a few on the Gold Cup roster.
Omar Gonzalez's start against Mexico should all but offer clarity that he currently stands third on the USMNT depth chart. He's a veteran with World Cup experience and he's in the form of his life with Pachuca. Barring something crazy, Gonzalez will most likely be heading to Russia.
But, nailing down those three, there's still room for at least one more defender. Matt Hedges, Matt Besler and Matt Miazga share more than a first name, that means, they share a responsibility to step up in the days and weeks to come.
The first two Matts earned their first start as a duo in the friendly against Ghana and, by and large, they looked okay. The two were composed and confident in the back, even if Jorge Villafana's rough outing cost them a clean sheet. Besler, a veteran and proven partner with Gonzalez, may remain ahead due to his ability to play left back in a pinch, but Hedges is certainly rising after putting forth a very good performance in what was somehow his first USMNT start.
And then there's Miazga, who obviously has the biggest upside of the centerback group. He did as well as one could have hoped during his time at Vitesse and it's interesting to see just how far he's come since his European journey began. Bruce Arena said after the win over Ghana that he expects to see Miazga at least once this Gold Cup and that he's excited to see what kind of player he is after a long year of European seasoning.
Could a strong Gold Cup boost Miazga's profile even more? Absolutely. An impressive tournament paired with a solid European campaign would be a major boost to his resume. If Miazga earns legitimate time in a legitimate league and shines? It will be hard to keep him off. But, even so, that's asking a lot of a player when we're not even fully sure where he'll be going for preseason in a matter of weeks
Outside of this Gold Cup roster, there are a few other proven commodities to keep an eye on. Like Besler, Tim Ream provides a steady hand and the ability to play fullback if needed. He's done very well for Fulham and certainly remains in the picture.
Younger MLS standouts like Steve Birnbaum, Tim Parker and Walker Zimmerman will have a much tougher road. It's going to be very hard to break into this USMNT group in the next year or so, especially if they simply continue to play on as they have been. In that respect, someone like Miazga has a much higher chance within the next year due to the risk and reward that could come with a big European move.
The dark horse? Cameron Carter-Vickers. Tottenham manager Mauricio Pochettino has continuously talked up the 19-year-old defender and has said he expects to reward him with more first-team chances. If Carter-Vickers can become a semi-consistent member of the Spurs lineup, there's no doubt he could play his way onto the plane next summer. We've seen Julian Green shoot up in shorter time with less playing time, making Carter-Vickers another player to watch.
It seems the three on the Gold Cup roster have the inside track. Besler has the veteran experience, Hedges the MLS form and Miazga the upside. It's an interesting battle to watch, one that begins with the Gold Cup and should run all the way through next summer.
Which centerbacks do you want to see on the USMNT roster going forward? Who do you think will make the World Cup squad?
Share your thoughts below.