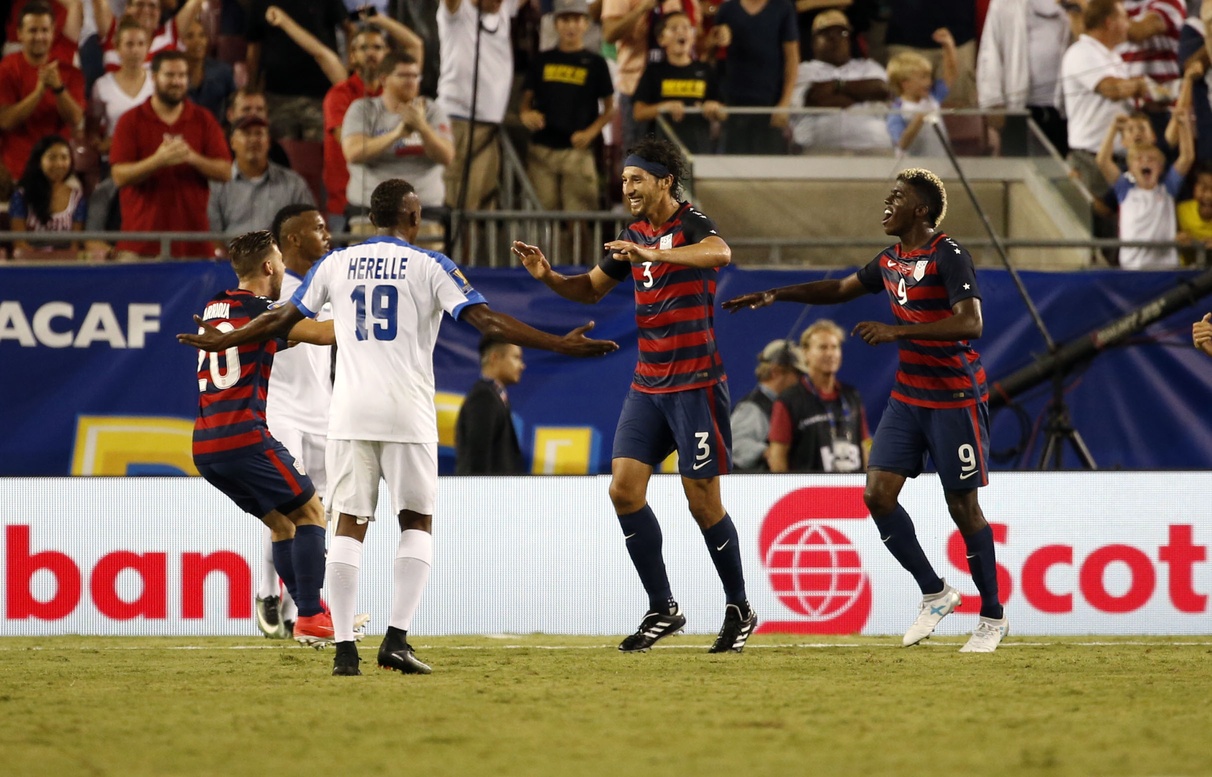 If the U.S. Men's National Team isn't the Gold Cup favorite, they're certainly one of them. The U.S. is always among CONCACAF's most talented teams and, in this weakened Gold Cup, the current group assembled by Bruce Arena is probably the strongest among the tournament's eight remaining teams.
Arena, though, doesn't want to hear it. The U.S. is a long way from Gold Cup glory, and that push truly begins on Wednesday against El Salvador.
After successfully navigating the group stage with seven points, the U.S. faces off with El Salvador in Wednesday's quarterfinal. El Salvador has looked good thus far, sure, but, at least on paper, the USMNT should probably win this game. The recent additions of veterans Michael Bradley, Jozy Altidore, Clint Dempsey and Tim Howard should only help the cause for a USMNT group that is now three steps away from a regional trophy.
"They're games that you want to win, must win," Altidore said. "Obviously, if you want to go win the trophy. We recognize we're one of the bigger teams in the region and there's no reason we shouldn't win the game. El Salvador is a good team, but we want to prove ourselves and show well.
"They're not easy games, but it doesn't mean we shouldn't be winning," he added. "If you want to take the next step and compete with the best of the best, we have to get to the point where these are, obviously not automatic, but where we're able to go out and control large parts of the game and dominate the game. Those are the next steps for us as a country and a soccer nation. I think we're on the right track. We have to put the right pressure on ourselves to make sure we keep improving at that."
Altidore is right. It is a game where the USMNT should control large stretches. Adding the familiar veterans brings that much more talent into the fold while addressing some key needs from the group stage. Bradley joins a young star in Kellyn Acosta in the midfield while Darlington Nagbe adds another playmaker on the wing. Dempsey and Altidore remain one of the region's best forward duos, and the former will be plenty motivated as he pushes for the USMNT goalscoring record.
On the other side, Los Cuscatlecos, to their credit, have handled their own business so far. After falling to Mexico, El Salvador took down a Curacao team that several saw as a dark horse candidate to emerge from the group stage. In the final match of their group, El Salvador earned a tie with Jamaica, a team that has given the USMNT and the region's other elites fits in recent years.
San Jose Earthquakes midfielder Darwin Cerén leads a contingent of five U.S.-based players for El Salvador, who has never beaten the USMNT in Gold Cup play. However, according to Altidore, this El Salvador group is one of the best the nation has ever produced, making the U.S. a bit more wary than in year's past.
"What we've seen so far form El Salvador is that they're a very good team," said defender Omar Gonzalez. "The coaches are very impressed with the team they have and they said that this isn't going to be a light game. We saw a few minutes of them yesterday and started getting into them yesterday and we all came away impressed and we've started to prepare for a good match tomorrow night.
"Everyone here is confident that if we step on the field, stay organized, play our game and limit chances in front of our goal, we can get a favorable result. We have to focus on that. "
In several ways, that's the focus through the rest of the tournament. Whether the USMNT is up against El Salvador, Costa Rica, Panama or even Mexico, they should have the talent to compete with each and every team left in Gold Cup play.
They don't want to be called the favorites, though, at least not yet. Arena says there are "eight favorites" as the team heads into the quarterfinal round. From this point on, it's one game at a time, and the first game on the agenda will see the U.S. look to defeat a team they have historically dominated.
"Obviously I think we're driven, we're motivated," said Tim Howard. "Certainly we're playing this thing to win. In that regard, obviously we have one singular focus. Obviously it's game by game. Getting to the final doesn't matter if we don't take care of business on Wednesday.
"I wouldn't say [we're favorites]," he added. "There are some good teams. Obviously we always have Mexico fighting with us. There are other good teams like Costa Rica and Panama. Panama played us tough in the first round. I don't know about favorites, obviously we feel good about ourselves and the direction which we're going but none of what I say today matters. We have to go out there and prove it on Wednesday night, and that's the first hurdle for us."