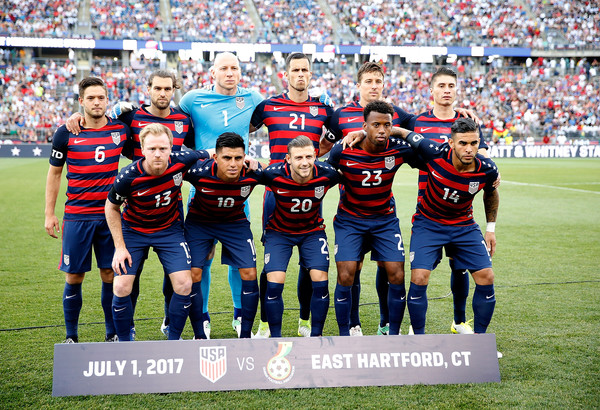 The Gold Cup gets underway for the United States on Saturday, giving several new U.S. Men's National Team players a chance to prove themselves in meaningful games.
A win over Ghana last Saturday gave the USMNT plenty to build off of as the real games begin this Saturday against Panama. Despite the absences of several key veterans, Panama remains the toughest group stage test the USMNT will face in the coming days.
That said, USMNT boss Bruce Arena has plenty of options. His team has had a week to prepare for the Panama match, and pretty much everyone besides the recently-added Chris Pontius should be available. That's a positive in many ways and it also leaves Arena with some decisions to make in terms of starters.
With that in mind, here's a look at one possible USMNT lineup: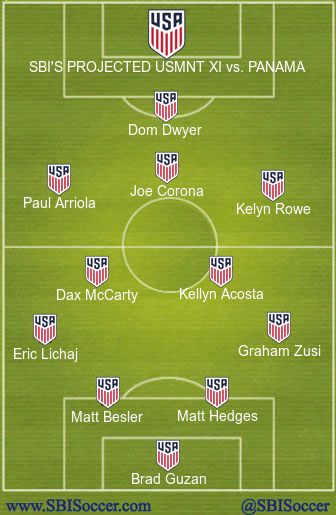 Some thoughts:
For the USMNT, Saturday's game is the big one, at least when it comes to the group stage. Panama is far and away the toughest team in the USMNT group. Almost any combination of players should be able to beat Martinique and Nicaragua barring something catastrophic, but Panama presents a legitimate test for this young group of USMNT call-ups. There are some missing veterans, sure, but Panama is still one of the region's trickier teams, all things considered.
If I know that and you know that, Bruce Arena most certainly knows it. He knows that it's important to get off to a good start, even if there is plenty of wiggle room. Given that information, it makes sense to deploy as close to a first-choice lineup as possible.
Against Ghana, the front four proved a positive surprise. Individually, you knew the group had talent, but the way they gelled almost instantly was impressive. You could tell that Joe Corona and Dom Dwyer were immediately on the same wavelength, and the two should continue together on Saturday. Kelyn Rowe had a positive performance on the wing and provide danger moments while Paul Arriola has spent the past several months proving himself, even if Saturday wasn't his most standout performance.
The same can be said of the midfield. Dax McCarty and Kellyn Acosta linked up instantly. McCarty was content to play the role of deep-lying playmaker, hardly missing a pass all day, while Acosta drove forward and showed off his newfound attacking game. Would it be nice to get someone like Cristian Roldan into the mix? Sure, especially considering he didn't make his debut on Saturday, but a substitute appearance or a start in the latter two games would make more sense.
In the defense, there are options. Matt Hedges and Matt Besler combined fairly well against Ghana, and it could be tempting to use them again. You could insert Omar Gonzalez in and reunite the Besler-Gonzalez partnership that got the USMNT through the last World Cup qualifying cycle. You could even toss in Matt Miazga, the player with the highest upside, in an effort to see just how much he's improved since he's moved to Chelsea.
Left back, meanwhile, is also certainly up for debate. Jorge Villafana struggled in a big way against Ghana, failing to really cope with the physicality of the match. He's still probably the starter at this point in time but, given his struggles, it might make sense to give Eric Lichaj a run out.
In the end, Arena will have plenty of time to reshape and reshuffle his lineup over the next few weeks. On Saturday, at least, the USMNT can give the Ghana lineup another match while offering another chance to impress for several key players. One solid performance could be an aberration but if players like Dwyer, Rowe and Hedges can play well again, it may be a trend worth watching heading down the stretch.