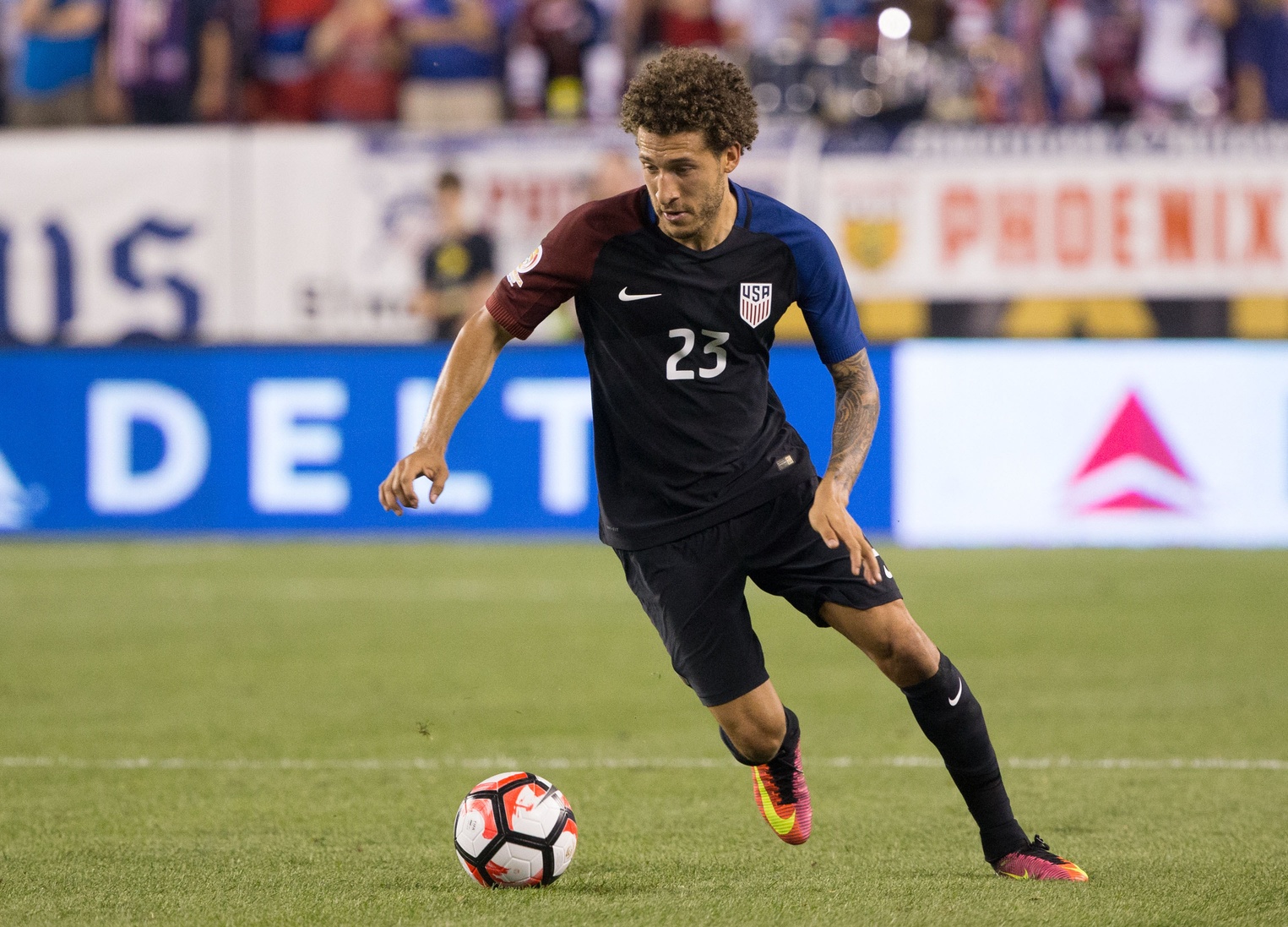 Heading into the upcoming slate of World Cup qualifiers, Fabian Johnson was one of the big question marks. The U.S. Men's National Team winger was battling an injury, one which he returned from over the weekend with a shortened appearance.
Johnson remains a major play for the USMNT, and his absence would have raised some issues. However, the Borussia Monchengladbach winger never had a doubt.
"Yeah," Johnson said when asked if he's ready to step in and go 90 minutes. "I think so."
Johnson didn't go 90 over the past weekend, but his return did show a sign that he was ready to go. After missing the start of the Bundesliga campaign, Johnson had a 10 minute cameo to close out a 2-2 draw with Augsburg over the weekend.
The return eased some doubts for a player that has certainly had his injury issues. Hamstring injuries have been frequent for the winger, who has made just two appearances since Bruce Arena took over back in January. However, Johnson says a difficult preseason helped him get into good shape physically heading into the new season. He'd hoped the injury issues would be behind him as he marched on towards a World Cup.
Then, a freak training accident, one which Johnson says he "can't explain". He fell, landing on his shoulder and back, just days before the Bundesliga season.
"The only reason I didn't play the whole 90 (last weekend) with my club team was because I just trained one time," Johnson said. "Obviously, it's not enough to get in the starting XI. I'm in good shape now. I talked to Bruce and he knows it, he sees it in training, and we'll see if I start on Friday."
If Johnson does start, he expects to feature at left midfield, even if his versatility makes him a candidate to play a number of positions. Fullback is always an option, especially with the current injuries, but the USMNT has answers that allow Johnson to push forward.
The loss of DeAndre Yedlin is a difficult one, but Arena could turn to either Geoff Cameron, Eric Lichaj or Graham Zusi to play right back. Left back, meanwhile, has been all but claimed by Jorge Villafana, who is back in the mix at Santos Laguna, furthering his case.
"We talked about it before those camps that he's going to play me left mid," Johnson said, "so I'm looking forward to playing a position that I'm usually playing, which I'm comfortable with. I think that's where I'm going to play."
At that position, Johnson could be a valuable asset. His attacking ability and speed are just another weapon for an in-form USMNT attack. Christian Pulisic is shining at Borussia Dortmund while the forward pool of Clint Dempsey, Jozy Altidore, Bobby Wood, Jordan Morris and Chris Wondolowski enter with plenty of goals in recent weeks. Add in playmakers like Darlington Nagbe and Paul Arriola and there are no issues when it comes to lack of options in the midfield and attack.
Knowing that, the USMNT is confident, especially as they ride an unbeaten run, one which Johnson hopes to continue now that he's back with the group.
"The chemistry is good and the vibe," Johnson said. "Our last few games, we had good games, positive games. We're trying to keep this run."
"I'm good. I had some issues with my back lately, but I feel good again."