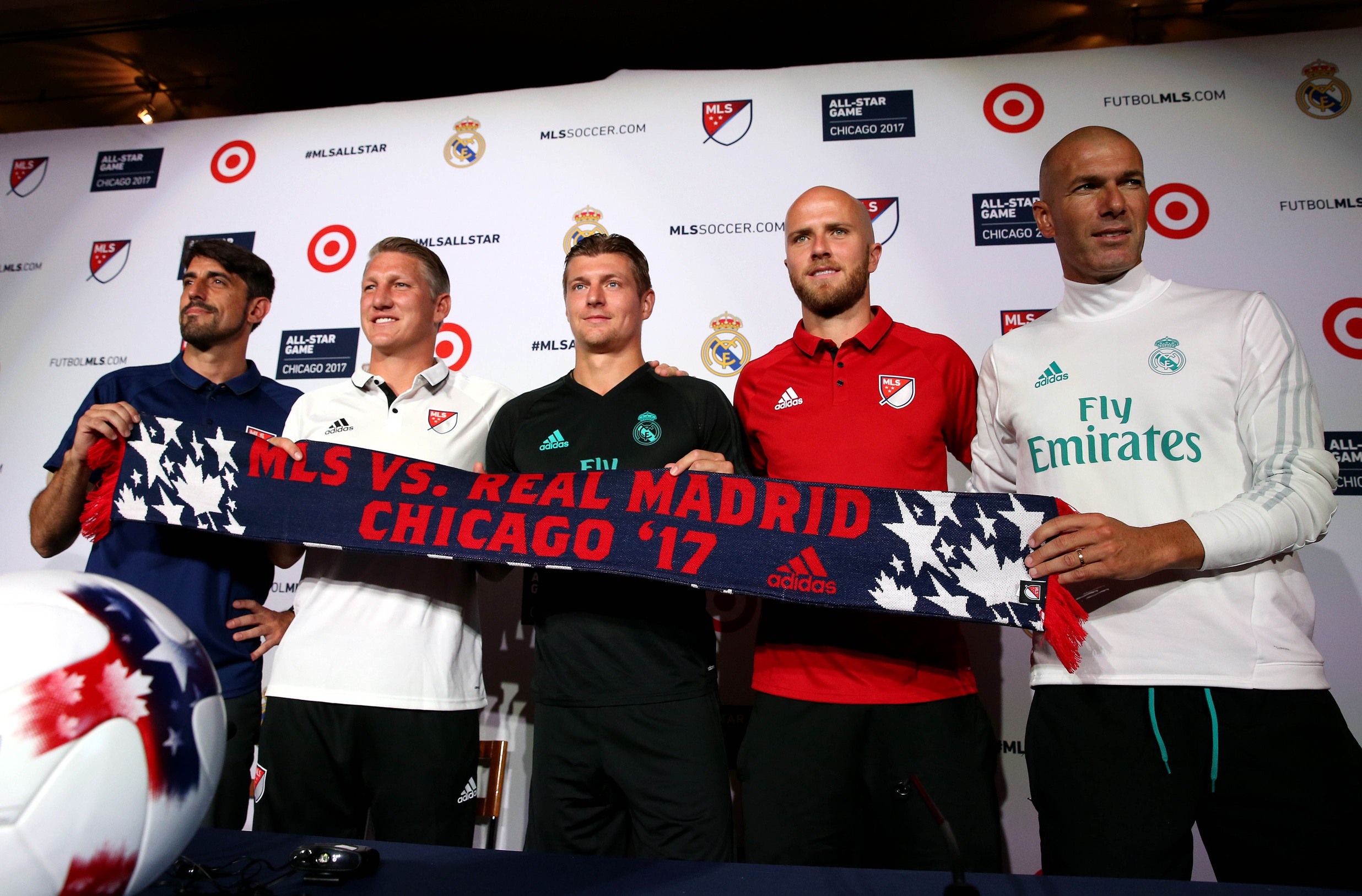 Wednesday's MLS All-Star Game isn't simply a friendly, but it also isn't a pure demonstration of how far the league has come. Rather, it's somewhere in between. An MLS win over Real Madrid won't send the Spanish club into a tailspin and an MLS defeat doesn't serve as a sign of the league's inferiority.
The MLS All-Stars are a team completely unfamiliar to one another, one with just a few training sessions to integrate a whole team that has never played with one another. On the other side stands a European giant in full preseason mode, a team simply looking for fitness and chemistry. It's a battle of two teams in two vastly different places with two very different goals. You can't read too much into it, but you can enjoy the spectacle of it all.
But don't tell someone like Bastian Schweinsteiger that the All-Star Game is meaningless and don't tell him that the results don't matter. His own All-Star game experience as a member of Bayern Munich convinced him that MLS was a league on the rise, and now he's looking to make his own contribution alongside several of the league's best in Wednesday's clash with Real Madrid.
"It was there that I fell in love with MLS," Schweinsteiger said, refelcting on Bayern Munich's 2014 All-Star Game loss in Portland that became infamous for Pep Guardiola's conflict with Caleb Porter and a late-game Schweinsteiger injury. "I was there with my brother and we were sitting on the bench together because we were tired on the flight from Munich to Portland. I could feel the atmosphere, the energy, the positive atmosphere from the supporters and you can see in the eyes of the people how much it means for them. I enjoyed it a lot and said, 'Why not have an experience in MLS?' I hope players from Real Madrid say the same and can come over and play in this league.
"I'm just looking forward to this kind of game at the highest level," he added. "I'm happy to play and perform with the best players in MLS. I always enjoyed, in my career, to play with the best players in my team. I'm really looking forward to facing Real Madrid again."
Schweinsteiger admits there are challenges, sure. He admittedly is still learning his new teammates names. He's just a few months into his MLS tenure, and several players that he now calls teammate are still unfamiliar to him. The training sessions have helped, sure, but there's still chemistry issues to overcome.
The good news? There's already a basic understanding, Schweinsteiger says. The players around him are quality, and quality players know how to play the game and adjust to certain scenarios.
It's a mixed roster, to say the least, one with varying levels of experience and styles. European veterans like Schweinsteiger, Kaka and David Villa pair with U.S. Men's National Team stars like Michael Bradley, Tim Howard and Jozy Altidore, while young stars like Miguel Almiron and Kellyn Acosta get their chance to showcase against the world's best team.
It's a whirlwind of an experience, Bradley says. In just one week, he'll play in a Gold Cup final, an MLS match with Toronto FC and an All-Star Game. Three games with three different teams in one week, but, according to Bradley the experience makes it all worth it.
"It's an exciting few days in every way," Bradley said while seated next to a first-time teammate in Schweinsteiger and a first-time coach in Veljko Paunovic. "The three of us were just talking a few minutes ago, this idea, for us as players, to come and spend days with some of the other best players around the league, to talk football, to get to know guys you otherwise wouldn't be able to, it's enjoyable.
"We enjoy this. We want to make it a special night for anybody who comes to the stadium and watches, but as Pauno said, we want to be sharp. We want to represent ourselves and the league in a good way. Everybody will remember and understand that it's a friendly game, but when you step on the field, you play to win, you play to be sharp, and we're all looking forward to it."
They'll face a tough test, obviously. Real Madrid is fresh off back-to-back Champions League titles and has won three of the last four European crowns. It's an era of dominance for the Spanish club, and players like Toni Kroos, Sergio Ramos and Marcelo remain among the world's best at their positions.
Is there some letdown because of the absence of Cristiano Ronaldo? Sure. Schweinsteiger says Ronaldo remains one of the best, obviously, and he remembers the Portuguese star scoring plenty of goals against Bayern Munich during the German's time in the Bundesliga. However, Real Madrid is too talented from top to bottom, making Wednesday's match a challenge for the MLS side, Ronaldo or no Ronaldo.
Still, make no mistake, while the result may not matter in the grand scheme of things, the MLS All-Stars want to win, and they're looking forward to the chance to go against an elite team in what they see as a special match.
"We're going to prepare our game," Schweinsteiger said. "I just also hope we have a nice evening. Of course, you play against Real Madrid and you want to win and you want to beat them, but I just hope we represent MLS in a good way. A lot of people will probably watch this game, so I hope we represent MLS in a good way and that it's a good event.
"For me, it's always the case, when you have friendly matches, you want to win the game 100 percent," Schweinsteiger added. "I don't like to lose. You can ask Michael or Veljko, they are on the same side. When you play against Real Madrid, for me, for Michael, for anyone on our team, you want to beat the best team in Europe. If we beat them, maybe we can go on to win the World Cup!"