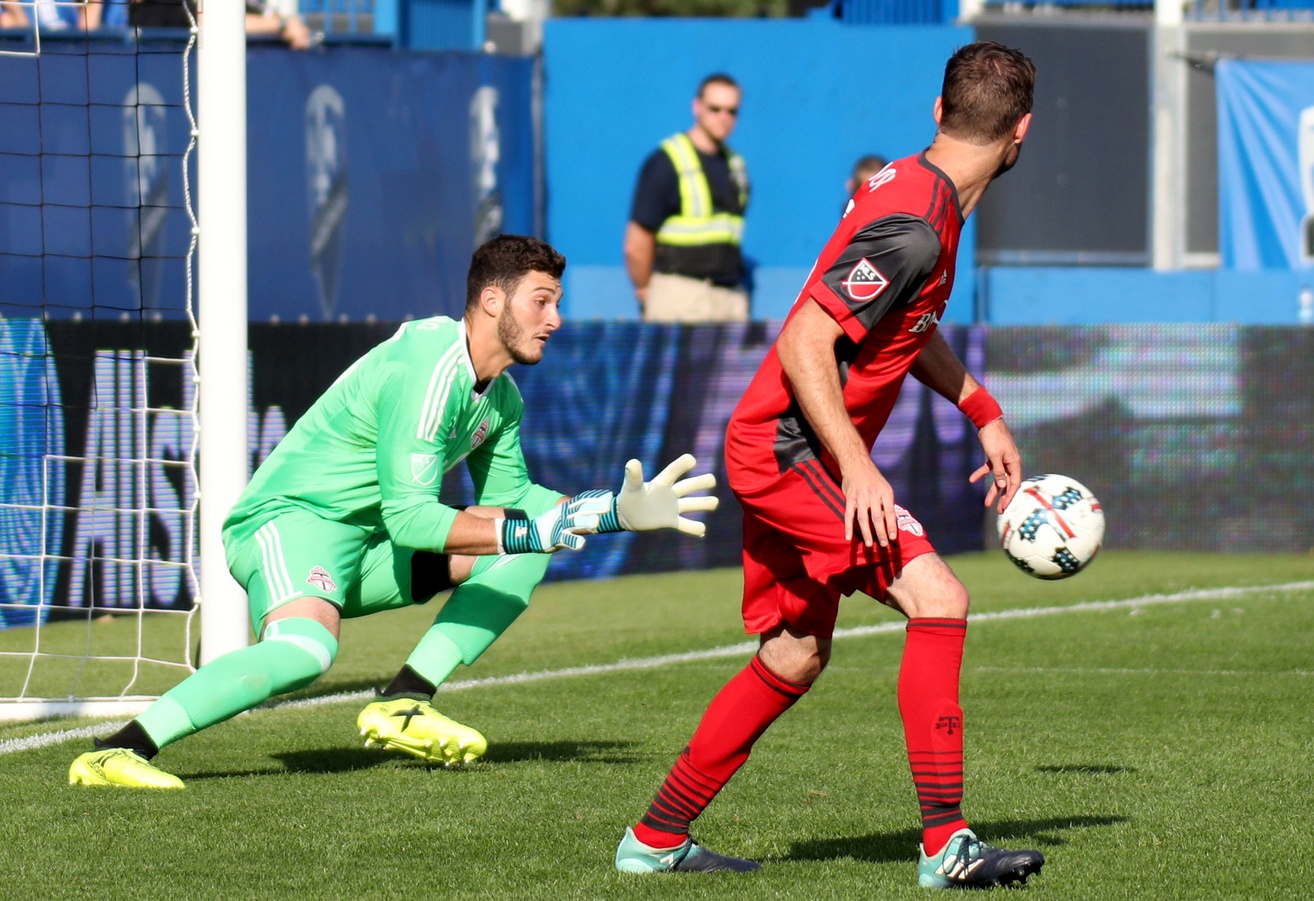 The Montreal-Toronto rivalry is a blue and red affair, but one of the stars in Sunday's Toronto FC win was dressed in green.
Alex Bono, TFC's 23-year-old goalkeeper, was impressive in the Reds' visit to Stade Saputo. Within the first 15 minutes, he denied both Michael Salazar and Blerim Dzemaili to keep his team from conceding to the then-red hot Montreal Impact early.
"The team has been playing really well lately so every chance I have to be able to chip in, do my job and do my part for the team to be successful, I'm more than happy to be able to do it," Bono told SBI Soccer. "Today it came with a couple of saves and a couple of different things."
Having given a free kick at the very edge of the 18-yard box, Bono had to show his best self to make a save against Dzemaili. The Swiss star was robbed as Bono dove to bring the ball to his side, avoiding an early goal.
"He did exactly what he was supposed to do, trying to hit the back post with it and it was just going through traffic," said Bono of Dzemaili. "He's got a ton of talent. I know he's got a good foot on him, he's got a rocket for a leg, so he's definitely up there for one of the toughest shots that we've seen."
Toronto FC head coach Greg Vanney likes what his young goalkeeper is doing. He enjoyed seeing him make the saves that he could make as well as the ones he needed to put the effort to make. As with other players on his squad, Vanney is impressed to see him perform at this level.
"I'm impressed with a lot of the guys and Alex is no different," said Vanney. "He just keeps growing as a goalkeeper and the more games he gets, the more experience he gets, the more confident, the better decisions, all those things come along."
For Bono, getting the win in Montreal is special. He believes that the Montreal-Toronto rivalry has a great edge to it.
"It's really the only place in the league where you go and they're shouting at you in a different language most of the time," said Bono who picks up one or two words of French even when trying to zone the crowd out. "It's different. It has a really cool vibe, a really cool feel."
"It feels like a true, true away rivalry when we come here and I think that says a lot about the hatred and the disapproval between the two cities."
Despite having taken a strong option as TFC's starting goalkeeper, Bono holds a good and professional relationship with fellow keeper Clint Irwin, who he sees as vital to both his development and the team's ambitions.
With a fourth straight win, Toronto FC is giving itself a strong option to win the Supporters' Shield. For Michael Bradley, it was an objective from the start and the team will want to clinch that trophy "as quickly and dominantly as possible" to turn their heads to the MLS Cup.
But before this comes a bye week. TFC will take a pause in their four-game winning streak to let the international games play. For Vanney, that means letting quite a few players leave and having to delay the team's progression.
"The bye never really comes at a good time, I think, unless you have issues," said Vanney. "For us right now, the bye mean that we have seven or eight guys that are off in different places which kind of pulls the group apart and there's nice continuity so that's, for me, the problem with the bye.
"Having said that, there's a few guys that for sure could use a moment to catch their breath and some other guys a few moments to work on some things."
Bradley knows what to expect from the team coming off of the bye week, however. Heading into the fall, the captain will not forget his club goals heading into the silly season when he will be off with the U.S. Men's National Team for the World Cup qualifiers.
"We've got a little bit of a break now, obviously some of the guys are going with their national teams, but then when we come back in two weeks we'll have another stretch," said Bradley. "[The team has], I think, five games in September before the next international break and again those are going to be huge games, huge points. It's a fun time of year."