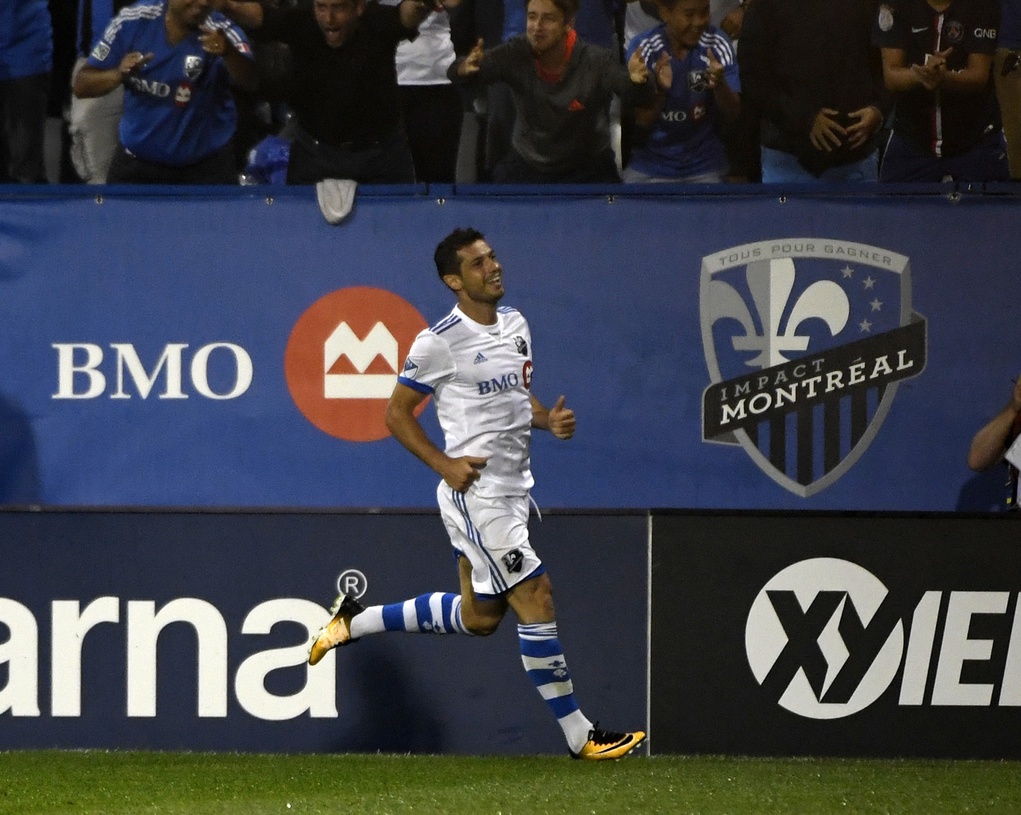 Adjusting to the rigors of Major League Soccer can be difficult for even some of the game's best players, but that's not been the case for Blerim Dzemaili of the Montreal Impact.
The 31-year-old Switzerland international was loaned to the Impact from Bologna at the tail end of the Serie A season. Since coming over from Italy, Dzemaili has contributed six goals and five assists in 12 matches, including a two-goal performance in his club's most recent win over the Philadelphia Union.
Getting acclimated to MLS didn't take long for the owner of 55 international appearances with Switzerland and the veteran of a few of Europe's top leagues.
"He's a top player. He's someone that has played at the highest level for big teams and he's able to adapt and adjust very easy," Impact head coach Mauro Biello said. "He keeps us in possession and he's able to play the final pass. He's on a terrific scoring pace right now as a midfielder. He's very professional in his work. He's very focused and he's a good team guy. He leads by example every day at training and right now things are starting to come together." 
Dzemaili said he didn't need a ton of time to adjust to the tactical acumen of the league, and he sees the same similarities with recent Impact signing Samuel Piette. He also uses a loose mindset to help him enjoy his time out on the field.
"You can see it also with Sam Piette. When someone comes from Europe, he doesn't need a lot of time tactically," Dzemaili said. "He can read the game and I think for us because we're also a little bit more physically stronger than I see some of the young guys here, that makes the difference for me. I just do this job because I love it and I love to play football and I just want to play football. Every game I go out there to enjoy and it have fun and I don't think too much and maybe that makes the difference."
Dzemaili made his debut on May 13 and over the last few weeks he filled the playmaking role in the Impact lineup with Ignacio Piatti out injured. But now with Piatti back in the lineup, the pair are hoping to carry the club closer to the red line, no matter how difficult of a task that may be. The attacking forces showed well against the Union, as they played a role in all three goals.
"When you have two players like this everything is maybe easier because the opponent maybe doesn't know who to take," Dzemaili said. "It gives you space, and of course, Nacho is a big player and he helps a lot with his passes and goals and I think everybody can do even more. We just need to keep going. We have a lot of games to go and we just have to continue like this." 
Biello echoed that sentiment as he now has two dangerous play-makers in his lineup that could pose trouble for some opponents to game plan against.
"He's stepped up and it gives us an extra guy that opponents have to take a look at and that means maybe creating more space for Nacho. If he grabs a lot of attention, Nacho will have more space," Biello said. "We want to continue to work in that way and get Matteo Mancosu going because we know he's also someone that can help us. We hope we get those three clicking until the end of the season." 
Dzemaili's ability to find holes in opposing defenses and crash into the box for scoring opportunities drew a comparison to one of the game's greats from his club captain, Patrice Bernier.
"He's that type of player that we were lacking a bit because he can crash into the box," Bernier said. "We've been comparing him a bit to Frank Lampard. He can come in and get those vital goals because a lot of times it's the three guys up front going into the box. We try to create from the back, but he's the guy that's able to come in and be that fourth element and also he's a good passer and  able to get that last pass. It's fantastic to have another player that can contribute and it's not all on Nacho or Mancosu or (Dominic) Oduro." 
The Impact are currently seventh in the Eastern Conference playoff race, five points back of the Columbus Crew and Atlanta United, but they have only played 22 games this season. They have three games in hand on the Crew and one or two on most of their direct competition for the postseason.
Dzemaili and company are hoping they can gain more ground during their four-game home stretch that opens on Wednesday against the Chicago Fire. They will also host Real Salt Lake, Toronto FC and the Chicago Fire from now until Sept. 2.
The Swiss midfielder won't be the only player the Impact will be relying on to provide a veteran presence during the final part of the regular season. It'll be a collective effort led by Dzemaili, Piatti, Bernier and Laurent Ciman.
"We needed veteran players to step up. Laurent, myself, Dzemaili, Nacho, we needed to step up our game so the team follows," Bernier said. "We're a lot more fluid in our play. I think we're a lot more confident and we trust each other on the field, which is what we haven't done in the past when we played a little more direct. Now we're a lot more composed. I'm pretty sure Matteo will find those chances and Dom also. It's nice to be back to where the Montreal Impact should be playing."