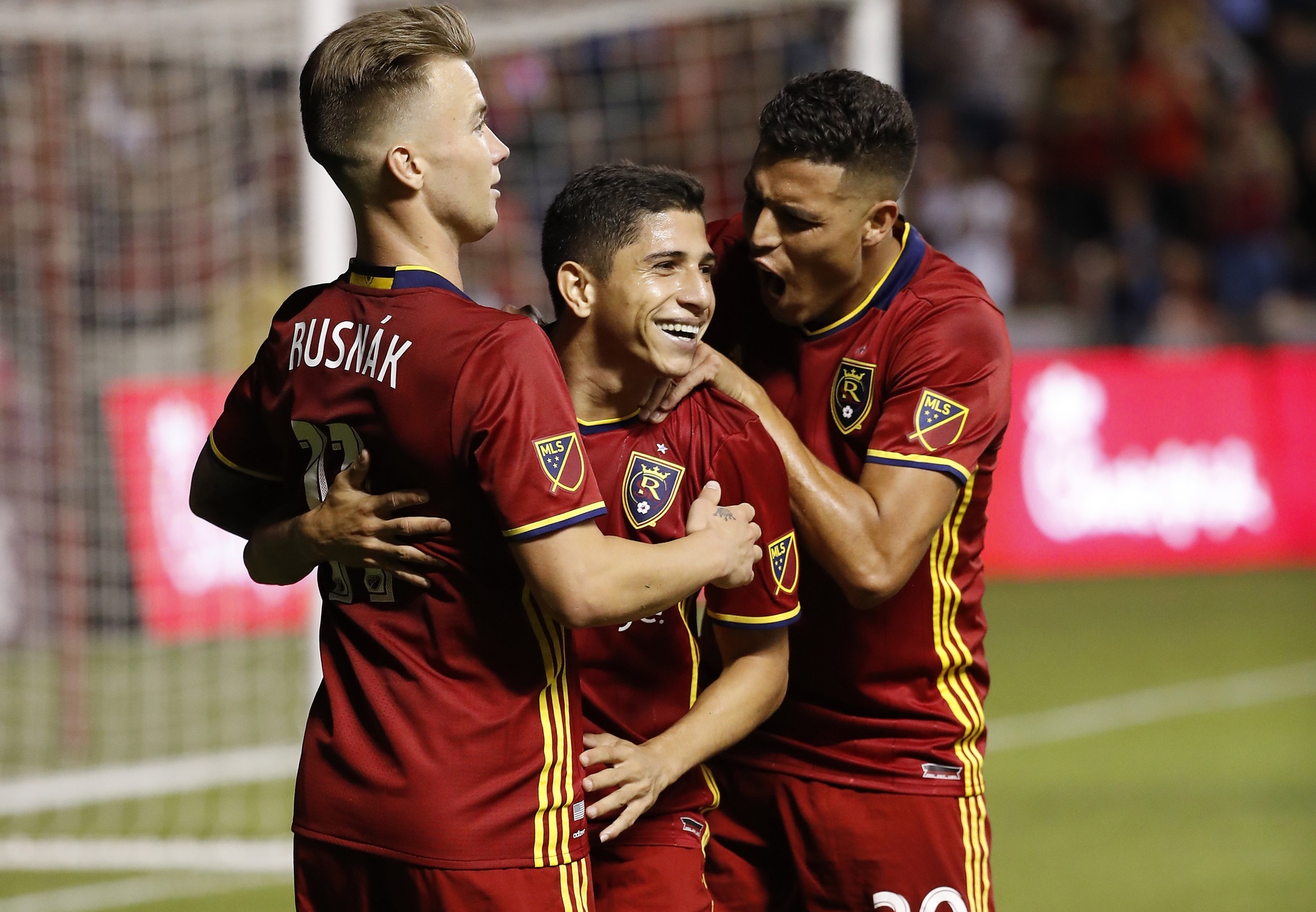 With playoffs imminent and both teams with dire hopes of punching a ticket, Mike Petke's men walked away with the last laugh from Rio Tinto Stadium.
With a fierce showing from their attack, Real Salt Lake trashed a visiting and 10-man San Jose Earthquakes, 4-0, in Utah on Wednesday night, earning the team three vital points that can go a long way in the next month.
RSL was quick to take advantage of Anibal Godoy's questionable second yellow in the 61st minute. In the 68th minute, after some magic inside the box, Jefferson Savarino, went the extra mile and curled a sensational strike past Andrew Tarbell, and sealing the home side three massive points.
It was all downhill from there for the Quakes.
At death, Yura Movsisyan lifted some weight off his shoulders. RSL's once-rumored trade piece gave the few supporters left at Rio Tinto another reason to smile as his right-footed strike was well placed and too much for Tarbell.
10 minutes prior, Albert Rusnak continued to back his Designated Player tag. The ex-Gronigen No. 10 connected well with Joao Plata's settle pass inside the box, slicing the ball strike into the net and lifting Petke's side to three points.
The first 15 minutes offered an open back-and-forth battle, but in the 20th minute, RSL's attack was starting to give Chris Leitch's playoff-hungry side a run for their money. After a failed attack by 'Vako,' RSL efficiently moved the ball back into the Quakes final third and topped it off with a brilliant finish by Luis Silva.
After a dreadful performance, the Quakes aim to bounce back against arch rivals and struggling LA Galaxy on Sunday, while Mike Petke and his men take will try to hold on to their momentum as they host the Colorado Rapids on Saturday.
MAN OF THE MATCH
Rusnak had one of his best performances since signing for RSL back in January. The Slovakian provided two assists and a goal in RSL rout over the Black and Blue.
MOMENT OF THE MATCH
Jefferson Savarino's exquisite finessed strike was the nail on the coffin for a San Jose side that is desperately searching to make playoffs.
MATCH TO FORGET
Quincy Amarikwa got an unusual the nod and was chosen to start from the first whistle, but the Quakes forward failed to take advantage.