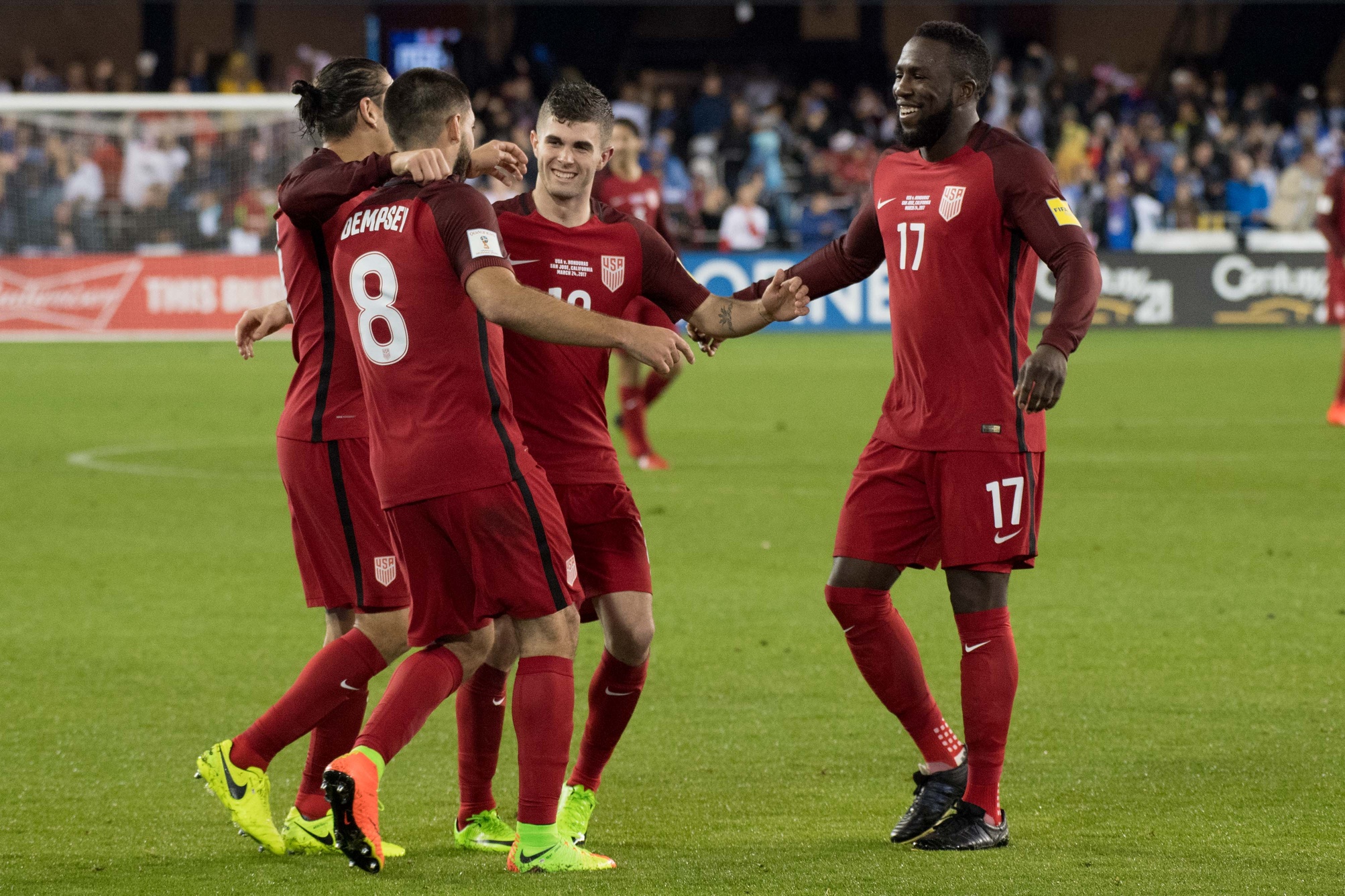 The next few weeks will determine whether or not the U.S. Men's National Team books a spot in the 2018 World Cup. There are just four games remaining in this qualifying cycle and, currently in third place, the U.S. will need to take care of business over the next month or so to lock up a spot in Russia.
With that in mind, Bruce Arena opted for continuity and chemistry for the upcoming series of World Cup qualifiers against Costa Rica and Honduras.
Arena unveiled his 26-man roster on Sunday, one that was devoid of many surprises. The recently-healthy Fabian Johnson and Omar Gonzalez were in. Players like Danny Williams and Timmy Chandler, who have yet to earn an appearance under Arena, were out. Veterans like DaMarcus Beasley and Chris Wondolowski will join camp, while up-and-comer Cristian Roldan was perhaps the biggest surprise, even if he was a member of the Gold Cup squad.
Altogether, the U.S. roster is made up entirely of players that have already earned a call-up in 2017, and Arena will look to rely on that experience throughout the next two matches.
"When I came in, we were behind the eight ball and we didn't have a whole lot of room to experiment, especially in World Cup qualifying," Arena said. "Everyone here is experienced inside the group, they know what needs to be done, what's expected of them, our style of play, and how we go about doing things. I think since everyone's been with us now in 2017, it'll make what is a really difficult week a little bit easier.
"People from the outside don't realize how difficult it is to bring in a team and players from literally all over the world and get them recovered from weekend games and get them prepared for a critically important game on Friday. It's a real challenge, and to have a group that's together now that has tasted some success in 2017 should allow it to be a smooth transition into this game on Friday."
Arena has largely assembled his first-team group. European stars Christian Pulisic, Bobby Wood and Geoff Cameron are back in the fold after sitting out the summer. Michael Bradley, Jozy Altidore and Clint Dempsey are healthy and back after claiming this summer's Gold Cup crown.
That said, there are still some notable absences. John Brooks is set to miss the rest of qualifying due to injury, while DeAndre Yedlin will also be absent after missing the start of Newcastle's Premier League season. That leaves some major holes in the backline, making it paramount that veterans like Gonzalez, Graham Zusi and Tim Ream step up.
There's also the issue of yellow card accumulation, as Altidore, Bradley, Cameron, Paul Arriola, Alejandro Bedoya and Matt Besler would be suspended with one more warning. With that in mind, Arena opted to expand the roster to 26 in order to have a full group ready for both games of the international break.
"We've experienced injuries throughout the year and that's all part of it with national teams or club teams, but I have enough confidence in these players," Arena said. "I think the experiences we've had together during the year will allow us to deal with any kind of issues that may arise as we get involved in these next two qualifying matches.
"I think we're strong in the goal, up top very strong, and I like our midfield combinations," he added. "Our back line has had some injuries over the past month that will hurt us a little bit, but I think if everyone comes into camp healthy, we have good options in our back line and good depth. I think overall we have a pretty solid roster here. We've called 26 players because we come into camp with six guys that have yellow cards, and we also have some players that are dealing with injury so we have to be smart."
There will certainly be some balancing throughout the two-game set, as Arena has made rotation a priority throughout his tenure. Costa Rica will present quite a test on Friday at Red Bull Arena, and a trip to Honduras on short rest is a tough ask for any team.
That said, the U.S. is cautiously optimistic. There's confidence in the team assembled, but there's also a wariness with regards to the task at hand.
"We're far from being in Russia," Arena said. "I think one country is a little bit comfortable in this competition right now, which is Mexico with 14 points. Costa Rica is in pretty good shape with 11 points, then you have the U.S. with eight, Panama with seven, Honduras with five and Trinidad with three, so things can change real quickly over these next two games. We have to make sure we're the team that secures points at home and hopefully get some points on the road. If we do that, we're getting a lot closer to Russia.
"No one is safe at this point and a lot of things are going to happen over this next weekend."