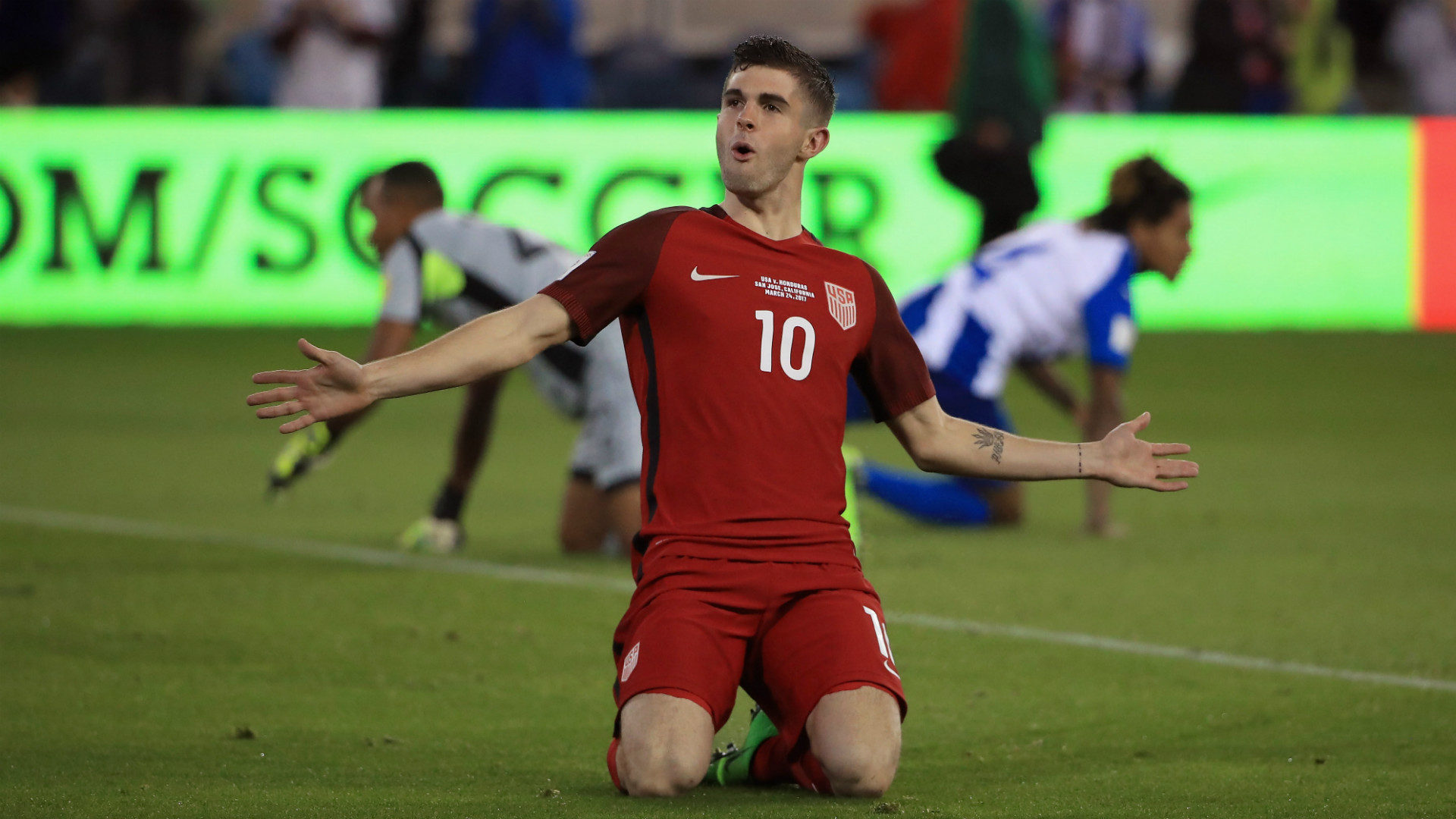 The world has moved mighty fast for Christian Pulisic. Just two years ago, he was largely anonymous. His name and accolades might have been known by the most die-hard of U.S. Men's National Team or Borussia Dortmund supporters, but the young midfielder from Hershey certainly wasn't viewed as a potential savior or superstar.
Now, just a few short years later, much has changed, and Pulisic acknowledges as much. His world is constantly shifting and altering. It's a process that is far from new and one that will last for quite awhile. Such is life for a player pegged as one of the game's next superstars before leaving his teenage years behind.
But now, the world doesn't feel like it's moving quite as fast. Sure, the hype has increased and, more importantly, so has the responsibility. However, for Pulisic, it's the latest step in a maturation process, one that he's rapidly becoming more and more comfortable with as he grows into all that is expected of him.
"For me, everything happened a little bit too fast," Pulisic said on Tuesday. "The past year has been a roller coaster. Being able to play at the club level on a high level and getting called into the national team, it's amazing. You just try to stay as low to the ground as you can by finding balance."
Pulisic is certainly working a balancing act as his role continues to expand for both club and country. In the months since his debut, Pulisic rapidly evolved into the USMNT's primary playmaker despite his age. Less than a year before the World Cup, he might just be the USMNT's most important player on the road to and, if all goes well, in Russia.
It's a role he's adapted to seamlessly. He's shown he can be a driving force in the attack while serving in that playmaking role. He's appeared five times since Bruce Arena took over the reigns as national team manager. In that time, he's scored four goals.
Now, though, he isn't just tasked with being the USMNT's big star; he's being tasked with being Borussia Dortmund's big star. The oft-injured Marco Reus is once again sidelined. Fellow up-and-comer Ousmane Dembele is off to Barcelona thanks to a market-shattering $175 million transfer fee. Pierre-Emerick Aubameyang is still around, but the star forward is a player often linked with a move away himself. 
That makes Pulisic one of the most important cogs in the Dortmund attack for now and the foreseeable future. He's no longer a part-time player or a contributing starter looking to play a role. Now, he's a focal point, one that Dortmund will rely upon heavily throughout the club's Bundesliga and Champions League campaigns.
"(Dembele) was a good friend of mine. It's always tough when you see a good player leave," Pulisic said. "It's not easy. It was a dream of his to play for Barcelona and I'm not going to be unhappy for him. I'm definitely happy. I'm excited to see what he can do in his future. It's not always fun to lose one of your best players.
"I don't think there's too much different," he added. "We've lost a player or two, but I have the same role with the team. Whenever I'm on the field, similar to with the national team, it's being effective and being dangerous while helping my team be creative and score goals. I understand that and I'm excited for the new season. Whether there's more responsibility put on me or not, I'm going to go out and try and do the same things."
Sure, there's pressure, and sure, there's hype, but Pulisic isn't looking at it in quite the manner. He's a player that knows his place, Arena says, one that knows when to step up and lead and when to let the veterans take over and do what needs to be done.
Arena has coached young talent before. He's seen legendary USMNT players like Claudio Reyna and Landon Donovan blossom from teenage prodigies to full-fledged stars. At this point in Pulisic's career, Arena says he believes Pulisic has a better support system around him than Reyna or Donovan ever did with players like Michael Bradley, Tim Howard and DaMarcus Beasley around to mentor him on the national team level.
"He has surprised me, for sure," Bradley said. "just in terms of how good of a player he is and just how quickly he's been able to find the right ways to come into our team and make a real impact at this level. I watched him with the U-17s at the World Cup with Richie (Williams) and you could see his talent, his ability. That was so clear. You never know for sure how quickly some of the other stuff comes along. From the first camp that he came into with our team, he's found a good way to fit in with the group.
"You can see what a good kid he is, how much he loves to play, how much he enjoys the time with our group, and we want to put him in the best possible position where he can play, enjoy himself and make the biggest difference to our team. That's on everybody to continue to find the right things for him."
As Pulisic's career continues, he'll continue to evolve. His role for both club and country is certainly much bigger than it was just a few short months ago. The same will probably said next summer at the World Cup, and then the year after and the year after that. In theory, there's a constant progression to be made, not just on the field but off of it.
With that progression comes expectations, and Pulisic hasn't shied away from them yet. He understands that there's a lot expected of him for both club and country. He realizes that there is pressure on him to perform, more pressure than he's faced at any point in his career thus far.
It's one the challenges that awaits Christian Pulisic in the weeks, months and years to come. It's a challenge that isn't faced by many throughout the world of international soccer. That roller coaster Pulisic referenced? It will continue, for better for worse, as he begins to take total control of the wheel for one of the world's biggest clubs and a national team still yearning for a world-class star.
"I hear about all of the stuff and people talking and the hype or whatever," Pulisic said, "but I just try and keep it out of my mind as best I can. It doesn't matter to me. I put enough pressure on myself and I don't need all of the outside attention or whatever. I just try and do the best I can for myself and those around me. I have a lot of things to improve on."