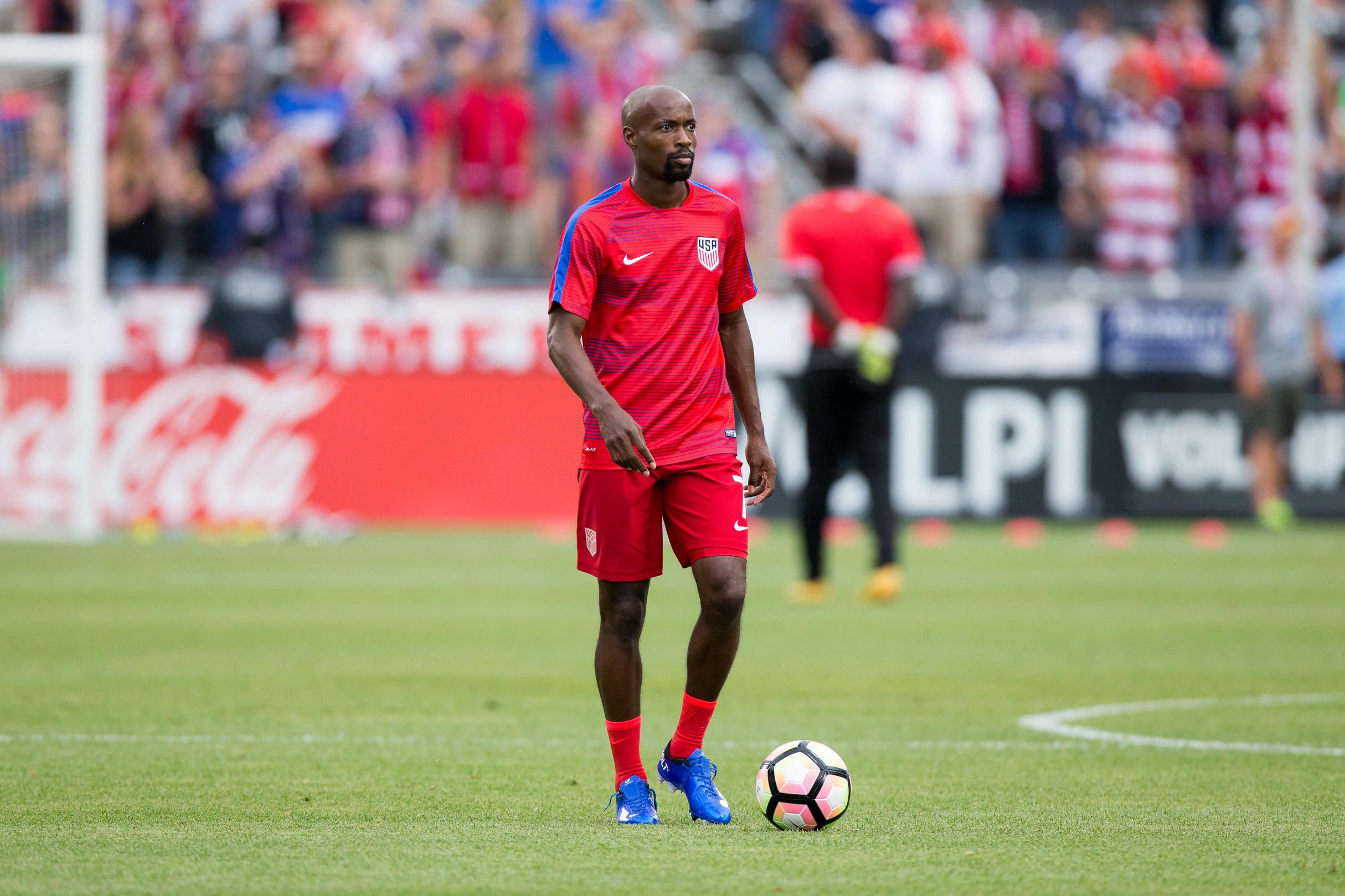 "It's like having grandpa around, really," said Tim Ream
"He brings experience," said Bruce Arena.
DeMarcus Beasley is far from the qualifying age for AARP but in soccer years he is unique. The 35-year-old U.S. Men's National Team fullback is a candidate to start on Friday against Costa Rica in the World Cup qualifier at Red Bull Arena.  If the USMNT meets the criteria for Russia 2018, Beasley aspires to join his teammates for a record-tying fifth World Cup. At the moment, he chooses to ponder the present.
"I haven't given much thought to the fifth World Cup," said Beasley who could equal Lothar Matthaus, Antonio Carbajal and Gianluigi Buffon. "I'm not really thinking about personal accolades right now. I'm just enjoying every moment. As you get older you never know how many opportunities you are going to get at this level. I just enjoy every time I get in and help the team where I can. Get the three points and qualify for the World Cup."
At the end of 2014, Beasley announced his retirement from international soccer but at the behest of former USMNT coach, Jurgen Klinsmann, re-entered the program for the 2015 Gold Cup. When Beasley started for Bruce Arena in the 1-1 draw on the road against Mexico in June, he became the first American to compete in five World Cup qualifying cycles.
"The fact that he's got that body type has allowed him to play this long," said Arena. "It's not like he needs to worry about putting on weight."
With a slim five-foot, eight-inch frame, Beasley has a fragile appearance. His nearly 400 professional matches and 125 caps for the USMNT would suggest otherwise. And after gaining his first cap in 2002 under Arena, Beasley says that the Long Island native has offered the same positive qualities in his second incarnation with the full team.
"He's the same guy – from day 1, he was making jokes about certain things," said Beasley. "He's a player's coach and brings the most out of each player."
Beasley says that an Arena camp provides a legitimate opportunity for all 26 players – no matter the age or experience – to impact the next two qualifiers.
"It's the same for me as anyone else – you work hard, you do what you can and your push your teammates as much as you can," said Beasley, the captain of the 2013 Gold Cup Champions. "We're all friends but its still a competitive environment and everyone wants to play. That makes the group tighter. So when Bruce names the 11 that he's going to start that day he has no doubts that the team is going to get the job done because he's brought in 26 guys who can start.
"He's done well with bringing young, old, and guys in form right now – he does a very good job of mixing players and getting them on the same page."
Including the grandpa left back who has chosen a wise off-field path as he aged in the game.
"It's a lot of different things but for the most part you have to take care of your body more off the field," said Beasley.  "I talked to a lot of the older guys back in the day when I was younger and how they took care of their bodies. Good advice from older players. When you're young you don't do things before training – you just go out there and play. When I was 18 or 19 years old I'd just go out there and kick the ball around and wouldn't even stretch – that part is different now."
Maturity has also provided lofty goals for Beasley who at one time was the second player to sign for Rangers in Glasgow following Claudio Reyna.
"The younger me?," he said. "I couldn't say to my young me to do better stuff off the field because it wouldn't have happened."
For now, Beasley provides sage advice to a mixed group in a competitive cauldron at camp.
"The things that he's seen, the things he has done – to be able to share that with guys like myself who are in the middle of our careers and the younger players just starting out is invaluable," said Tim Ream who is competing with Beasley for time at the back. "He's proven on the field he can still get it done like he did down in Mexico. There's no reason I don't see him being on our team for the World Cup – assuming we qualify."