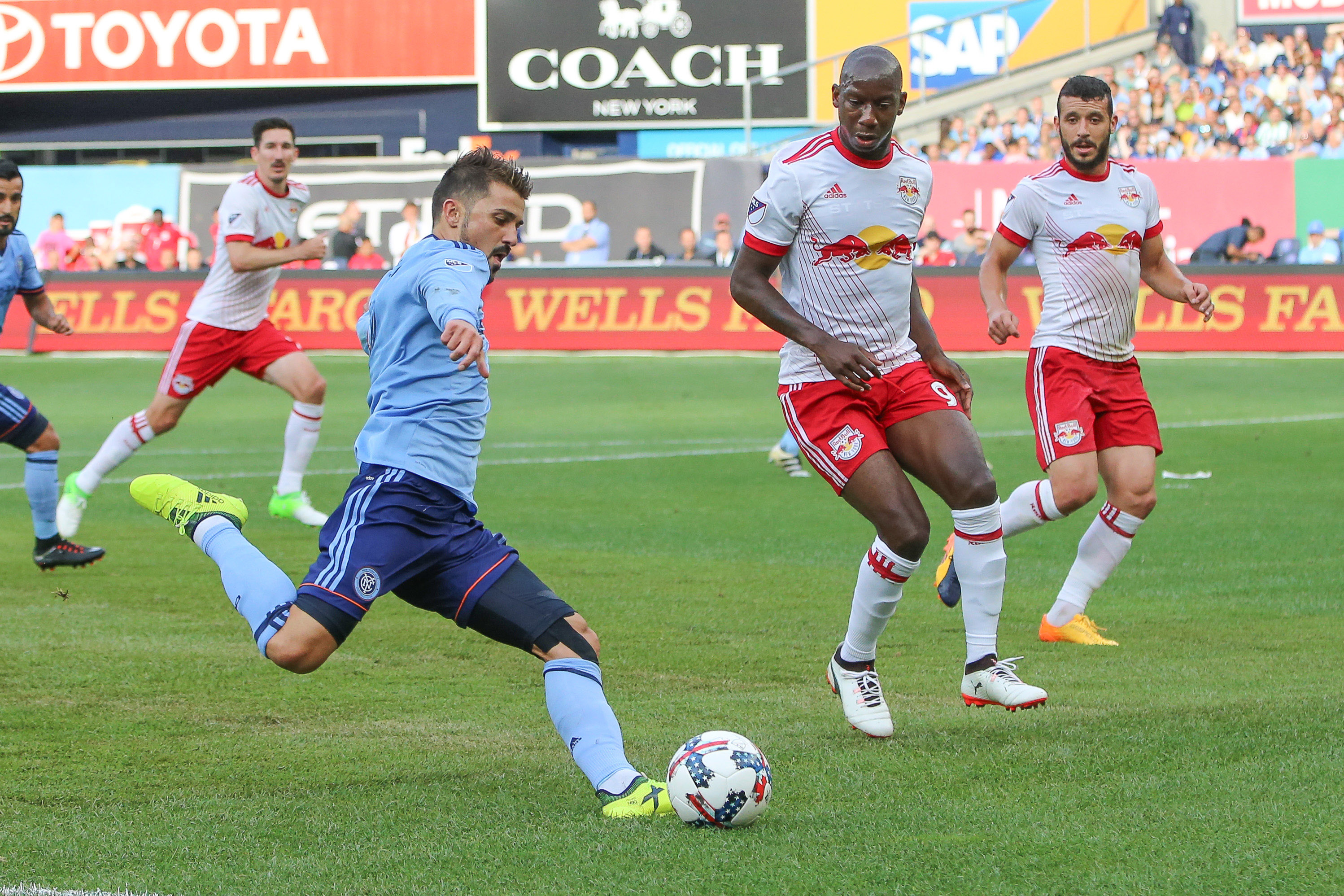 There's a certain stigma when it comes to the older, star players from Europe coming over to Major League Soccer: they're just coming for one last big check. It's a stigma that has given MLS the unfair appearance of being a retirement league, especially when those big names don't perform and don't play hard.
New York City FC captain David Villa has taken the opposite route.
Instead of relaxing through the final years of a career and collecting checks, the now 35-year-old Spanish forward has carried this NYCFC team on his back and that was on full display in Sunday's 3-2 comeback win against the Red Bulls in the Hudson River Derby.
"I try to do my best always in the training facility or in the games," Villa said after Sunday's win. "I try to show the young players [that] I arrived at where I arrived. If they show me like a leader, it is a pleasure to me."
Villa has been more than just the face of the franchise throughout his now two-and-a-half years at NYCFC. The current leading goal-scorer in MLS (17) has notched 58 goals for the Pigeons, highlighted by his first-ever hat trick in Sunday's win, but it's his effort on the pitch that has stood out the most.
"He's fantastic," NYCFC head coach Patrick Vieira said. "He's our leader when he's performing like that – that lifts the team and players are behind and follow him. So when David is playing very well, the team is playing well."
Villa's goalkeeper, Sean Johnson, agrees.
"Yeah, David is always hungry to, first and foremost, win games," Johnson said, "he is not happy when he doesn't score goals, but he is a guy who speaks with his actions and everybody kind of follows through his work ethic.
"Honestly, he has been a tremendous player. His work ethic, first and foremost, I see that every game and that's what you want to see from your top scorer year after year. His quality speak is for itself and big games call big players to step up and he put the team on his back."
Villa's work-rate has increased this year with the captain making plays on both sides of the ball. But it's his first hat trick that has impressed himself more than anything. Yet, even one of the top goal-scorers in the world knows how to keep such a highlight of a season, or a career in a particular league, in check.
"I've scored a lot of doubles," he said, "I never did a hat trick. But it is important because we needed it today and we needed one more goal. And it is important because we were able to achieve all three points."
David Villa's nickname is "El Guaje," or, "the kid." Throughout his near-three years in the Bronx, it's almost as if everyone had a chance to see "the kid" grow up in New York City and in MLS. He's gone from getting frustrated at poor balls and bad play to carrying a club on his back while teaching the future through his actions in training and in games. NYCFC has grown with him throughout its short history.
"The difference," he said, "is that we are improving and we are stronger than the first year on the pitch."