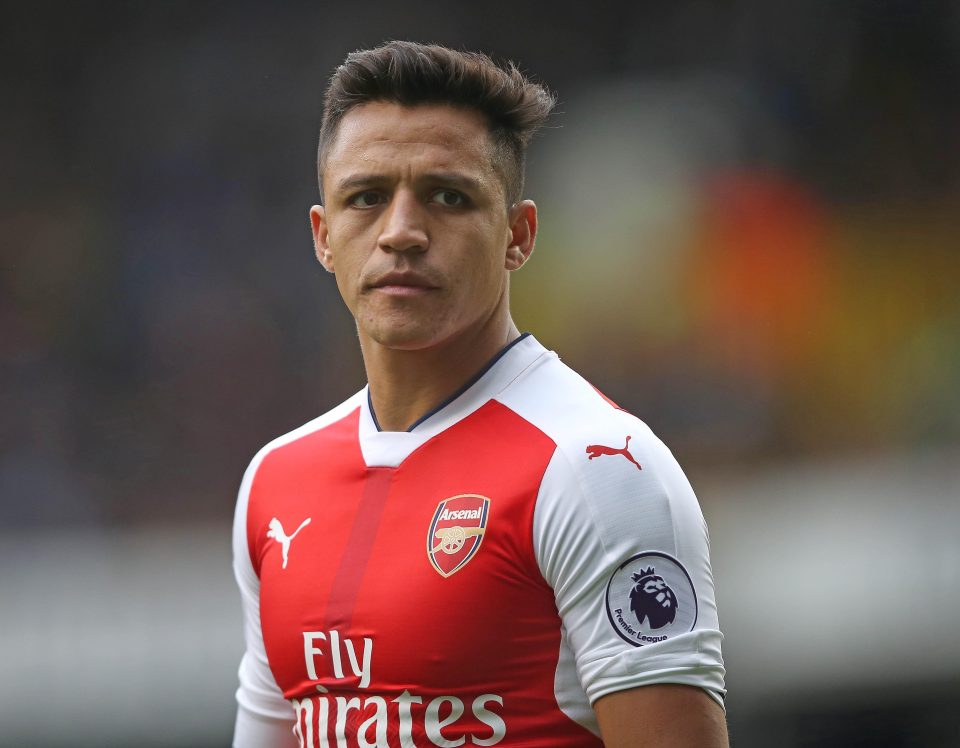 Monday saw several teams make splashes before the closure of the Transfer Window on Thursday. One team that is not making a splash is Arsenal F.C. who have denied claims that star forward Alexis Sanchez has handed in a transfer request.
The Chilean has less than 11 months remaining on his current contract and is yet to sign terms on a fresh deal at the Emirates. Sanchez made his first league appearance of the season on Sunday, but is a huge target by Manchester City.
According to Sky Sports,  Gunners manager Arsene Wenger wants to keep Sanchez and says he hopes the Chile international will extend his contract. Wenger reiterated his stance on Sanchez prior to the trip to Anfield and said the 28-year-old "deeply loves" to be at Arsenal. Arsenal are coming off a 4-0 drubbing against Liverpool, and have lost two of their opening three league fixtures in 2017/18.
CHELSEA SET TO SIGN ALEX OXLADE-CHAMBERLAIN
Arsenal midfielder Alex Oxlade-Chamberlain is set to leave the Gunners for fellow London giants Chelsea. The 24-year-old will be out of contract next summer and has refused to sign a new deal at Emirates Stadium.
Chelsea have declined to comment but it is understood they have agreed a transfer free with the Gunners. Oxlade-Chamberlain has started every game for Arsenal this season, including Sunday's 4-0 defeat at Liverpool, where he was substituted.
The Ox has made 198 appearances for Arsenal since joining from Southampton in August 2011. The England international will be Chelsea's fifth major signing this season, and the first since Chelsea boss Antonio Conte said he wanted 'more players'.
LIVERPOOL SIGN RB LEIPZIG'S NABY KEITA
Liverpool have agreed to a club record deal to acquire RB Leipzig midfielder Naby Keita. The Guinea international will move to Anfield in July 2018 after Liverpool have agreed to pay the £48m release clause that will allow the 22-year-old to move next summer, plus an undisclosed premium.
Keita has been on Liverpool's radar all summer and finally finished the deal after Leipzig turned down previous offers. Keita recorded eight goals and seven assists in 32 appearances with the Bundesliga runner-ups in 2016/17.
Keita joins Dominic Solanke, Andrew Robertson, and Mohamed Salah who also signed for the Merseyside club this summer.
DORTMUND ACQUIRE UKRAINIAN INTERNATIONAL YARLOMENKO
Moments before losing Ousmane Dembele to Barcelona, Borussia Dortmund signed a proven international to fill his spot. Dynamo Kiev and Ukrainian forward Andriy Yarlomenko joined the German club for an undisclosed fee.
Yarlomenko signed a four-year deal with Dortmund, and is a talent that was on many teams radars. "Andriy is a player we have been pursuing for a long time," said Dortmund sports director Michael Zorc.
Yarmolenko is a three-time winner of the Ukraine Premier League with Kiev. He has scored 137 goals in 339 competitive games for Kiev and played 69 matches, scoring 29 times, for Ukraine.
Dortmund received £135.5 million from Barcelona for the French international Dembele, who is set to replace the spot left by Neymar.