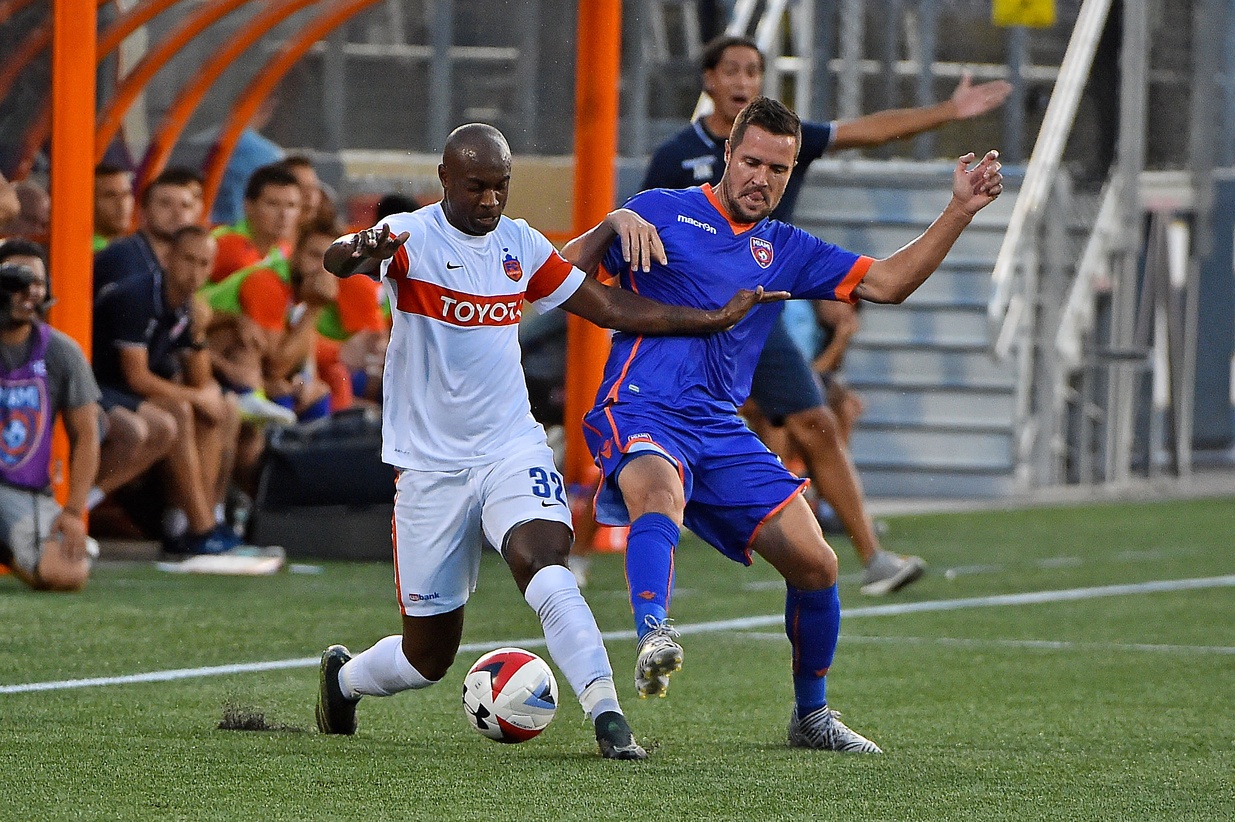 Coming into Wednesday's Lamar Hunt U.S. Open Cup quarterfinal at Riccardo Silva Stadium, both sides knew what was stake. The winner of the all second-tier showdown would host the New York Red Bulls in one of two semifinals slated for August 9.
It was the USL side that got the job done in Miami as FC Cincinnati used a 68th-minute winner from Djiby Fall to snatch a 1-0 victory at Riccardo Silva Stadium. Each side had one shot on goal apiece in the opening 45 minutes, but created several other chances that went astray.
Following the halftime break, FC Cincinnati scored the breakthrough goal as Fall finished off Justin Hoyte's assist to the bottom left corner after 68 minutes. Fall, who had missed two efforts in the opening half, made no mistake scoring his 12th goal of the season across all competitions.
Kevin Schindler's 22nd-minute effort forced a good save from Cincinnati's Mitch Hildebrandt, while Daniel Vega was called into action in stoppage time by Rhett Bernstein's header.
Michel's right-footed effort forced into Hildebrandt into his second save of the evening, before Ariel Martinez saw his header saved three minutes later. Stefano Pinho was next to see his effort go astray, heading high and wide after 81 minutes.
Andrew Wiedeman almost sealed the deal for the visitors, but Vega came up big for Miami stopping him from inside the box. Kwadwo Poku was next to be kept out by Hildebrandt, as the forward's right-footed effort was saved.
A frantic ending was capped by celebration for FC Cincinnati as they ran out 1-0 winners in Miami. Hildebrandt made three saves in the clean sheet for Cincinnati, while Vega was called into action twice for Miami.
FC Cincinnati, who currently sit in sixth place in the USL's Eastern Conference standings, will certainly carry this momentum going forward. Miami FC, winners of the North American Soccer League's Spring season, exit the competition after eliminating two MLS sides in the process.