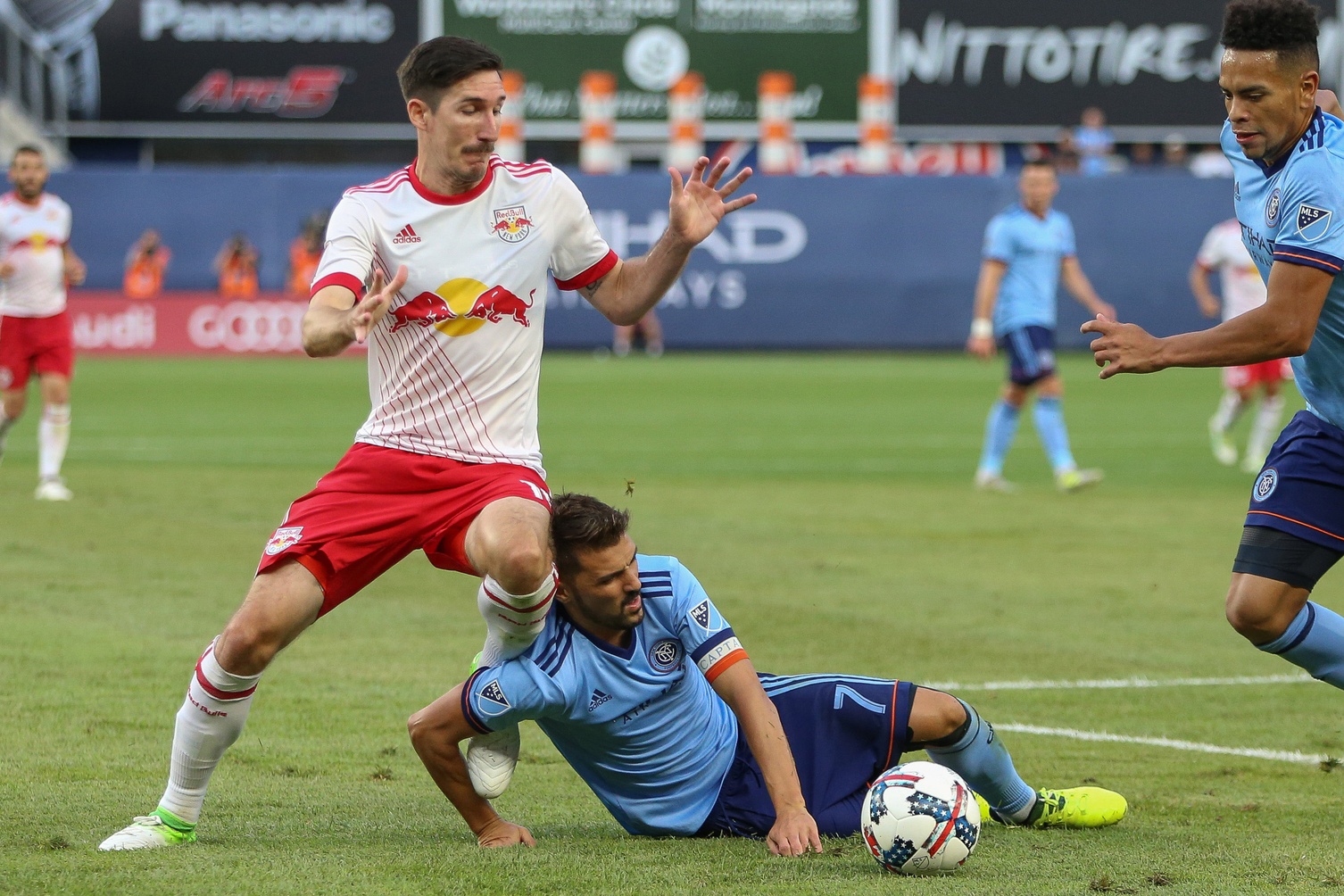 NEW YORK – Up a goal in the second half of Sunday's Hudson River Derby, the New York Red Bulls were riding mighty high. They entered Saturday on a four-game winning streak before finding themselves with a lead in Sunday's rivalry match. At worst, a point would have sufficed, especially on the road. At best, a five-game run and a short drive home with yet another win over their local rivals
Just eight minutes after Bradley Wright-Phillips silenced the Yankee Stadium crowd with his second goal of the match, David Villa and NYCFC came right back with a game-tying finish of their own. Moments later, it was a penalty kick and another Villa goal, finalizing the Red Bulls' downward spiral and all but sealing a frustrating and incomplete loss.
"This was kind of a test in the middle of your season, a pretty big test and we just didn't pass it tonight," captain Sacha Kljestan said. "For the past six to eight weeks we've had really good performances all around the field and in a big game like that you need big performances from everybody. We got two goals on the road, which is big. Bradley Wright-Phillips came up with two goals which is huge. We should be able to protect some type of lead or get a point out of getting two goals on the road. I'm not worried. We just have to get over this loss.
"We didn't have a very good start to the game so to then sneak our way up to 2-1, it felt good," he added. "I think we got a little excited that we were going to grab a result and get out of here. Unfortunately we gave up a couple of goals in quick succession and we lose tonight. The last two months have been pretty good and maybe not enough good performances from enough guys tonight and, unfortunately, we lose."
As Kljestan alluded to, Sunday's match began with a stunningly bad break. Daniel Royer entered Sunday's match as far and away the hottest player in MLS and, within 14 minutes, he was off with an injury. The Austrian had scored six goals in the four games entering Sunday's match, but his injury robbed him of a chance to impact the latest edition of the rivalry. Head coach Jesse Marsch says X-rays were negative and the initial prognosis was better than originally thought but, on the day, the loss of Royer loomed large.
Fortunately for the Red Bulls, Wright-Phillips stepped up, scoring his ninth and 10th career goals against NYCFC. The veteran forward came more than ready to duel David Villa and, in many ways, he held his own. Wright-Phillips did what seemed like more than enough to win the match before Villa entered otherworldly territory to lead NYCFC back.
"We've lost two games in a row to them," Wright-Phillips said. "It doesn't feel good at all. I've tried to explain before I don't care about goals as much as you think. I obviously want to score today, but we lost today against our rival. We're not going to get joy from this."
In many ways, the game certainly wasn't lost in front. Rather, it was lost with the team's handling of Villa. The Spaniard wasn't exactly a surprise to NYCFC. At this point in his career, Villa's heroics shouldn't be much of a surprise to anyone, but March says he wasn't thrilled with how his team defended the Spanish forward on the day.
March says Villa ran free far too often. Aaron Long, who signed his first MLS contract this past winter, was the man charged with marking Villa for a majority of Sunday's match. The Red Bulls defense had success at times, but obviously not enough to keep Villa off the board.
Luck wasn't exactly in their favor, either. Villa's first goal came off an unfortunate bounce as a clearance ping-ponged off Alexander Ring and straight into Villa's path for his first finish of the night. The third goal came via a penalty kick, one that was likely correctly called in the eyes of Red Bulls goalkeeper Luis Robles.
There was also the matter of refereeing, according to Marsch. The Red Bulls boss says he has made a point to avoid criticizing referees this season, but Marsch felt compelled to speak out at what he saw as a lack of balance from referee Baldomero Toledo.
"I thought the referee reffed the score," he said. "All of a sudden we started getting some calls when we went down a goal. In the meantime, it's literally so many soft fouls going for them, so many little things that they wind up getting. Even the play that leads to the second goal Kemar Lawrence gets fouled on the sideline and he calls a throw-in or I don't know what he gave. VAR can't correct the inability to see a game clearly and make all the little plays right. It can help with the big plays, but we need refs who can understand how to ref the rest of the game because there's more to the game than just the moments that lead to goals.
"I felt like it was hard to gain momentum in the match when every time a guy goes down, there's a soft foul and they get a call. It makes it difficult. I'll say this. I haven't talked about the ref one time this year. I'm not making excuses. I give New York City credit, okay, but I've been on my best behavior from a referee perspective this year, but this one was too much to swallow."
The Red Bulls have enough veterans to know that nothing lasts forever, though. Every strong run comes to an end at some point and every bad streak will reverse with enough drive and effort. Even knowing that, though, Saturday's loss to NYCFC stung. A lot. The Red Bulls knew their four-game winning streak would end at some point, but the manner in which it did was the worst part.
Now, they have to regroup ahead of another test. A match against Orlando City looms before a U.S. Open Cup semifinal against FC Cincinnati. Frustration can linger for a bit, but the Red Bulls remain focused on the task ahead.
"Jesse pointed out we have a lot of young guys who may be inexperienced," goalkeeper Luis Robles said, "but we really believe in the entire quality of this roster and it is a lesson in which we didn't meet the grade today but we're hoping that, from this experience, we'll continue to learn from it, get stronger from it, and bounce back next week."