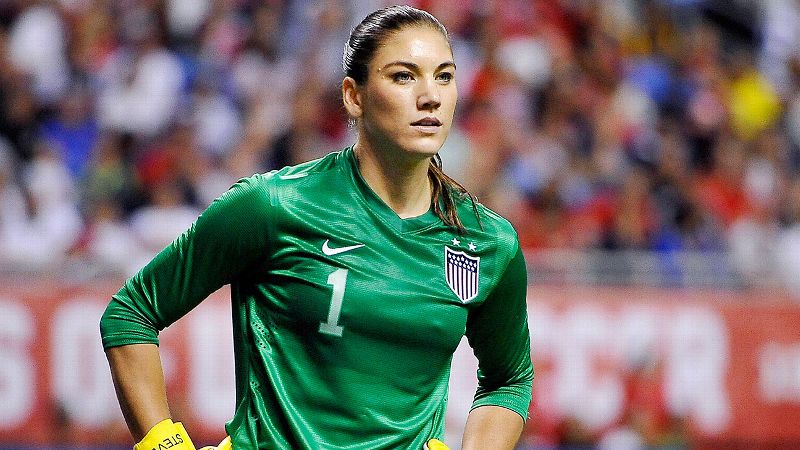 Though her time with the U.S. Women's National Team is likely through, Hope Solo does not believe her playing career is over.
After being suspended and eventually having her contract terminated by U.S. Soccer last year following the Rio Olympics, Solo is eyeing a potential return to the field, according to the New York Post. The 36-year-old former-USWNT keeper hasn't played since the tournament, as she's been recovering from a shoulder replacement surgery. But nonetheless, Solo states her intent is to play once more.
"Let's be clear, a goalkeeper peaks a little bit later in their career, so I feel like I have many years ahead of me if that opportunity arises," Solo said in an interview Monday. "I'm very happy with my career should I walk away from the game today, but I'm not one to retire. I have not retired."
Solo was suspended due to controversial comments when she called the Swedish Women's Team cowards after the team employed a defensive style to hand the USWNT an uncharacteristically early exit from the tournament. While certainly not the first time Solo has been at odds with U.S. Soccer leadership, she believes this occurrence was exacerbated by her part in the fight for equal pay between the Men's and Women's teams.
"My contract got terminated because of my fight for equal pay with the United States Soccer Federation," Solo said. "I'm not sure until the lawsuit is over, that anything will change that. In the meantime I've had great opportunities and great contract offers to go back overseas and play. Possibly you'll see me overseas next year."
While acknowledging that her time with the national team is probably done, Solo did say that it doesn't stop her from hoping.
"I've always wanted to play in the 2019 World Cup," Solo said. "I'm in the best shape of my life in terms of my shoulder. I feel great. Should (the U.S.) welcome me back then I will be in the goal competing and hopefully bringing back another World Cup trophy, but it's highly unlikely they are going to ask for me to come back. But I'm here guys."