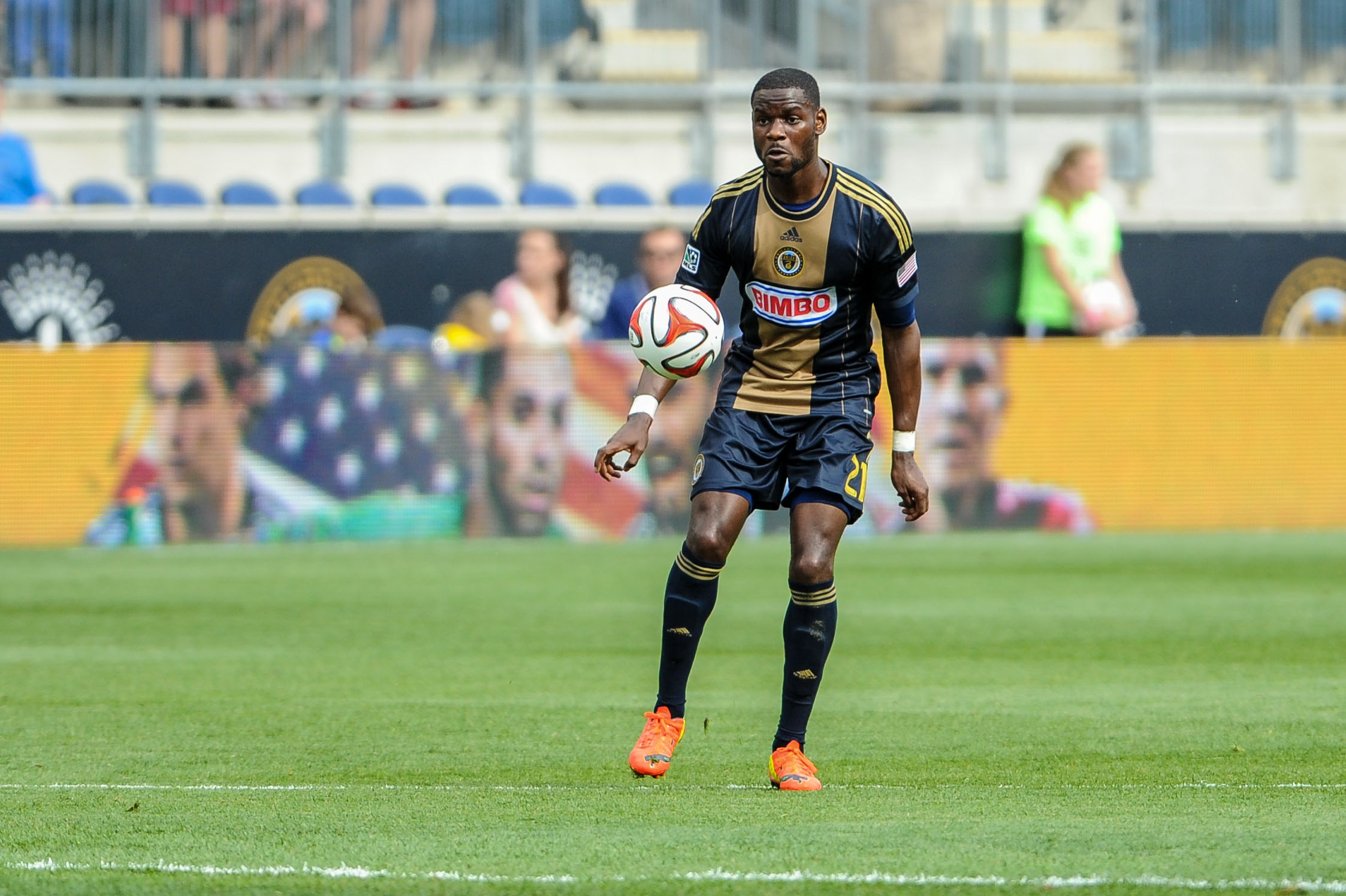 CHESTER, PA– When Maurice Edu stepped on the field for the Philadelphia Union's USL affiliate Bethlehem Steel on Sunday, it was certainly celebrated after his long injury absence. However, that was just the first step for the midfielder in his full recovery.
The 31-year-old Designated Player, who joined the Union in 2014, has not played in a Major League Soccer game since September 20, 2015, when he played the full 90 minutes against the Houston Dynamo. Since then, Edu has dealt with two different leg injuries.
After dealing with a stress fracture for most of 2016, Edu looked ready to return in October 2016 until a freak accident in a training session resulted in a left tibia injury. He's been recovering from that injury all season, and he made his first appearance on the field for Steel on Sunday afternoon.
"It was good to just be back on the pitch again, getting touches on the ball and trying to break up plays, running around, all the little small things you take for granted," Edu said. 
"It's great for him to get that first 30 minutes under his belt, connect his passes and get that confidence that he can do it again, which is powerful in itself," Union manager Jim Curtin said. 
"You take it with a grain of salt," Edu said. "Obviously I'm happy because this year's been hell. Definitely happy with that, but the real excitement will be when I walk out onto the pitch with the first team. Baby steps in a longer process than maybe I anticipated. At the end of the day, my focus and goal is to play with the first team. It's not to be content fit or back training or playing with the Steel. These are all steps along the way to get to the bigger picture." 
Edu has been involved in first-team training with the Union for about a month now, but it's been a long process just to get the midfielder on a rehab stint in USL.
"I've been training for about a month up to that point," Edu said. "In training, it's pretty competitive anyway. You get stuck in in tackles, the unexpected happens so I was pretty well prepared for that from the physicality standpoint. Obviously there's things in a game you can't predict so it was good to get involved in some of that and unscathed." 
While the physical aspect of the situation has been rough to deal with, Edu has credited his tough mentality with helping him through being sidelined for two years.
"I've always felt like I've been a strong-minded person," Edu said. "I've dealt with adversity throughout the course of my career. This is another challenge. I think when you're put in situations that are unexpected it brings out parts of you that you didn't even know you had."
"I felt like I've always been mentally strong, but this has definitely challenged me in ways that are slightly different because in other scenarios there's things I can control and I can dictate what will happen," Edu said. "In this scenario, I haven't had that luxury so I've kind of had to play a waiting game, just be patient and besmart and obviously be smart with the thoughts I have in my head." 
While Sunday was the first baby step on the field in the recovery process, Edu has plenty of work left to do before he reaches the matchday squad for the first team at a spot on the roster that is heavy with contenders for playing time. Haris Medunjanin and Alejandro Bedoya have formed a strong partnership in central midfield, while Warren Creavalle, Derrick Jones and Brian Carroll have competed for minutes behind them on the depth chart. Edu's presence just adds to the congestion.
"He has to work his way back to 90 minutes of fitness, which is hard for a guy who has now missed going on two seasons worth of games," Curtin said. "Now he has to work his way to start for 90 minutes for the Steel and then we can start talking about him being in the 18 for us, but he has some real competition.
"You can go through the list of guys he's behind on the depth chart now just because of the fact they're on Week 24 of the season and he's on Week 1 of getting his first 30 minutes of live action in a USL game," Curtin said. "He has a lot of work to do. I think it's a great stepping stone, but it's pro sports. He still has some work to do to get over that next barrier."