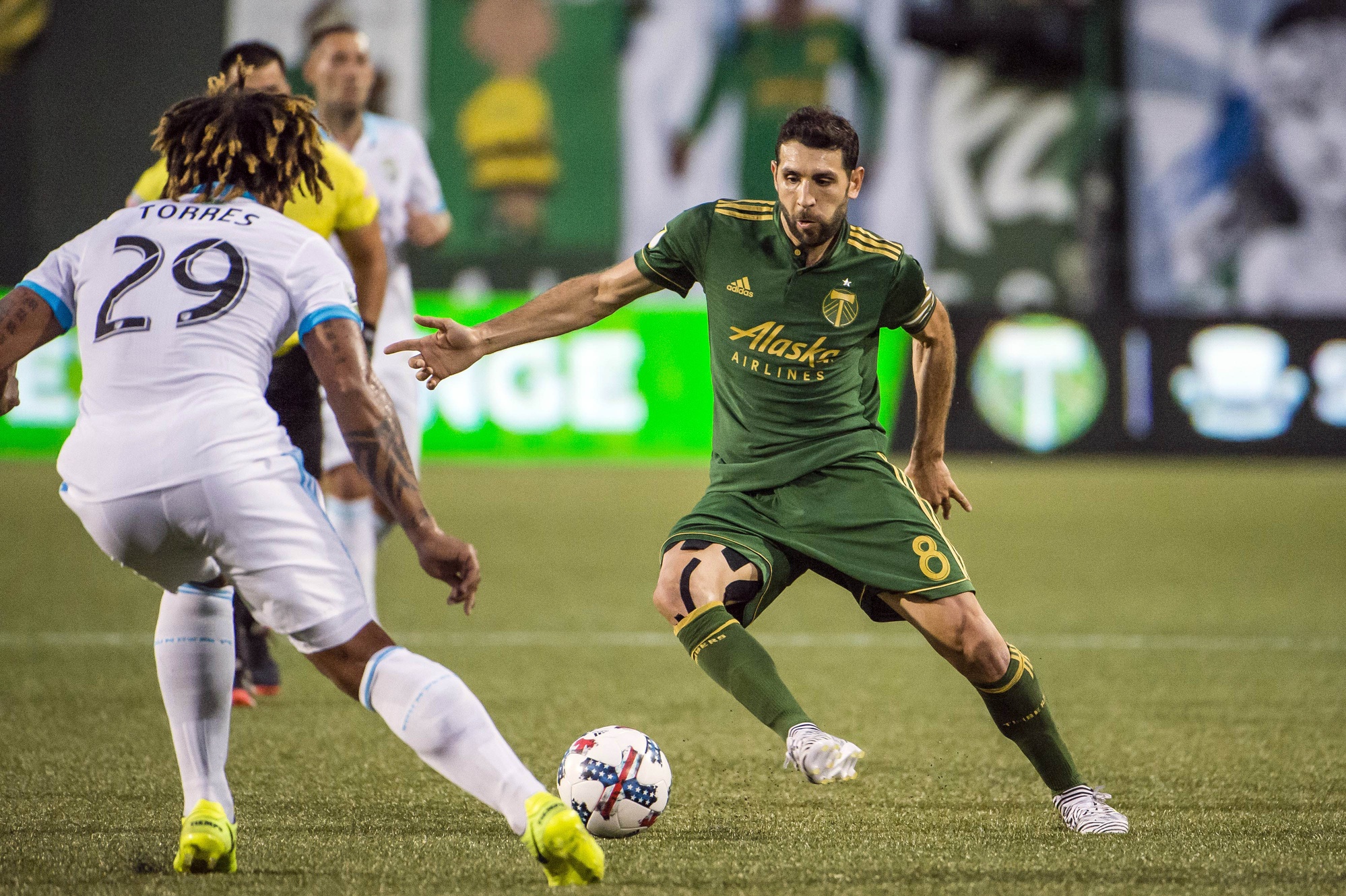 Rivalry Week is here once again!
Major League Soccer is going all out this weekend with most of the major rivalries taking center stage, starting with the New York derby on Friday night at Red Bull Arena.
Sunday's trio of nationally televised games feature the 401 Derby, California Clasico and the showcase piece of the Cascadia Cup.
Lost in the hullabaloo surrounding Rivalry Week are the other six matches taking place across North America, some of which mean plenty to the Eastern and Western Conference playoff races.
Here's a detailed look at the rivalries and the games left out of the spotlight this weekend.
New York City FC at New York Red Bulls (Friday, 7 p.m. ET, ESPN)
New York is currently a lovely shade of light blue or a disgusting hue of an ugly color depending on who you talk to on either side of the New York derby. The last time the two rivals played Bradley Wright-Phillips and David Villa dueled it out at Yankee Stadium, with Villa and New York City FC coming out on top.
Friday not only means a ton in the rivalry itself, but in the East standings. A win by the visitors would firmly secure them in second place and plunge the New York Red Bulls into the race for fifth and sixth. Conversely, a win by the hosts keeps them safe from the nonsense near the red line and puts a bit of pressure on NYCFC's second place.
New England Revolution at D.C. United (Saturday, 7 p.m. ET, MLS Live)
The New England Revolution and D.C. United have been around for a long time, but they haven't developed a hatred for each other the way the other teams along I-95 have so we'll call this the Tertiary Cup, or the Bottom of the Table derby to be specific for this year.
Both teams have no shot of making a surge up the Eastern Conference table to make the playoffs, like they have in past years. It's all about next year and this year's summer signings getting acclimated now so 2018 can be a success.
Atlanta United at Philadelphia Union (Saturday, 7 p.m. ET, MLS Live)
Rivalry Week is the perfect time for two teams to meet for the first time. Atlanta is waiting to get home to Mercedes-Benz Stadium and a trip to Chester in the last step in that process. After losing to D.C. United for the third time this season on Wednesday, the Five Stripes are in need of a positive result heading into the international break.
The Union and the word positive have one of the biggest ongoing rivalries in MLS. The club's playoff hopes have been ruined and they aren't even playing for a first-round pick since that belongs to New England from the Charlie Davies trade.
FC Dallas at Columbus Crew (Saturday, 7:30 p.m. ET, MLS Live)
FC Dallas and the Columbus Crew both have a hockey team and a football team that a lot of people dislike, but they don't have many difference that would make them rivals. They do have a playoff hunt in common this season, though.
The Crew are positioning themselves nicely for a spot in the top six, but they have to wary of the game in hand the Impact and Atlanta United have behind them in the East. On the other hand. FC Dallas are in need of a result in the worst way after dropping a two-goal lead to the Dynamo on Wednesday, moving their winless run to five games.
Vancouver Whitecaps at Orlando City (Saturday, 7:30 p.m. ET, MLS Live)
The Whitecaps and Orlando City do not have a rich sporting history against each other, but one can assume based off Vancouver's short schedule that Saturday will go as well as Bryant Reeves trying to defend Shaquille O'Neal in a Grizzlies-Magic game.
Orlando City is making clinching a playoff berth look as difficult as doing a backside 1260 on a snowboard on Whistler Mountain. The Lions have two wins since May 31, a record that is unacceptable as the team looks to make a step forward in Year 3.
Minnesota United at Chicago Fire (Saturday, 8 p.m. ET, MLS Live)
Unlike some of the other opponents this week, Minnesota and Chicago are natural rivals in other sports and it may have some real offense thanks to Minnesota's continued rivalry with a functional defense.
The Fire need to take care of business against one of the league's worst teams. With five losses in their last six games, the Fire are trending downward at the worst time, but 90 minutes against the Loons should be the perfect remedy.
Colorado Rapids at Real Salt Lake (Saturday, 10 p.m. ET, MLS Live)
Looking for an actual MLS rivalry on Saturday? Well, you're going to have to stay up late for the second edition of the 2017 Rocky Mountain Cup, and it might be worth staying up to watch Real Salt Lake look for another big win against the lowly Colorado Rapids.
RSL will lock up the Rocky Mountain Cup for the second straight year with a win, and more importantly, the Claret and Cobalt will continue to put pressure on the top six in the West. With the West being so congested, it's not out of the question for Mike Petke to lead his team into the postseason as one of the hottest teams in MLS.
Toronto FC at Montreal Impact (Sunday, 4:30 p.m. ET, ESPN)
Finally, back to the real rivalries. The 401 derby up in Canada may be one of the most underrated clashes in MLS, but it's gained ground since the Eastern Conference final meeting last year.
Toronto FC is hands down the best team in MLS, but a road challenge against a surging Montreal Impact team will be a nice test for Greg Vanney's team. The Impact have to treat Sunday as a playoff game, as they must with every remaining game with Atlanta waiting to pounce with its games in hand.
San Jose Earthquakes at LA Galaxy (Sunday, 7 p.m. ET, Fox Sports 1)
The Cali Clasico used to send shockwaves across MLS, but right now it's nothing more than a small aftershock hoping to do some damage on the national landscape and create some attention.
The San Jose Earthquakes are a year away from being a serious face on the MLS landscape again, but they do have some nice pieces to display in Vako, Jahmir Hyka and, of course, the reliable Chris Wondolowski. In order to even have a chance at the postseason, the Quakes need to improve on their 2-10-1 road mark. It just so happens they play a Galaxy team that is 1-7-4 at home this season and almost out of hope from a disappointing campaign.
Portland Timbers at Seattle Sounders (Sunday, 9:30 p.m. ET, Fox Sports 1)
Apologies to everyone who thinks they have the superior rivalry, but Seattle-Portland is the best MLS has to offer right now when it comes to big stakes. The passion of the fans is matched by few and the product on both sides of the field is usually high-caliber.
And on top of all of that, Sunday's nightcap at CenturyLink Field is first versus second in the Western Conference. It doesn't get any bigger than this and there's no doubt Clint Dempsey, Nicolas Lodeiro, Jordan Morris, Darlington Nagbe and Diego Valeri will be up for the big game. And if both teams continue on their current trajectory, we could see a rematch in the postseason.