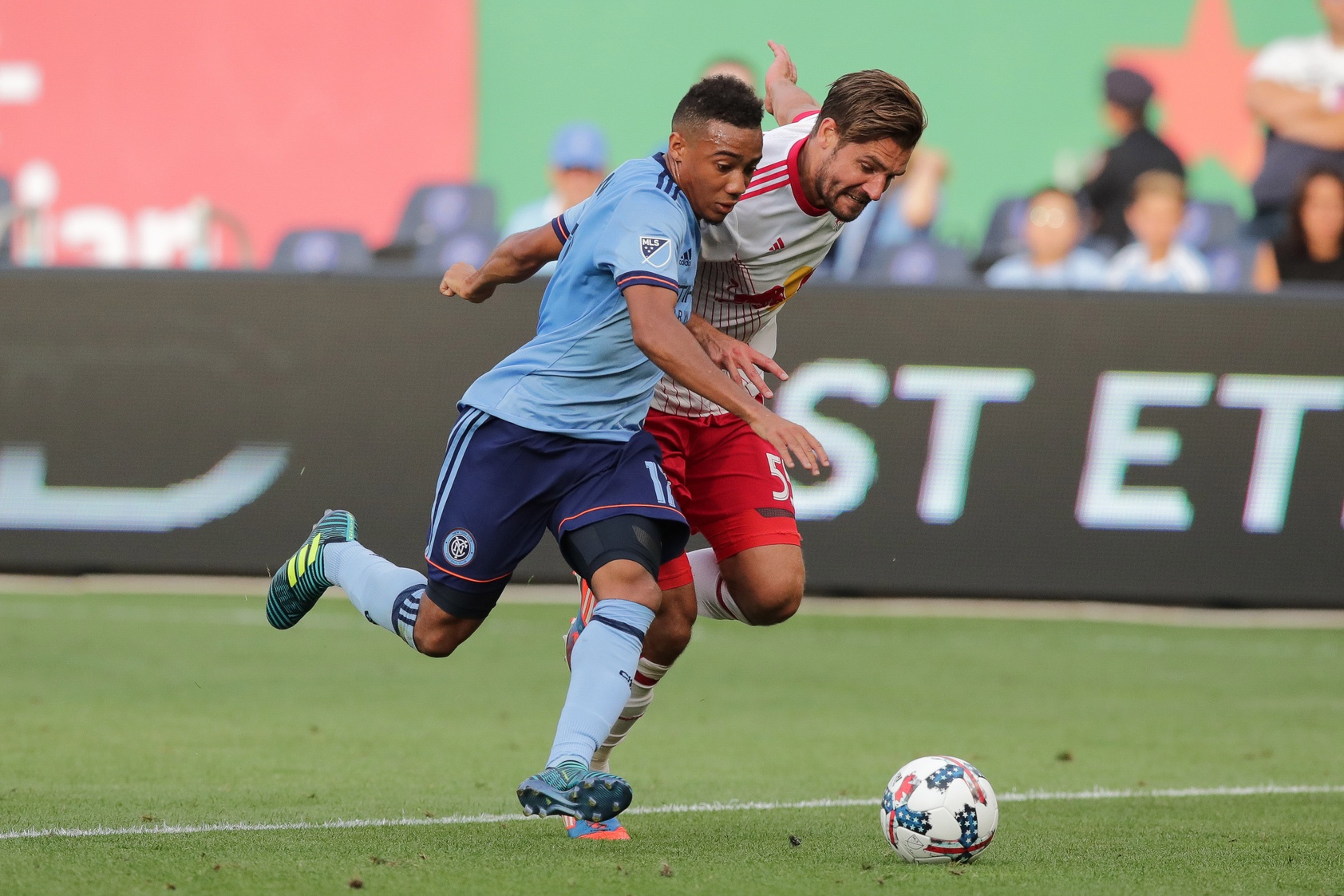 Team can be defined as a group of people coming together to achieve a common goal. With contributions from myriad sources within the squad during the course of the season, New York City FC suits the description.
The most recent to emerge from the 26-member first-team is rookie Jonathan Lewis. He scored the initial two goals of his professional career in the last two contests – both game winners. After spinning and slaloming past three Galaxy opponents, he struck a golazo to open the scoring in a 2-0 triumph in Los Angeles. The Florida native then finished the decisive stoppage time strike in the come-from-behind home victory over the New England Revolution. Afterward, the Akron product drew praise from a teammate who is proficient in the goal scoring arena.
"He's a guy who is not afraid," said the MLS leader in goals, David Villa. "This is really important when you are 19 years old. Sometimes I see guys with a lot of quality but they are afraid which is normal. When I was 18 years old and you put me in front of 20,000 people, I was afraid. He doesn't have any fear – he plays the same way he trains."
"David, he knows what he is talking about," said Lewis. "He's played in La Liga and the World Cup – if he says that I have that I'm hoping things go well for me and the rest of the team – we all have to play with no fear, that's how you win games."
Lewis, the third overall selection in the MLS Super Draft, appeared just twice in the opening 20 matches for a total of 23 minutes. He has started three of the last five.
"I am really pleased with the way Jonathan is growing up as a player," said head coach, Patrick Vieira.
In addition to Lewis, a quartet of irregulars have helped solidify NYCFC's place as the second best team in MLS behind Toronto FC.  Against New England, Mikey Lopez filled in for the suspended Alex Ring in the holding midfield role. Lopez played a total of one minute in the prior three matches.  Frederic Brillant started his fifth straight match at center back in place of the injured Maxime Chanot. NYCFC was 0-4-1 in Brillant's first five significant appearances this year.
After a four game absence, RJ Allen got the nod at right back for the suspended Ethan White and Khiry Shelton's front post stance occupied two New England defenders on Villa's uncontested equalizer at the top of the six-yard box. Shelton has missed 16 matches with hamstring issues.
"I told you a few games ago that we need everybody for winning," said Villa, now with 19 goals on the season and 60 in his MLS career. "You can't win a trophy with 11 players. You need the whole roster."
NYCFC has won four out of five with the lone defeat a lopsided loss at Toronto FC who they trail by seven points with a game in hand in the race for the Supporters Shield.
Vieira meets Girardi
While NYCFC is preparing for the rivalry match versus the New York Red Bulls on Friday, Vieira absorbed another kind of derby at Yankee Stadium in a recent Subway Series baseball game between the Yankees and Mets. He met Bombers manager, Joe Girardi and invited the Yankee skipper to training in Girardi's home town, Purchase, New York.
"I have a massive respect for what he achieved as a player and as a coach," said Vieira. "We talked a lot about the transition of players going into coaching and it was fascinating – I love the story behind his success."
Vieira won an EPL title, a European Championship and the World Cup while Girardi, in his 10th season as Yankees manager, won three World Series as a player for the Yanks and one title as their manager. Both have the pressure of winning with a big club in a big city.
"We talked about how he's managed the Yankees brand because its one of the biggest franchises in the world and how he finds it difficult at times to control the players," said Vieira. "We had some interesting conversation and something I will take with me. I believe it can help me build a stronger relationship with the players and anticipate some stuff about players the way they conduct themselves off the field."
Hudson River Derby
NYCFC and the Red Bulls have already met four times in 2017 (pre-season, US Open Cup and two regular matches) but Red Bulls iron man, Luis Robles said that has not evaporated any of the luster from what has been a heated rivalry.
"If anything, with each game it continues to build more and more," said Robles. "I know it's a great experience for the fans but also the players. I hope the stadium is full."
Red Bull Arena has been sold out just twice this season – the derby opener on June 24 won by NYCFC, 2-0 and August 12 when the Red Bulls dispatched Orlando City, 3-1.
In game two of this season's rivalry at Yankee Stadium, it was Villa 3, Bradley Wright-Phillips 2. Wright-Phillips has now scored 10 goals in the eight-match series placing him third in MLS annals for tallies against one opponent and among four Red Bull players in the top 10 joining Thierry Henry, Clint Mathis and Juan Pablo Angel. Henry had nine goals in five matches against the Montreal Impact.
Regarding Villa, Red Bulls defender Kemar Lawrence insists that Spain's all-time leader in goals will have to earn his finishes in order to avoid an NYCFC series sweep.
"He's a good, smart talented player," said Lawrence. "Friday might be a day you won't feel like we respect him.  I already told the guys I have no respect for anybody from the first minute the whistle goes off."
Lawrence is expected to start on the left side of a three-back system with consistent battles against Villa and Jack Harrison the likely scenario.
"I hate to get beat, each and every day that is my personal challenge to not get beat," said Lawrence. "In a humble way, you can go through the records of the teams I have played in you can see how much I get beat – it's almost never, really."
Center Back Trialist
With depth lacking in central defense following the swing and miss in the transfer market, Tom Thorpe, a 24 yr old unattached center back, is on 10-day trial with NYCFC. At one point a promising Manchester United Academy prospect, he last played in 2016 with the Bolton Wanderers. He made 25 appearances and helped elevate Bolton from tier three to the Championship last season.