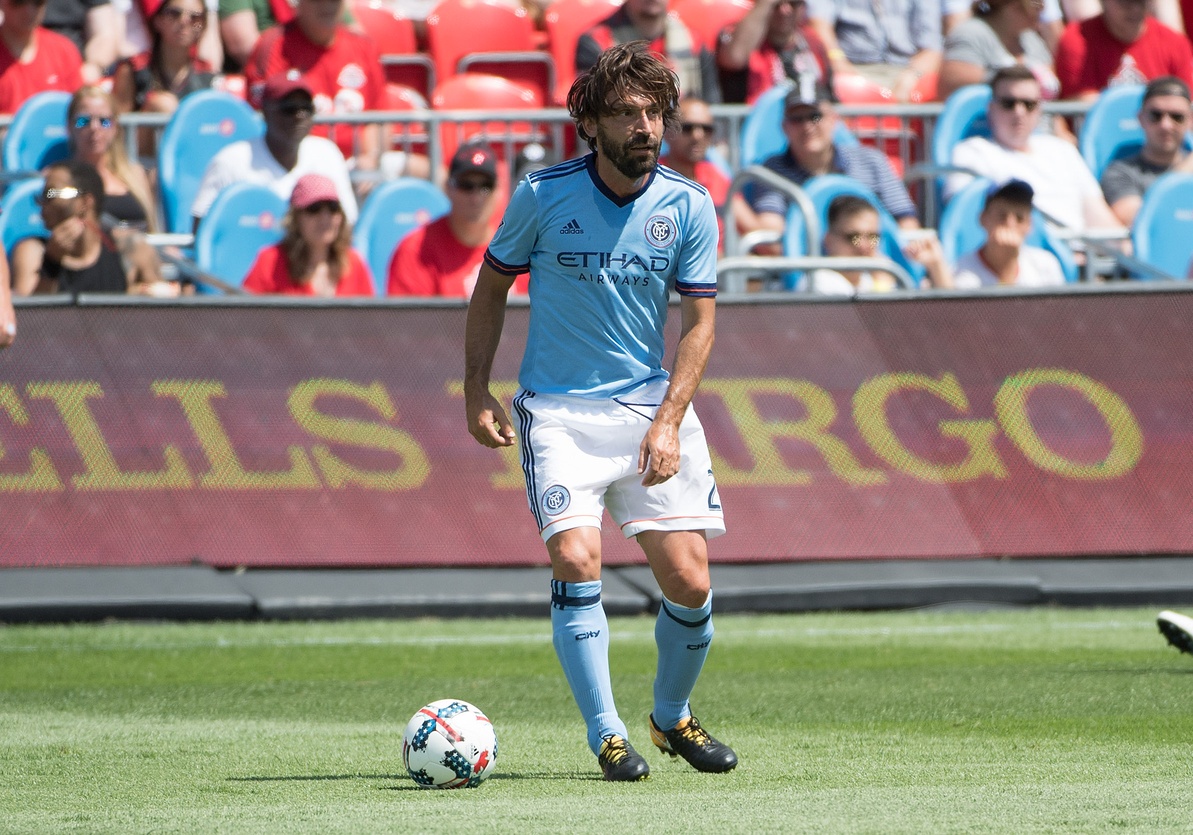 The aspiration for Patrick Vieira is singular: win MLS Cup in his sophomore season as a first team coach with New York City FC. The Arsenal legend is also pragmatic and has resolved that there is little chance NYCFC can hoist the Cup in early December without roster reinforcements.
"I think when you look at the game and their roster, we still have a long ways to go," he said.
Vieira was referring to a Toronto FC side who had dismantled his group 4-0 on the weekend.
"There is still a gap," said Vieira. "We couldn't perform because they were too good for us. As simple as that."
NYCFC played the clash for first place in the Eastern Conference of MLS without injured center back, Maxime Chanot and their 19-year old phenom, Yangel Herrera who was ejected early in the previous match against the Chicago Fire. In an inspirational team performance, NYCFC defeated the Fire, 2-1 playing with 10 men for 78 minutes.
"The way we played against Chicago a man down and the way we played today, it's difficult for me to accept our lack of consistency," said Vieira. "We have a massive one next week and it's going to be a derby, so we just have to take and look at what we can improve."
 Heading into Sunday's rivalry match against the New York Red Bulls, NYCFC ranks third out of 22 teams in MLS. However, Vieira has made public claims that his squad is not talented enough to be a champion. As recently as last week he declared that NYCFC will be buttressing their team with a signing or two – outwardly alerting Technical Director David Lee and Sporting Director, Claudio Reyna the two men at the head of acquisitions. No transactions are imminent and the transfer window closes Wednesday, August 9.
Pirlo's Last Dance?
Vieira had several lineup considerations for the Toronto FC match. Noteworthy was the decision to insert 38-year old Andrea Pirlo for Herrera in the triangle midfield.
"I don't have any doubts about what Andrea can bring to the team," said Vieira after he announced the XI. "We are playing against one of the top teams in the table and I think that Andrea with his experience and the way he can open up the game, he will really help the team."
While Pirlo was able to deliver quality service to the attacking players in front of him, his inability and reluctance to defend was highlighted on a pair of Sebastian Giovinco goals while adding to the video library of Pirlo's defensive frailties which have circulated world-wide on social media.
Giovinco handily beat Pirlo off the dribble near the top of the box and scored an upper-corner golazo late in the first half. Pirlo jogged to close down the Atomic Ant who cut back against the grain as Pirlo approached leaving his compatriot a nice view of the goal from behind. 20 minutes into the second half, Giovinco scored on his MLS record 10th free kick from just outside the area. Pirlo was on the outer edge of the defensive wall and was caught hiding behind teammate Frederic Brillant as the front-post arrow whistled over his spot and beyond the reach of Sean Johnson. A brilliant finish but a deplorable maneuver by Pirlo who was removed by Vieira moments later in favor of Sean Okoli.
"You just can't play Pirlo anymore. It's a liability," tweeted ESPN analyst Taylor Twellman to his 300,000 followers.
"Game after game I have to make a decision and pick the best starting XI to give the team the best chance to win the game," said Vieira.
Pirlo may have forfeited his privilege to be considered. NYCFC has seven losses this season – Pirlo has started in six of those defeats.
White or Allen at right back?
Recently, Vieira has juggled his pair of right backs – Ethan White and RJ Allen with an occasional mix of Mikey Lopez. White was the choice against Toronto FC.
"Ethan defensively can help the team a little bit more than RJ," said Vieira. "So that will give more freedom for Jack (Harrison) to go forward."
Allen was a regular in 2016 but has appeared in only 10 of 22 matches in '17 with six starting assignments. Allen sits when Vieira needs a superior defensive presence in the lineup.
"I've learned a lot about myself and I'm someone who wants to play week in and week out," Allen told SBI. "It hasn't worked out for me this year like it did last year but I'll continue to push hard every day. I'm someone who wants to be an MLS All-Star and I think I'm good enough to do that in this league."