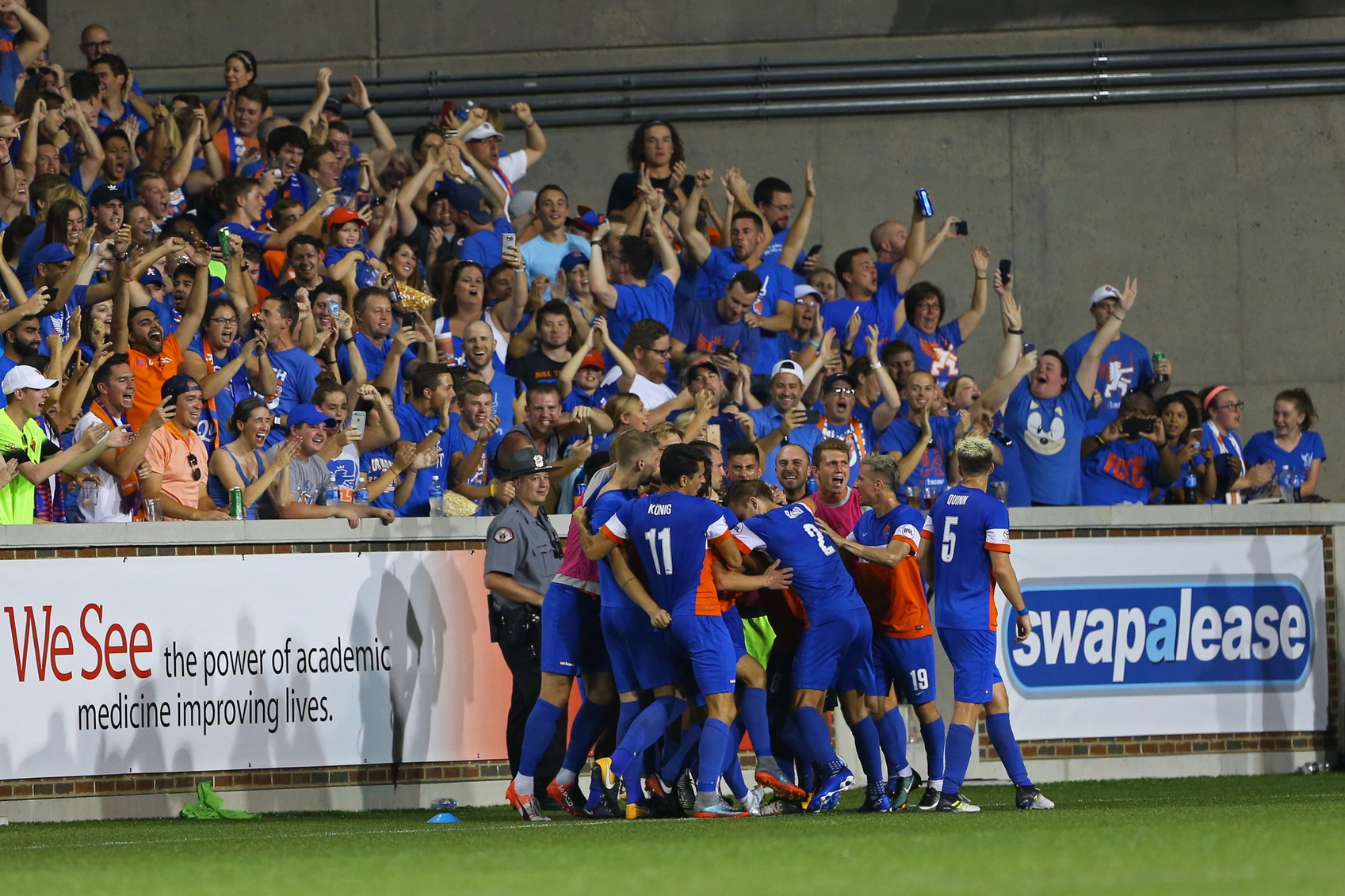 CINCINNATI– Minutes after their victory in the U.S. Open Cup semifinals, the New York Red Bulls players went out of their way to applaud the fans in blue and orange who remained inside Nippert Stadium.
Every player in red and white, their manager and the traveling support tucked into the right corner of the stadium was quick to point out how impressive Cincinnati's soccer culture is.
Cincinnati is hoping it made the same impact on MLS Commissioner Don Garber, who sat in a suite alongside U.S. Soccer president Sunil Gulati on Tuesday night.
Red Bulls manager Jesse Marsch and captain Sacha Kljestan were full of praise for Cincinnati and hoped they'd be back sooner rather than later.
"The atmosphere was electric, as good as I've seen anywhere," Marsch said. "Right now the momentum in our sport is incredible and so I'm glad that the people of this city have recognized that having a team here has been really good, fun and entertaining. The sport is growing. I think Cincinnati would be a feather in the cap of MLS." 
"I have to give a round of applause to not only the team of FC Cincinnati, but the fans as well," Kljestan said. "They have every right to be where they were in the tournament. I think they've proven defensively and in just their work ethic and the way they play as a team that they got to the semifinals as no fluke. The stadium, the atmosphere, the fans tonight were amazing. I think they've created something very special here and I was very excited to play in front of this crowd because it felt like a big game." 
What Marsch, Kljestan and the rest of the Red Bulls echoed was something FC Cincinnati manager Alan Koch has been preaching for months.
"I've worked for an MLS club the last three years before I came here and I've been fortunate to sit on the bench in multiple MLS stadiums and this is right up there," Koch said. "I said this several months ago when I got here. This is an MLS city and it's heading in the right direction. If that was an MLS game, it would be a fantastic environment." 
The process is still going to be long and drawn out and every expansion bid is going to be considered, but Cincinnati did nothing but help its bid to be  one of the final four teams accepted into MLS.
The only other city that can challenge the crowds Cincinnati has produced is Sacramento, who is also looking to make the jump from USL to MLS behind a notoriously boisterous group of supporters.
Cincinnati would easily find a group of local rivals in Columbus, Chicago and Kansas City, and it doesn't have to prove the fan base is of MLS quality. Some MLS teams would kill to have even half of Cincinnati's 33,250 fans that were in attendance on Tuesday night.
Nippert Stadium's location is ideal since it's in the middle of a bustling college campus, but it doesn't fit the soccer-specific stadium model that MLS likes to have with its expansion teams. Plus sharing a field with a college football team, albeit less complicated than doing so with a baseball team, is a tough thing to get past.
Plenty still has to be done for Cincinnati to officially make the leap from USL to MLS, but Tuesday was important in the fact that the Queen City gained plenty of backers for its bid, including one head coach who is excited to return.
"If you can create any type of environment like that on a weekly basis, you're going to have a good team," Marsch said. "You're going to create an environment that makes players want to come here and ultimately that's going to make you successful so I really look forward to seeing the future of this club."