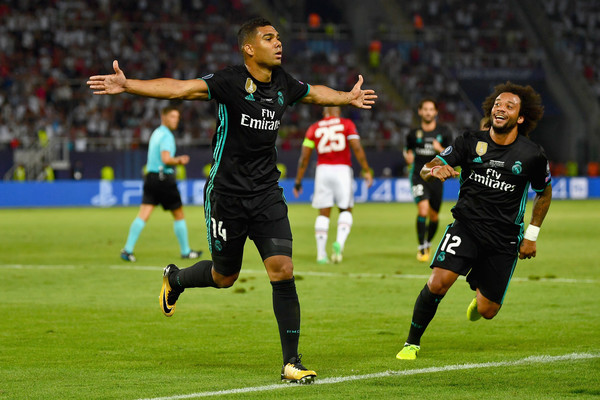 Defending UEFA Champions League winners Real Madrid added another trophy to their ever-growing trophy-case on Tuesday evening.
Zinedine Zidane's men edged Jose Mourinho's Manchester United, 2-1, in the UEFA Super Cup in Skopje, Macedonia. The Super Cup title was Real Madrid's fourth all-time, and their third in the last four seasons. Manchester United fall for the third time in the European Super Cup, and have not win since 1991.
The La Liga side had the first crack towards goal, as Casemiro's 16th-minute effort went off the bar. However, the Brazilian wasn't to be beaten a second time, beating David de Gea just eight minutes later. A chipped assist from Dani Carvajal found the midfielder alone in the box, and Casemiro slotted past de Gea to the bottom right corner.
Karim Benzema came close to doubling Los Blancos lead just before halftime, while Romelu Lukaku had Manchester United's only shot on goal in first-half stoppage time.
Isco added to Real Madrid's lead after 52 minutes, finishing off a one-two with Gareth Bale to the bottom right corner. Bale's effort after 61 minutes was the second Madrid effort to go off the bar in the match.
Lukaku pulled United to within one a minute later, finishing from close range after Keylor Navas spilled a rebound. Despite coming close after the hour mark, Manchester United could not beat Navas for a second time, eventually falling 2-1.
Navas made five saves in the win, while De Gea made four in the defeat.
Real Madrid now turn their focus to the 2017-18 Spanish La Liga season, which begins on Saturday August 19. Los Blancos will look to defend their league title, as well as their Champions League crown.
Manchester United kick off their English Premier League campaign on Sunday, August 13.