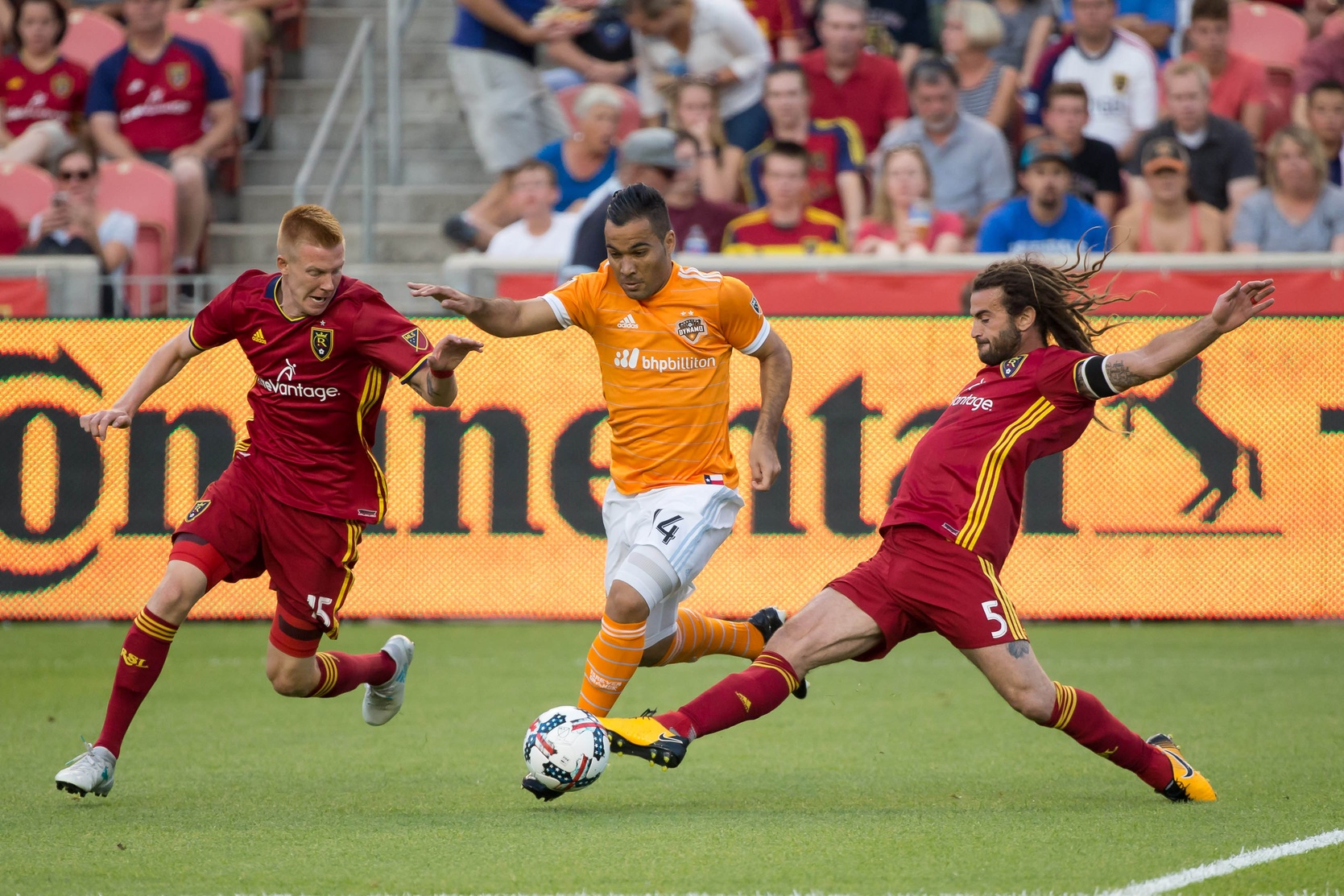 Real Salt Lake and the Houston Dynamo couldn't provide a goal, but each earned a point and extended their current unbeaten streaks to five consecutive matches.
The scoreless draw was heavily tilted in RSL's favor, but they failed to take the chances they created throughout the match, failing to hit the target on any of their 21 shots in the match. RSL dominated possession and shots over the Dynamo, creating a number of good opportunities to take the lead, particularly in the second half of play.
The Dynamo were reduced to 10 men in the 65th minute after Alex picked up two yellow cards in one minute for unsporting behavior. First, in the 64th minute, Alex was involved in a dust up in the midfield during a stoppage in play with Albert Rusnak. Moments later, Alex left he his studs exposed on a challenge at the top of the RSL box on Kyle Beckerman. Alex will now miss next weekend's game against the San Jose Earthquakes.
RSL's best chances of the nigh all came after the man advantage. Jefferson Savorino, Justin Glad, and Yura Movsisyan had excellent opportunities from inside the box, but couldn't keep their shots on target. The Dynamo continued to back the box from the 65th minute onward, only looking for opportunities on the counter attack.
With the sides even on men in the first half, the action was a bit more flowing. Each team spent the first half probing, with RSL finding the best chances, but failing to capitalize. Joao Plata had the best chance for RSL to take the lead in the first half. In the 19th minute, Plata played a give and go on the run with Luis Silva at the top of the box, shooting just wide of the left post.
As the first half continued, the Dynamo started to find more of the game and create some of danger. First, Memo Rodriguez tried to curl one over Rimando from outside of the box, but the goalkeeper parried the shot wide. Then, just before halftime, Mauro Manotas nearly put the visitors ahead as he raced into the six-yard box in an attempt to redirect a cross from Andrew Wenger. Manotas's shot was just too high to find Rimando's goal.
The Dynamo (9-7-7) remain in second place with the draw, earning seventh road point of the season. RSL (7-12-5) continues to look up at the playoffs with an envious gaze, ruing their opportunities to win the game outright.
Man of the Match
Justin Glad kept the Dynamo from taking advantage of a number of dangerous opportunities.
Moment of the Match
Yura Movsisyan missing a header from point blank range that would have pushed the home side ahead in the final 15 minutes.
Match to Forget
Alex seemed a step out of sync on the night before foolishly earning two cards to see his side at the disadvantaged