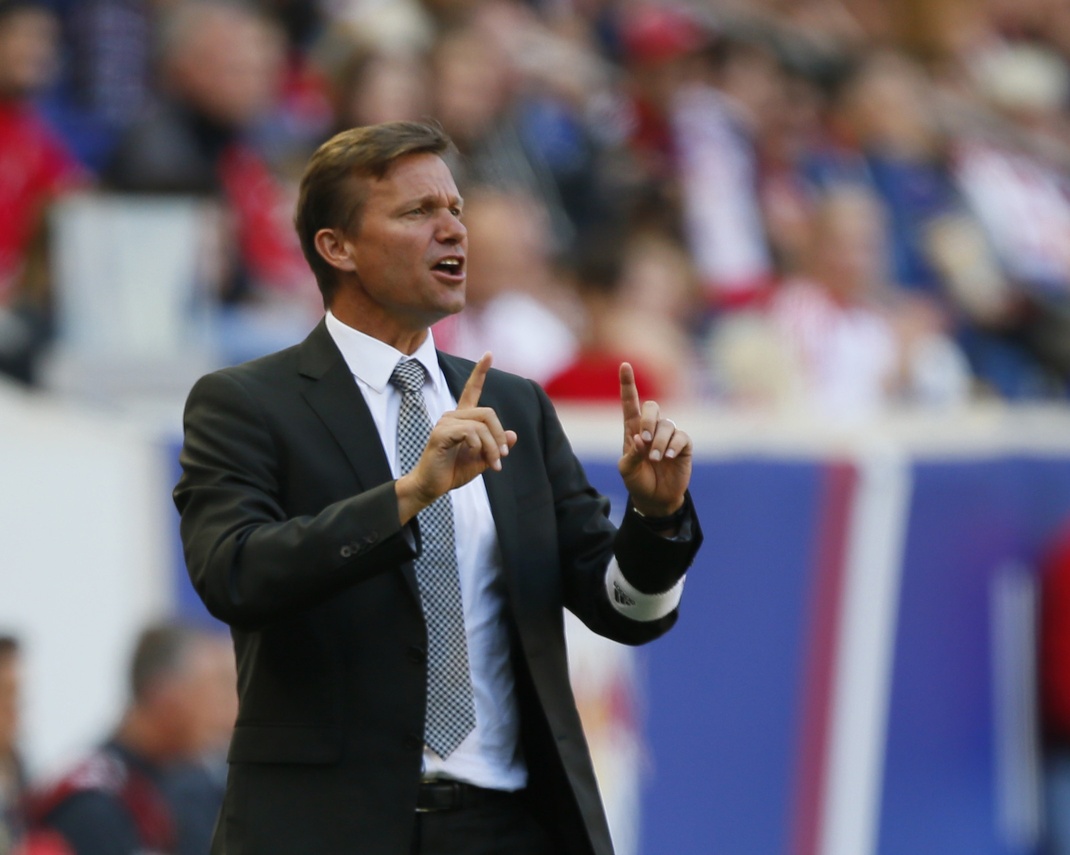 The New York Red Bulls left no questions of how the team will prioritize the U.S. Open Cup this season after reaching the semi-final for the first time since 2003.
"As big as the [NYCFC] game is, we are all excited about the semi-final, so we want to make sure that whatever we do, that we put a team on the field, come whenever that date is, that is really ready to do everything to win that match," said Jesse Marsch at training Wednesday. "So, I guess you can say in some ways, that it will take priority, but we'll make sure that however we do this, that we put good teams together so that we can get as many results as possible."
The Red Bulls have not won a domestic knockout competition in their history, dating back to their time as the MetroStars. Fans have long vented their frustrations that the team has taken the U.S. Open Cup lightly in recent years, fielding second or third choice lineups in favor of chasing regular season glory.
This season's run in the cup has been the centerpiece of the Red Bulls recent mid-summer revival. Since defeating New York City FC in the fourth round of the Open Cup, the Red Bulls are 8-1-0 across all competitions winning four straight matches on the road.
Jesse Marsch will be in attendance at Wednesday night's quarterfinal match between Miami FC and FC Cincinnati to scout their would be opponents.
"I'll be down in Miami," Marsch said. "I'll be watching the Open Cup down there, scouting that game, obviously having a keen eye on what happens down there."
The Red Bulls will travel to Miami should the NASL side win on August 9th, or head to Nippert Stadium on August 15th if the should FC Cincinnati triumph.
Injury Updates
The Red Bulls recent run of form has been impressive, especially considering the players that have been missing from the lineup.
Absences due to international duty and injury are a difficult problem for any team in MLS where parity rules the land. The Red Bulls are no exception, though they did get some positive news regarding two important defensive pieces. At practice Wednesday, Marsch updated the status of both Aurelien Collin and Connor Lade.
"Both [Aurelien] and Connor are scheduled to train with the USL tomorrow," Marsch said, "and then hopefully they can come into training on Friday with the first team."
The Red Bulls have been without Collin since he was injured in the June 28th U.S. Open Cup Round of 16 win over the Philadelphia Union. Collin has been classified as having a lower body injury and has been listed as day to day.
Lade and Collin were not the only faces missing from practice however. Newcomer Mohamed Keita has yet to take part in practice.
"Mohamed has picked up a little something, but not much. So, we are just being cautious with him to make sure," said Marsch. "Last year we brought Danny Royer in, then we pushed him and he wound up getting a hamstring injury and being hurt, so we are just being cautious with him so that we make sure we're in the long term setting him up to be healthy and successful."
Dilly Duka still auditioning
One player that popped up into the Red Bulls camp last week was one-time RB academy product Dilly Duka.
The former Rutgers standout was waived by Columbus Crew on July 10th, and made his way back to New Jersey to try to catch on with his former youth side. Initial reports seemed to indicate that Duka was simply maintaining fitness. Jesse Marsch was quick to point out that Duka was also effectively on trial with the club.
"I would say it's more we're evaluating him and seeing what it looks like. I'd say it's more than just a training stint." Marsch said.
After a week, Marsch updated Duka's status with the club, which seems to be trending positively.
"I think Dilly has done well for us. Anytime, people come here, it is just an adjustment to some of the training methods and the way we do things," Marsch said, "But I think that Dilly has been excited to be here, and he knows some of the guys from the past. Overall, I think it has been very positive with him."
Duka spent two years at Rutgers University, making 35 starts and scoring 10 goals while contributing five assists. After being drafted eighth overall in the 2010 MLS Draft, Duka has failed to find consistent time on the pitch in stints with the Columbus Crew, Chicago Fire, and Montreal Impact.
Before being waived by the Crew in July, Duka had lashed out at the club on Twitter which was not well received by coach Gregg Berhalter. Within days of the incident, Duka was once again on the move.
While the Red Bulls system is difficult to adapt to, Marsch was quick to point out that his ability to adapt to the system was only a part of the evaluation.
"Can we help him adjust to playing against the ball and then can we also use some of his abilities 1v1 and some of his attacking talents to help the team? We're still kind of in the evaluation process for that," Marsch said.
Despite all that, Marsch was overall positive in the midfielders showing in practice, but still showed the team was willing to be cautious in any deal.
"We're not ready to make a decision yet," the coach added, "but it has been so far so good."