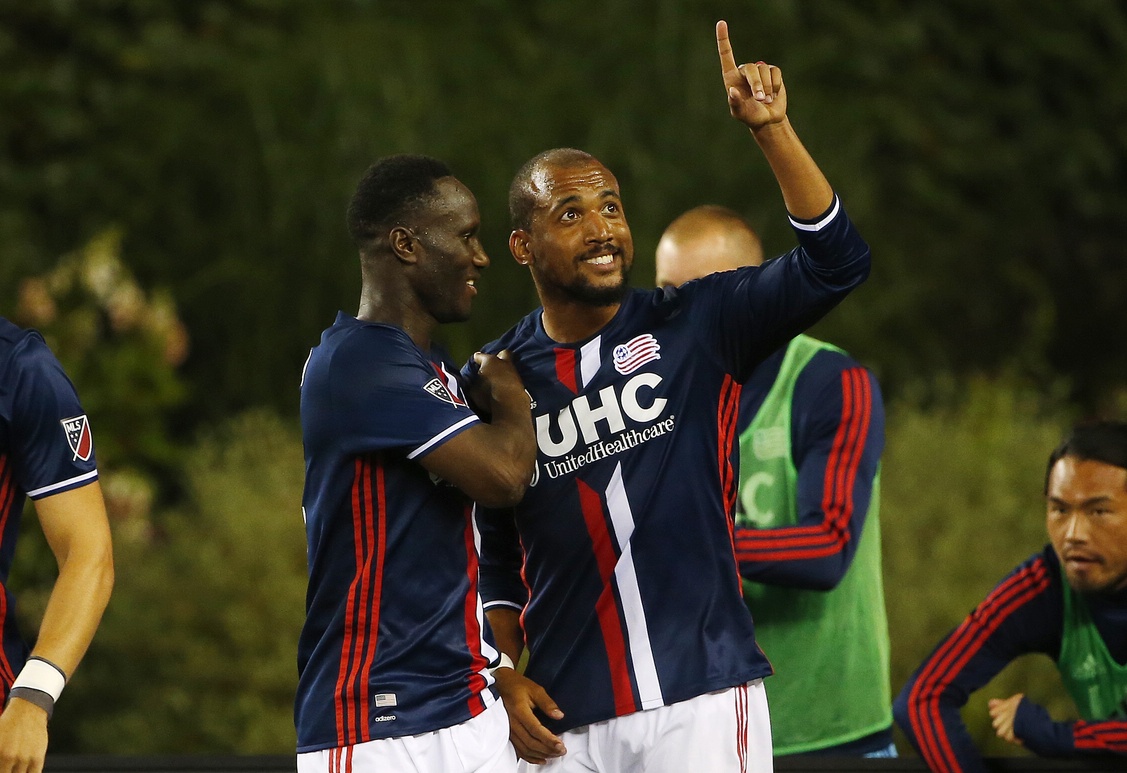 FOXBOROUGH – Despite the New England Revolution's struggles this season, there has been a general consensus that the Revolution are not lacking in offensive talent — especially so after the team's summer transfer window acquisition of Hungarian forward Krisztián Németh.
On a squad that features former MVP finalist Lee Nguyen, a striker who scored 22 goals just two years ago in Kei Kamara, U.S. Men's National Team members Juan Agudelo and Kelyn Rowe and a high-upside attacking winger in Diego Fagundez, surprisingly, there has arguably been no player more integral to the Revolution's recent 3-1 stretch than forward Teal Bunbury.
"Every game now means everything, so to be able to come home and get three points, it's so crucial now with only 11 games left in the season," Bunbury said after scoring the only goal in Saturday's 1-0 home win over the Vancouver Whitecaps. "All these points are really important for us."
Bunbury sent the Revs ahead for good on 53rd-minute counterattack, getting in behind Whitecaps defender Tim Parker to one-touch Kelyn Rowe's right side service inside the near post with his weaker left foot. It was Bunbury's fourth goal in the past five games.
"If you watch the way Teal runs, he's a very unselfish runner," Rowe said. "He's going to make the run no matter what. If he doesn't get the ball, he'll have a bark at you, but he's never going to stop running, and that's what's great about Teal. You can see it, he's pushing defenses back and it creates so much space for a guy like Lee and Kei and Diego and myself to find that underneath him. We're crediting him for the runs he's making and he's done well to put them away."
With Agudelo away with the USMNT at the CONCACAF Gold Cup, the 27-year-old Bunbury made his first start of the season back on July 5 and broke the Revs out of a 221-minute scoring drought with an early go-ahead in an eventual 3-2 loss to the New York Red Bulls.
Bunbury then came on in the 65th minute of the following match against the LA Galaxy and scored twice to send the Revolution to a 4-3 victory and snap the team out of a four-game losing streak. Bunbury admitted after the game that he was fired up over not receiving the start.
"Teal, he's a true professional. I know he doesn't like starting one game and coming off the bench in the other," Revs coach Jay Heaps said on Saturday. "But he's also a tactical piece and we can play a little differently with what he brings, and (against the Whitecaps) we really wanted that pace. We really wanted to be able to stretch their back line and find the gaps underneath."
Bunbury went goalless two weeks ago in a 3-0 win over the Philadelphia Union, but his energy softened up the Union defense to give up late goals to Kamara and Agudelo in the final five minutes.
Last week, in a 4-1 road drubbing against the Chicago Fire, Bunbury again didn't score, but the 56th-minute substitute was one of few Revs players to provide a spark in a listless team performance.
"When my opportunity comes, I want to make the most of it," Bunbury said. "I try to work hard in training. I try to show the guys that I want to be a team player and I want to work hard. That doesn't always mean I'm going to be the happiest guy if I'm not on the field and contributing, but I'm still going to put the work in, I'm going to still pump the guys up and give everything I've got."
At one point, Bunbury was a rising star in American soccer after winning the Hermann Trophy in 2009 and then making his USMNT debut the following year as a 20-year-old.
After scoring a career-high nine goals for Sporting KC in 2011, Bunbury tore his left ACL in August 2012 and had never quite recaptured his previous form — that is, until recently.
Following a multi-year experiment trying to convert Bunbury into a winger, he's back to the role he has openly stated he prefers and the team captain Nguyen drew parallels to Charlie Davies' impact on the offense during the Revolution's run to the 2014 MLS Cup final.
"We need those types of runs up top. That was the type of run that got us to the finals when Charlie was in there," the attacking midfielder Nguyen said. "Now Teal's doing that as well and we need to continue that, because you've got to make runs like that. If they don't follow, then you're open, but if they follow, then it's going to leave another guy open."
With Németh joining the team this week, the Revolution's offensive rotation will become even more clogged, but a month ago it looked like Bunbury was in danger of losing his role entirely. Now, along with Nguyen, he might be one of the players Heaps can't afford to leave on the bench.
"It's going to be a competition," Bunbury said of the Németh addition. "It's tough decisions by the coaches and we all think that we should be on the field, but we have to all stay positive, because we're going to need the collective group to be able to make this run and push for the playoffs."