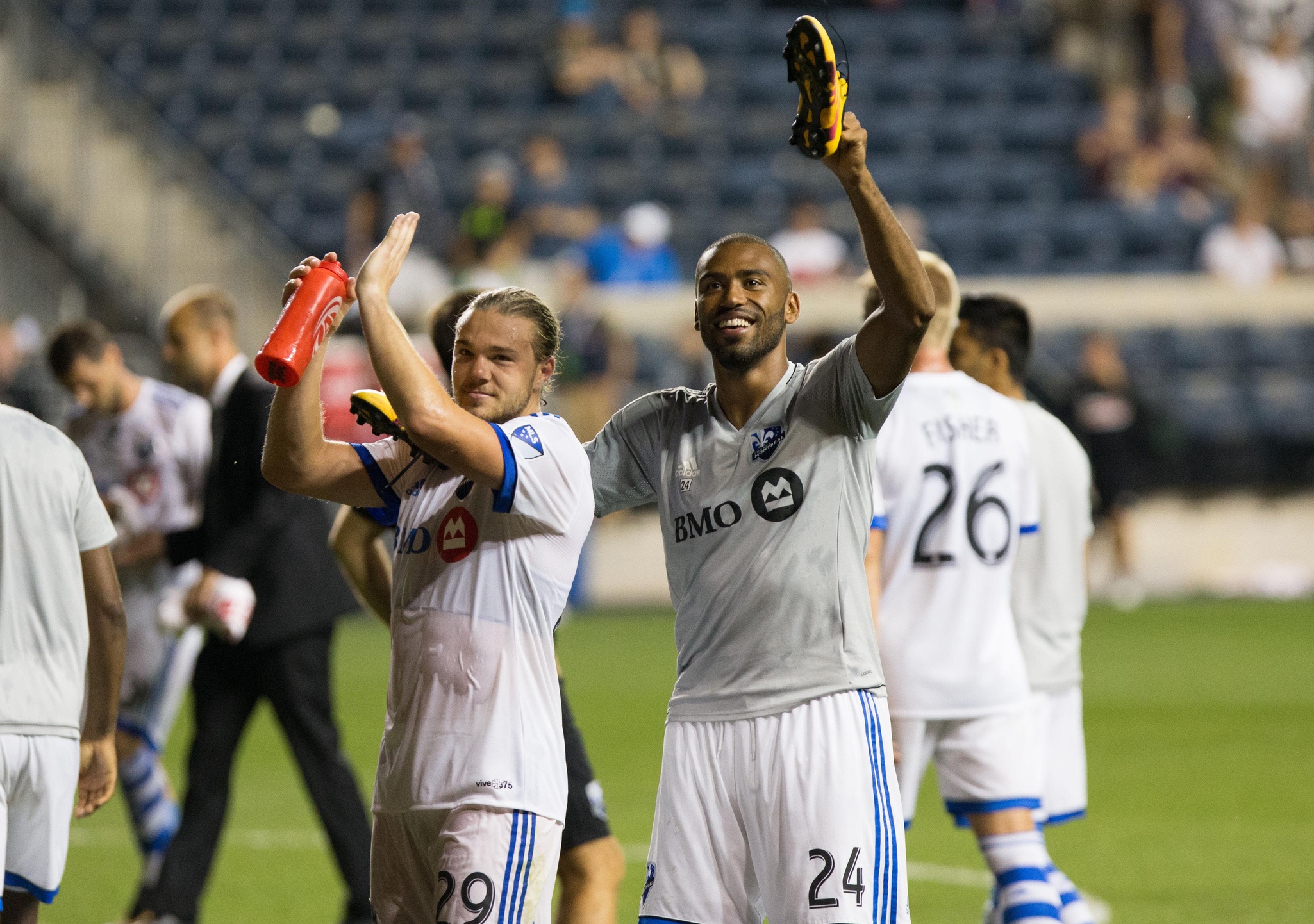 If you ask anyone across Major League Soccer, the No. 6 position can be vital to a team's success.
Samuel Piette may have just played one game for the Montreal Impact, but he showed on Saturday just how much of a role he can play down the stretch for the Canadian club.
The 22-year-old, who was signed from Izarra in Spain during the summer transfer window, bossed the space in front of the back four in the Impact's 3-0 win over the Philadelphia Union.
"He's that young player and has that profile in the league like Diego Chara, a guy like Michael Bradley that just breaks down plays," Impact captain Patrice Bernier said. "That number six position is vital for any team. He's the guy that breaks down plays and lets the back four breathe and helps the guys going forward a bit because when we do get forward we have confidence we have a guy that can break down the play and stay in position. He's 22 and he's playing very calm and composed and it's going to be nice to see what he can do with more games in his legs." 
Piette admitted he's been able to adapt well to the squad, and that his experience this summer at the CONCACAF Gold Cup with Canada helped him immensely in his transition to MLS.
"I'm a guy that adapts well to any team I go to," Piette said. "Coming back home and playing with guys that I play with on the national team is easy for me. The guys here have been great and it's easy for me to settle in." 
"The fact that I just played the Gold Cup, I thought it was very similar to that," Piette said. "It's a lot of running, I'm used to it. I'm excited to see the GPS and how many kilometers I ran. It's like the Gold Cup and it'll take a bit of time for me to settle in, but I think I showed pretty well today." 
The Canadian international also earned praise from head coach Mauro Biello, who was happy with how his side executed the game plan to perfection. Piette broke up a few surges from the Union, and then when the home side pushed forward more, the Impact were able to strike for three second-half goals.
"Piette was excellent. He was able to break up plays and to be simple," Biello said. "He protected the back four. On the ball he was excellent. He was driving through the middle and finding good outlets all game long." 
"We knew Philly are good individuals going forward," Piette said. "We tried to manage the game on the ball. In the first half we had a good possession percentage. We know we have a lot of speed with Dom (Oduro) on the right and technical abilities with Nacho (Piatti) and Blerim (Dzemaili). We have a balanced team. We had a game plan that we executed well. Sit low and wait for them to make the mistakes and we played well today." 
While the addition of Piette was a boost to the side's confidence on Saturday night, the Impact know they have plenty of work left to do in order to climb into the top six of the Eastern Conference. And that climb continues on Wednesday when the Chicago Fire visit Stade Saputo.
"We're not where we want to be yet," Biello said. "There's still work to be done and there's important games at home. We have to be ready for all these games against difficult teams. Chicago's coming in twice, we have Toronto too. It'll be a big test for us, but I think the confidence is growing especially after a big win tonight."