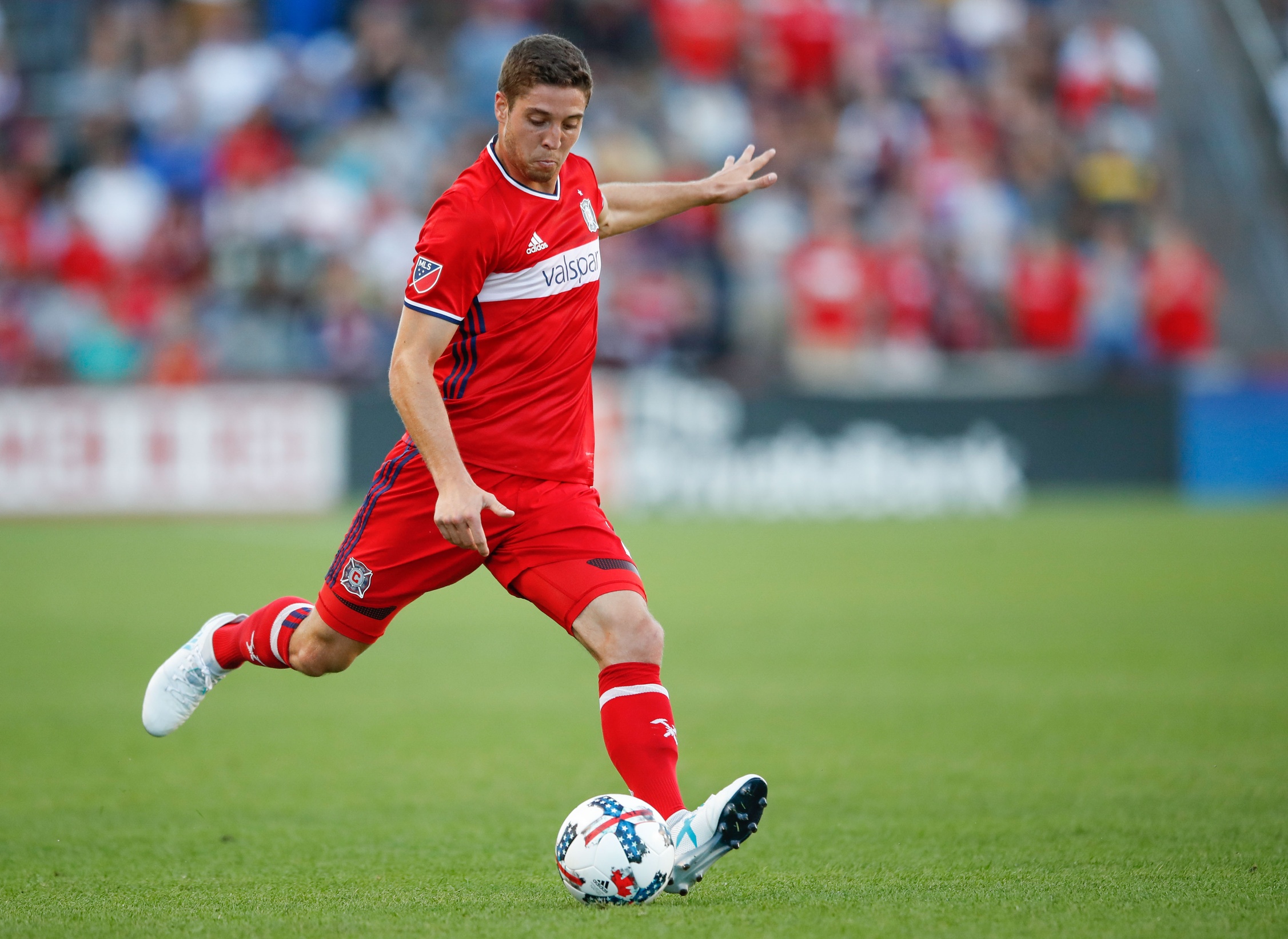 Heading into the season, Matt Polster looked like the odd man out with the Chicago Fire. He was nursing an injury as preseason got underway and the acquisitions of Dax McCarty and Juninho added two strong veteran presences to the Fire's midfield. Then came Bastian Schweinsteiger, a legitimate legend of the game, crowding Polster even further out of his preferred position.
With those three in place, there was no route to a midfield spot, but there was a chance to claim the right back position. It's a spot Polster previously filled for the U.S. Under-23 Men's National Team, and he felt comfortable enough there to give it a shot.
Since being brought on as a substitute in the final moments of a May 13 win over the Seattle Sounders, Polster has started 11 consecutive games while rapidly evolving into a reliable presence at right back. The Fire went unbeaten through the defender's first 10 appearances before hitting a recent blip, and it's easy to see that Polster's introduction has certainly been a welcome presence for a Fire team that's suddenly pushing for a Supporters' Shield.
Polster has proven to be the missing piece at what was previously a difficult position in Veljko Paunovic's team. There's still a learning curve, sure, but Polster has used his experience as a central midfielder to help develop into his own type of right back.
"I didn't see all of it happening right away, all three of those guys coming in and getting moved to right back like I did," Polster told SBI. "I'm the type of guy that wants to help the team and be in the starting XI however I can. I was willing to fight for that right back spot and win that and progress from there. I've played right back before with the U-23s under Herzog. I'm familiar with it. I understand what to do in moments.
"It's my third year, and I'm growing into the type of player that is making the right decisions in the right moments, but I think I can do a better job. They're mentoring me in that aspect of my game."
Polster admits he'll never have breakneck speed. He'll never be able to run like teammate David Accam, and he'll never be the type of player that can beat you consistently in one-on-one situations. But he can combine and he can work in tight spaces. He can't look at a player like Dani Alves for inspiration, but Polster says he watches a lot of tape on Phillip Lahm to learn how to bring technique to a position that many base around speed.
His time as a central midfielder has helped him understand what McCarty and Schweinsteiger need and want from their own positions as well. He knows where the trio will be, and he knows when and how to keep the ball when he does find it at his feet. It comes with experience, and he's getting that experience alongside three savvy veterans. Polster joked that there have been several times where he's drawn the ire of Schweinsteiger, saying there are moments where the former Bayern Munich star "gets a little angry" at his mistakes, but the German's lessons have been vital in helping him develop into a more complete player.
According to Paunovic, it's a process that's still ongoing. At just 24 and with roughly two-and-a-half years of professional experience under his belt, Polster is still in need of mentoring from the Schweinsteigers of the world as he looks to develop as a player, no what matter position he's in.
"He's developing well. He's still learning the position and he's doing well," Paunovic told SBI. "He accepted it and he's covering that role that he's playing as a right back. He still has to mature more, not only soccer-wise, but off the field too. He's a young man. He's very enthusiastic, very cheerful, and that's great, but he also has to learn, with that energy that he has, how to transfer that energy into energy that is efficient on the field and off the field for life."
While guiding the Fire remains Polster's primary goal, he was also recently the subject of some national team interest. When Polster checked his emails during the first few days of June, he was shocked. He was just getting back into a groove after missing the first two months of the MLS season, but, when he checked his messages, he found one from U.S. Men's National Team boss Bruce Arena, and the fullback admits he was as surprised as anyone.
He was named to the preliminary roster ahead of the USMNT's Gold Cup run but wasn't selected for the final 23-man list as players like Eric Lichaj, Justin Morrow, Graham Zusi and Jorge Villafana held down the fullback positions. Polster has joined the USMNT before, earning a call in to the 2016 January Camp under Jurgen Klinsmann. However, he has yet to make a senior appearance. and that remains a goal of his as he continues to find his footing within the Fire system.
"When I did get the call up to the 40-man, I was shocked," Polster told SBI. "I put it into perspective. It's something I really want to do. It's something where I want to get my first cap for the national team and show what I'm capable of and show Bruce and that staff that I'm able to play at that type of level and help them win. It's something I've always been striving for. It's a goal of mine and something I want to happen one day.
"I felt like I was playing well, but I thought it was still early. To be on that type of roster, it's an honor… I'd love to prove myself in front of that coaching staff and see how things go."
Still, he knows he still has work to do with the Fire and lessons to learn as he continues through what could be a breakout season. The Fire have been good thus far, yes, but they're a long way from true success. The recent downswing has been humbling, and the Fire will need a major push if they hope to compete for silverware this season.
Polster hopes to be a part of that push and a part of something special. His first two seasons in Chicago were filled with more downs than ups but with his team on the upswing, the fullback is looking to step in and contribute however he can.
"We've put ourselves in a great spot so far, but we're not even halfway through yet," Polster said. "We have to keep performing and getting results at home and away. The goal is to first make playoffs. This team has a lot of ability and has a chance to do something even bigger than that.
"I just have to keep playing well. I want to be a part of the national team, and the way to do that is to play well at the club level. Hopefully, we do well, I play well,  and we win."