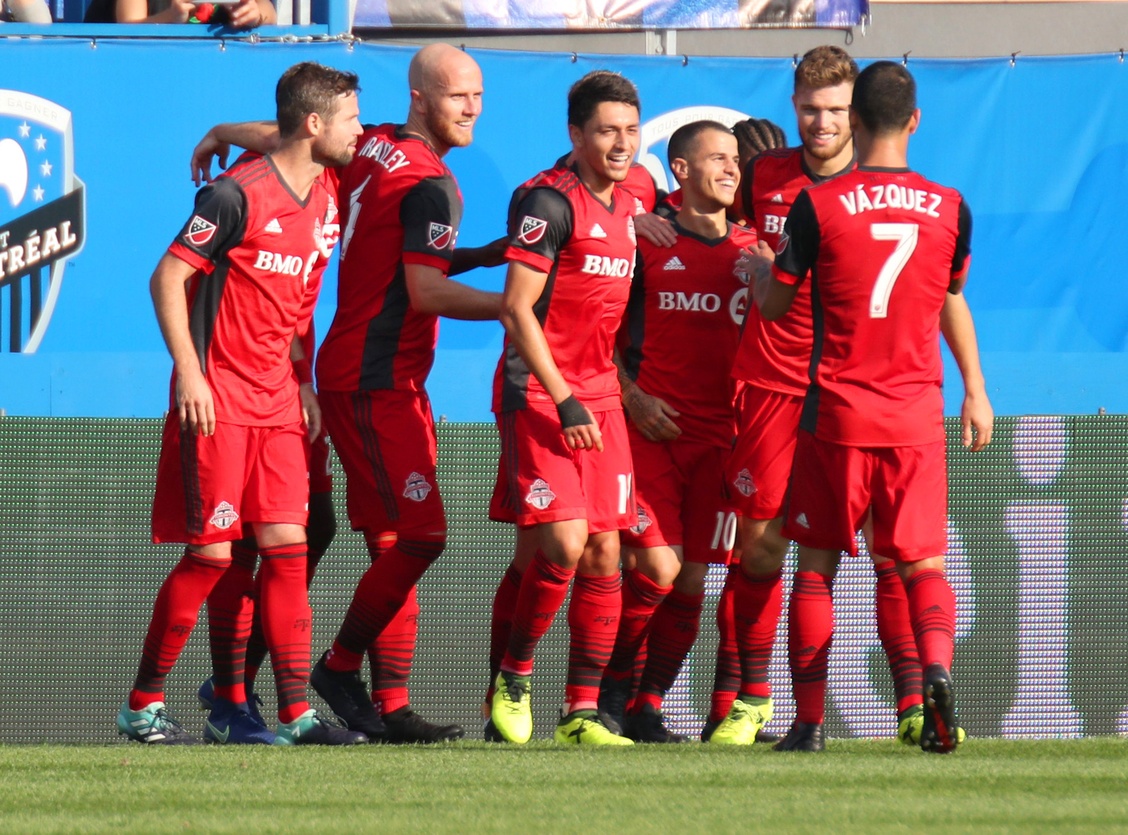 In their first MLS game since the two teams met in the Eastern Conference final, Toronto FC took down the Montreal Impact on Sunday to continue their dominance atop the Eastern Conference.
After taking the Canadian Championship back in June, TFC took the first of two league games with a 2-0 win at Stade Saputo.
The first few minutes of the Montreal-Toronto rivalry was a tale of two keepers. Within the first 15 minutes, Alex Bono kept his team in the game with saves on Michael Salazar in the run of play and Blerim Dzemaili in a free kick situation. Evan Bush had to answer on his side, blocking a shot from Jozy Altidore. However, the Impact goalkeeper would be the first one to concede.
After giving TFC a free kick, which Sebastian Giovinco sent inches over the the crossbar, Dzemaili gave the Italian another chance to score on a dead ball situation. The Italian did not miss the second time around. Set just outside the box on the left side, Giovinco curled the ball around the wall and fooled  Bush, finding the net for the first time of the derby.
In the second half, the Impact defense was fooled by a quickly taken throw-in. Marky Delgado received the ball on the right flank and crossed to an unguarded Jozy Altidore who put his foot up to reach the ball and beat Bush with a tap in towards the far post.
The Impact pulled  a goal back whemm during a free kick in added time, Dzemaili sent the ball to his side. Ignacio Piatti positioned himself to score from outside the box, giving the Impact a glimpse of hope.
Perhaps blinded by the glimpse, the Impact forgot to defend as Toronto instantly went on to score a third goal. Left alone in the 18-yard box, Giovinco volleyed a cross sent to him to close the books for TFC.
Man of the Match
Sebastian Giovinco was at it again on Sunday, providing two goals to lead TFC to yet another win
Moment of the Match
A quickly played throw-in fooled the Impact defence, allowing a second goal. Marky Delgado found himself alone on the right flank and crossed to an unmarked Jozy Altidore who tapped in an easy goal passed Evan Bush.
Match to Forget
Matteo Mancosu, who has not had a lot to show for this season, was yet again not able to convert when the Impact needed it. He was given service but was not able to convert on the opportunities to give the Impact an edge over TFC.