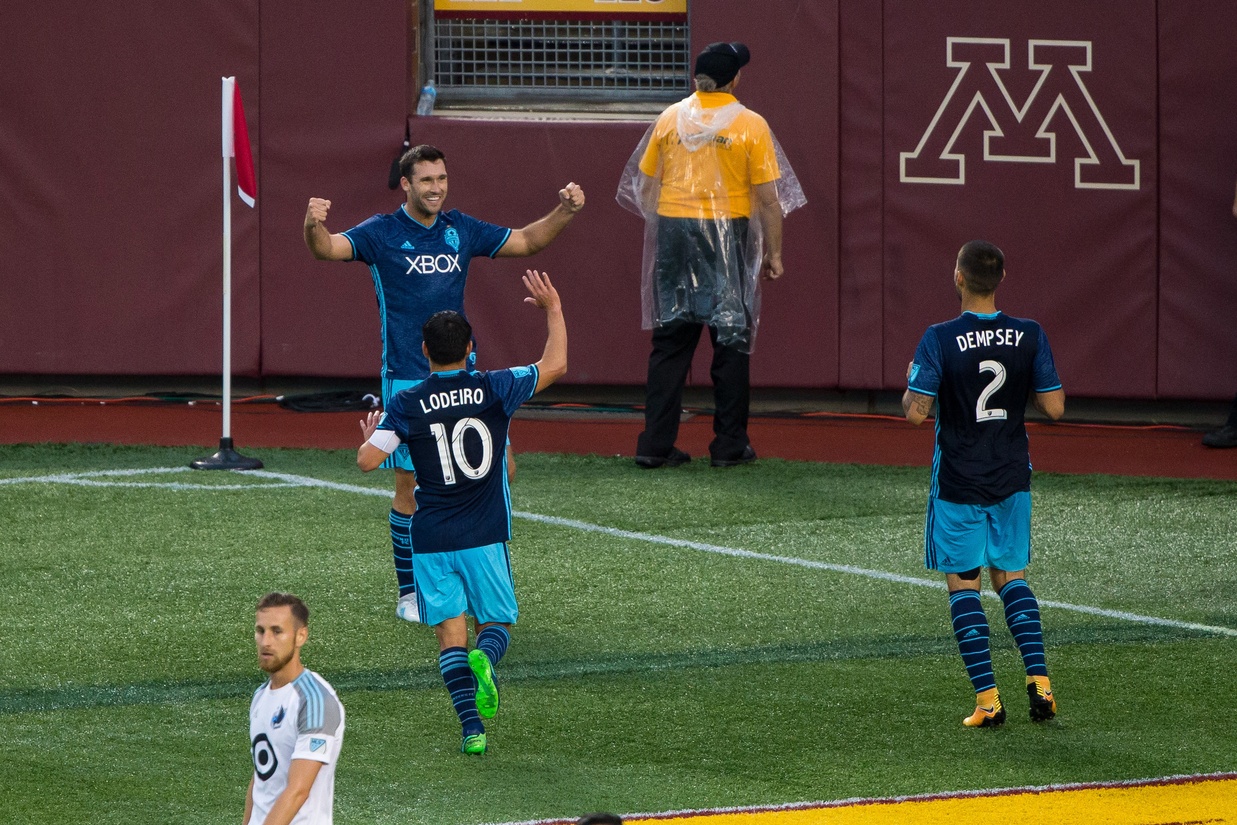 The Seattle Sounders handed a hefty defeat to Minnesota United on their home turf, beating them, 4-0, on Saturday at TCF Bank Stadium.
The reigning MLS Cup champions got their start early, with Will Bruin scoring after nine minutes. The forward received the ball from Clint Dempsey, and from close range cleanly scored past goalkeeper Bobby Shuttleworth.
Only nine minutes later, it was Dempsey's turn to score. Chad Marshall's header found Dempsey just inches from goal, and the Designated Player managed easily to score from close range.
Minnesota seemingly had a handle on the game from that point, remaining dominant in possession, not just following the opening two goals, but the entire 90 minutes. However, there was no stopping the MLS Cup champions.
Goals three and four came in quick succession, with the third one coming from Jordan Morris in the 71st minute. The reigning Rookie of the Year was left unmarked, allowing Nicolas Lodeiro to find him easily. From there, Morris made a run into the penalty area to run up the score.
Dempsey bagged another goal only two minutes after Morris's tally. Joevin Jones's clever pass found Dempsey in front of the goal. After outmaneuvering a defender, he was able to easily finish for the match's final goal.
Man of the Match
Clint Dempsey's impact was undeniable in Minneapolis, something a quick peek at the scoresheet would show. The U.S. Men's National Team star grabbed two goals and assisted another, hardly giving the Minnesota defense a break.
Moment of the Match
After a nice spell of play for the home side, the Sounders disrupted their momentum and put the game out of reach with their third goal, scored by Jordan Morris. Left unmarked, the in form striker made the run into the penalty area, and in the process of scoring, nutmegged goalkeeper Bobby Shuttleworth.
Match to Forget
Miguel Ibarra had quite the task in front of him without Christian Ramirez in the Loons lineup. Unfortunately, the midfielder turned in a disappointing performance, looking invisible throughout the course of his 69 minute spell.