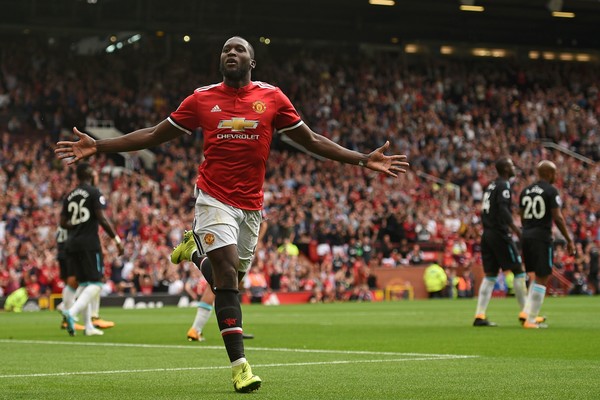 Manchester United rolled their way to three points in their Premier League season opener on Sunday, blanking West Ham United 4-0.
Romelu Lukaku scored a brace in the home victory, while Anthony Martial and Paul Pogba also added goals. Lukaku's 33rd-minute strike opened the scoring at Old Trafford which saw the hosts lead 1-0 at halftime. The Belgian doubled the lead after 52 minutes, heading home Henrikh Mkhitaryan's cross to the bottom right corner. Martial added to the lead after 87 minutes, before Pogba's right-footed blast from long-range added an exclamation point on the scoreline. West Ham recorded only one shot on goal in the loss.
Elsewhere on Sunday, Tottenham blanked Newcastle United on the road, while both Monaco and PSG cruised to easy road wins in France. Lazio lifted the Italian Super Cup by beating Juventus, while Barcelona and Real Madrid faced off in the first leg of the Spanish Super Cup.
Here is a rundown of all Sunday's European fixtures:
ENGLISH PREMIER LEAGUE
Tottenham Hotspur used a pair of second-half goals to defeat Newcastle United 2-0 at St. James Park. Jonjo Shelvey was sent off for Rafa Benitez's side early in the second-half, after a vicious stomp of Dele Alli. The Spurs midfielder made the hosts pay after 61 minutes, finishing Christian Eriksen's assist from close range. Ben Davies doubled Tottenham's lead nine minutes later, as Eriksen picked up his second assist. Hugo Lloris made three saves in the road clean sheet.
Newcastle United 0 – Tottenham Hotspur 2
Manchester United 4 – West Ham United 0
SPANISH SUPER CUP
In the first leg of the Spanish Super Cup, Real Madrid held on for a 3-1 road win at the Camp Nou. Despite a late sending off to Cristiano Ronaldo, Los Blancos used an 80th-minute winner from the Portuguese star to get the win. Real Madrid got a 50th-minute gift from Gerard Pique after an own-goal from the Spaniard made it 1-0 to the visitors. However, Barcelona answered back in the form of Lionel Messi who scored an equalizing penalty kick after 77 minutes. Luis Suarez drew the foul from Keylor Navas, which gave Messi the spot kick. Ronaldo's right-footed finish three minutes later however proved to be the winner for Zinedine Zidane's side. Ronaldo saw a second yellow card after being whistled for a dive. Marco Asensio capped the final score at 3-1, ripping a left-footed effort past Marc-Andre ter Stegen. The second leg will take place on Wednesday at the Santiago Bernabeu.
Barcelona 1 – Real Madrid 3
ITALIAN SUPER CUP
A brace from Ciro Immobile sparked Lazio to a 3-2 Italian Super Cup victory over Juventus on Sunday. The striker kicked off the scoring after 31 minutes, scoring from the spot. Gianluigi Buffon was called for the foul after fouling Immobile inside the box. The Italian doubled Lazio's lead after 54 minutes, heading home Marco Parolo's cross past Buffon. A left-footed free kick from Paulo Dybala brought Juve to within one before the Argentine converted an equalizing penalty in stoppage time. Juve's dreams of taking the match to extra time were short-lived as Alessandro Murgia finished off Jordan Lukaku's assist two minutes later for the game winner. It was Lazio's fourth Super Cup and their first since 2009.
Juventus 2 – Lazio 3
FRENCH LIGUE 1
Paris Saint-Germain cruised their way to three points on Sunday, blanking Guingamp 3-0 on the road. An 82nd-minute goal from Neymar capped the perfect afternoon for the Brazilian who was making his debut for the Ligue 1 giants. An own-goal off of Jordan Ikoko gave PSG a 1-0 lead after halftime, before Edinson Cavani ripped home Neymar's assist ten minutes later. Guingamp failed to record a shot on goal, while PSG had eight. Unai Emery's side remain unbeaten in Ligue 1 play.
A hat-trick from Radamel Falcao lifted Monaco to a commanding 4-1 road win at Dijon on Sunday. The Colombian scored his first goal from a third-minute finish from close range. Jemerson's right-footed finish doubled the visitors lead after 25 minutes, before Falcao's long-range strike extended the lead to 3-0. Wesley Said pulled Dijon to within two going into halftime, scoring from a long-range blast as well. Falcao's 51st-minute header capped the hat trick and final score as Monaco made it two wins in a row to start the season. Dijon have been outscored 7-1 in their opening two losses.
Newly-promoted Strasbourg used a trio of second-half goals to defeat visiting Lille 3-0. Mike Maignan's 63rd-minute red card, reduced Lille to ten men for the remainder of the match. Jonas Martin's right-footed finish proved to be the winner for Strasbourg who bounced back nicely from a tough defeat a week ago. Dmitri Lienard's penalty kick goal added to the hosts lead before Jeremy Grimm's long-range strike was the final dagger. Lille mustered two shots on goal, dropping their first result of the season.
Strasbourg 3 – Lille 0
Dijon 1 – Monaco 4
Guingamp 0 – PSG 3