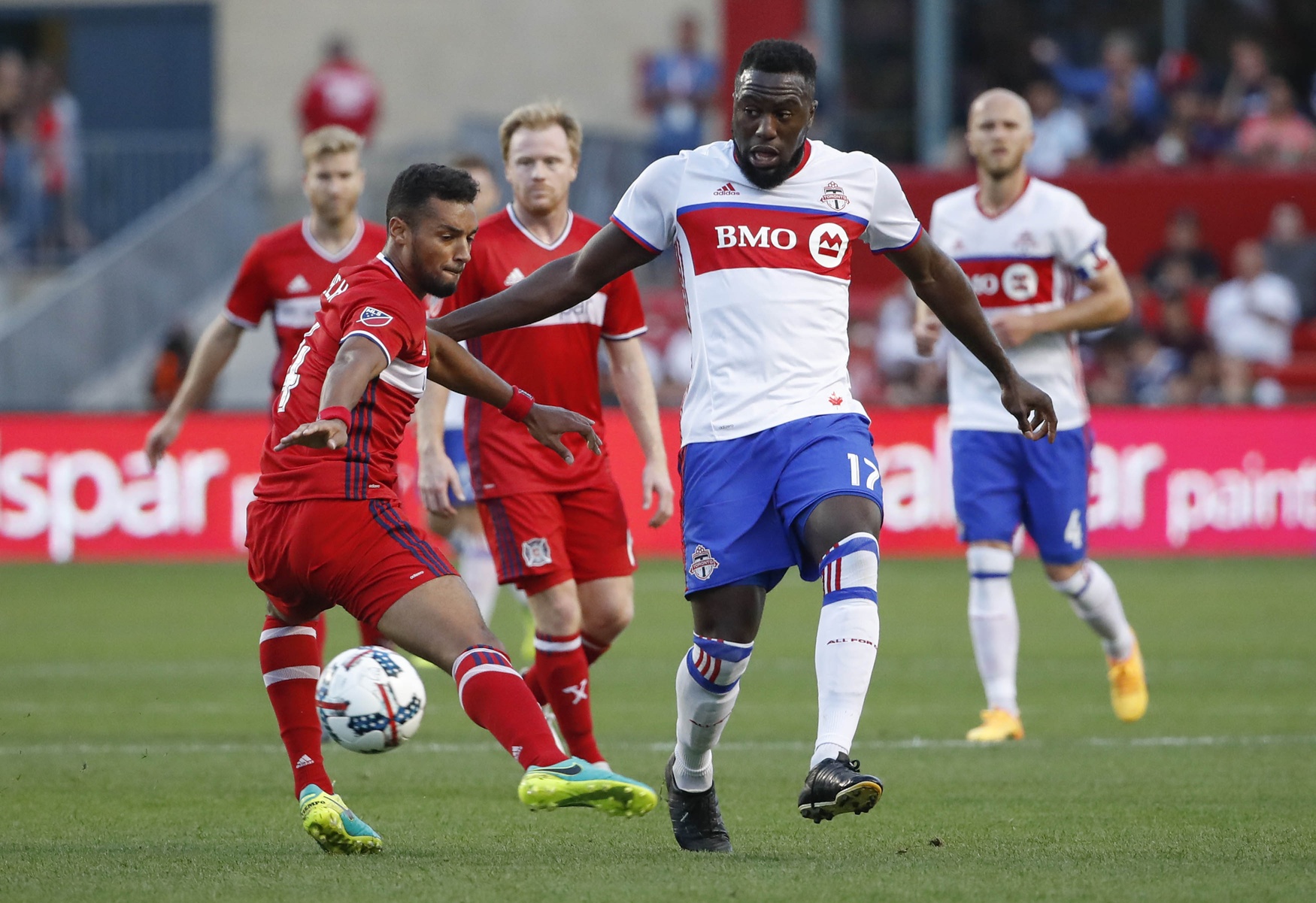 If Toronto FC wasn't already a heavy favorite to roll through the Eastern Conference, Saturday's result all but sealed the Canadian club's conference supremacy.
Behind a trio of different goalscorers, TFC topped the third-place Chicago Fire, 3-1, at Toyota Park. The win sees TFC extend their lead atop the East and the team's seven-game unbeaten run while the Fire have now lost five of six.
TFC took the early 1-0 lead through Marky Delgado, who fired his third goal of the season in the 14th minute. The midfielder capped off a strong TFC sequence, one which saw TFC attack in numbers with passes from Sebastian Giovinco and Justin Morrow. Nicolas Hasler's shot was parried away by Matt Lampson, but the Fire goalkeeper couldn't do much with Delgado's rebound opportunity on the doorstep.
That lead lasted until the second half when David Accam pulled the Fire back level. It was Bastian Schweinsteiger who did the heavy lifting, though, as his missile of a shot rattled off the left post. The rebound clanked back into play and directly into Accam, who was fortunate enough to see the ball bank off him and in to push the scoreline to one apiece.
Nine minutes after Accam's equalizer, Hasler fired TFC back into the lead by heading home a cross from Victor Vasquez from close range. The goal was Hasler's first MLS finish while Vasquez's helper was his 11th assist of the season.
In extra time, Giovinco stepped up to lock down the result, firing an insurance goal to seal all three points.
Following the win, TFC looks ahead to a midweek home match against the Philadelphia Union while the Fire look to get back on track on Saturday against Minnesota United.
MAN OF THE MATCH
Nicolas Hasler had his true "Welcome to MLS" match, creating one goal while scoring another to lead TFC to victory.
MOMENT OF THE MATCH
Hasler's game-winning goal proved the difference between the two sides in a match that could put TFC ahead for good in the Eastern Conference race.
MATCH TO FORGET
Matt Lampson hasn't been the most consistent goalkeeper this season, but Saturday was one of his more frustrating performances of the season in a match the Fire needed to win.