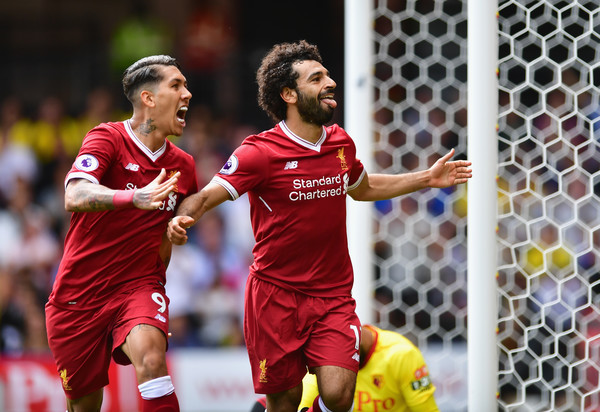 Two English giants collide in the big match of the weekend.
After sealing their Champions League spot midweek, Liverpool now returns to Premier League play to face off with fellow heavyweight Arsenal. The two teams have both sputtered a bit to start the Premier League season as Liverpool drew Watford to open the campaign before Arsenal fell to a stunning defeat to Stoke City. Now, both sides will look to jump back towards the top as they try and catch Manchester United, who faces off with Leicester City.
After the Texas Derby highlighted the midweek slate, we are treated with all the other major rivalries throughout MLS. The New York Derby gets decided on Friday night with a nationally televised showdown on ESPN. Sunday gives us the 401 Derby between Montreal Impact and Toronto FC, aslo on ESPN. FS1 will carry the California Clasico followed by the final Cascadia Cup match of the year.
As usual, there is a full slate of NASL and USL games streaming online, as well as several Liga MX games broadcast in Spanish throughout the weekend.
Here is the full rundown of soccer that can find its way to you television, phone, tablet, or whatever device you choose to watch on. All times Eastern.
FRIDAY
MLS
7:00 p.m. – ESPN- New York Red Bulls vs. New York City FC
Bundesliga
2:30 p.m. – FS2 – FC Koln vs. Hamburg SV
Ligue 1
2:45 p.m. – beIN Sports – Paris Saint-Germain vs. St. Etienne
Liga MX
10:00 p.m. – Univision Deportes – Club Tijuana vs. Pachuca
USL
9:00 p.m. – YouTube – Real Monacrchs SLC vs. Rio Grande Valley
10:30 p.m. – YouTube – Orange County SC vs. Oklahoma
SATURDAY
MLS
7:00 p.m. – MLS Live – D.C. United vs. New England Revolution
7:00 p.m. – MLS Live – Philadelphia Union vs. Atlanta United
7:30 p.m. – MLS Live – Columbus Crew vs. FC Dallas
7:30 p.m. – MLS Live – Orlando City SC vs. Vancouver Whitecaps
8:30 p.m. – MLS Live – Chicago Fire vs. Minnesota United
10:00 p.m. – MLS Live – Real Salt Lake vs. Colorado Rapids
Premier League
7:30 a.m. – NBCSN – AFC Bournemouth vs. Manchester City
10:00 a.m. – NBCSN – Newcastle United vs. West Ham United
12:30 p.m. – NBC – Manchester United vs. Leicester City
La Liga
12:15 p.m. – beIN Sports – Alaves vs. Barcelona
4:15 p.m. – beIN Sports – Las Palmas vs. Atletico Madrid
Bundesliga
9:30 a.m. – FS1 – Werder Bremen vs. Bayern Munich
9:30 a.m. – FS2 – Bayer Leverkusen vs. TSG Hoffenheim
12:30 p.m. – FS1 – Borussia Dortmund vs. Hertha Berlin
Liga MX
6:00 p.m. – Univision Deports – Cruz Azul vs. Monterrey
8:00 p.m. – Univision Deportes – Tigres UANL vs. Lobos BUAP
8:06 p.m. – ESPN Deportes – Leon vs. Santos Laguna
10:00 p.m. – ESPN Deportes – Necaxa vs. Atlas
10:06 p.m. – Univision Deportes – Chivas de Guadalajara vs. Queretaro
NASL
7:30 p.m. – beIN Sports – Puerto Rico FC vs. Miami FC
7:30 p.m. – ESPN3 – Indy Eleven vs. Jacksonville Armada
7:30 p.m. – ESPN3 – North Carolina FC vs. New York Cosmos
8:00 p.m. – Twitter – San Francisco Deltas vs. FC Edmonton
USL
6:05 p.m. – YouTube – Rochester Rhinos vs. Saint Louis FC
7:00 p.m. – YouTube – Charlotte Independence vs. Toronto FC II
7:00 p.m. – YouTube – Pittsburgh Riverhounds vs. Bethlehem Steel
7:00 p.m. – YouTube – Richmond Kickers vs. Charleston Battery
7:30 p.m. – YouTube – Louisville City FC vs. Orlando City B
8:30 p.m. – YouTube – San Antonio FC vs. Portland Timbers 2
10:30 p.m. – YouTube – Reno 1868 vs. Swope Park Rangers
11:00 p.m. – YouTube – Phoenix Rising vs. Sacramento Republic
SUNDAY
MLS
4:30 p.m. – ESPN – Montreal Impact vs. Toronto FC
7:00 p.m. – FS1 – LA Galaxy vs. San Jose Earthquakes
9:30 p.m. – FS1 – Seattle Sounders vs. Portland Timbers
Premier League
8:30 a.m. – CNBC – Chelsea vs. Everton
11:00 a.m. – NBCSN – Liverpool vs. Arsenal
La Liga
4:15 p.m. – beIN Sports – Real Madrid vs. Valencia
Bundesliga
9:30 a.m. – FS1 – RB Leipzig vs. SC Freiburg
12:00 p.m. – FS2 – Hannover 96 vs. Schalke 04
Serie A
12:00 p.m. – beIN Sports – Torino vs. Sassuolo
Liga MX
1:00 p.m. – Univision Deportes – Toluca vs. Puebla
7:05 p.m. – Univision Deportes – Veracruz vs. Pumas UNAM
USL
2:00 p.m. – YouTube – Ottawa Fury vs. New York Red Bulls 2
6:00 p.m. – YouTube – Vancouver Whitecaps 2 vs. LA Galaxy II