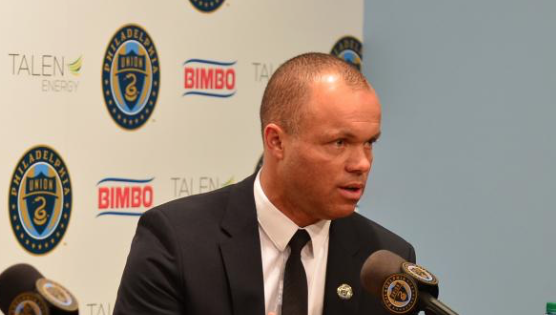 CHESTER, PA– The Philadelphia Union have been quiet during the transfer window, and unless you count the addition of their Chief Tattoo Officer, they won't be doing any business before the Wednesday night deadline.
Both head coach Jim Curtin and sporting director Earnie Stewart confirmed that the Union won't be doing much before midnight, and it probably is for the good of the club.
"Maybe they'll be some business done, but not much," Stewart told reporters. 
"There's a ton of players that come through and players that you're looking at, things that get close and go down to the final minute and it will tonight too," Curtin said. "There could be something that happens for sure, and we'll always be working up to the deadline. The amount of players we come across and the almost trades or different things that come up it's a very high number so you try to go through that process as best as you can. You have all your analytics, you have all your video review, you have guys in on trial that you take looks at and see what's going to fit."
The Union were linked with Costa Rican winger Elias Aguilar and Argentinian playmaker Nicolas Martinez over the last few weeks, but nothing came to the surface after looks at those players, particularly Martinez, the younger brother of former Real Salt Lake midfielder "Burrito" Martinez.
"(Martinez) was here for training for us to get to know him and for us to look at him," Stewart said. "The thing I truly believe in is that is have to find out what the person is like. We're not going to just put people into the locker room that we have if you don't know them. It's a very important part of the chemistry we have here. We had Nicolas over here, but we did not feel for us that it was the right fit."
Despite what some may think on the outside, the Union believe they have the right fit with the locker room dynamic and the players they have on the field. They improved on that last summer with Alejandro Bedoya and Charlie Davies and did so again in the winter by bringing in Haris Medunjanin and Giliano Wijnaldum.
"The difference between really good and where people perceive us to be is not that big as people think," Stewart said. "Is there a difference between our home and away games? That's for sure. We only want to add something that will help us and we know. Last year with Ale and Charlie it's one in league that everybody knew and the other is Ale, who we knew what he was about. That's a good fit and this time around I don't believe that."
The Union would also have to find a spot for any potential new signing to play. Curtin certainly isn't removing Ilsinho from the No. 10 spot at this point in the season, and he values Chris Pontius too much to replace him on the wing no matter what his offensive production is. When it comes to depth, Curtin has plenty of trust in rookie Marcus Epps and when Fabian Herbers returns from injury, he'll have another body on the wing.
The lack of activity in the summer also the Union up for an even stronger offseason, one in which plenty of contracts will be coming off the books, especially if some options don't get picked up. With more roster spots opening and the potential of more TAM and GAM being pumped into the club, the focus when it comes to acquiring players is December.
"We have set our roster up in a way that we have big decisions to make this offseason, a lot of options and a lot of contracts that coming to the end," Curtin said. "Sometimes you don't want to rush and make mistakes."
We'll have plenty of time to speculate on who shows up in blue and gold in six months, but for now the focus for the Union is to beat the Montreal Impact on Saturday and gain more ground in the Eastern Conference playoff race.