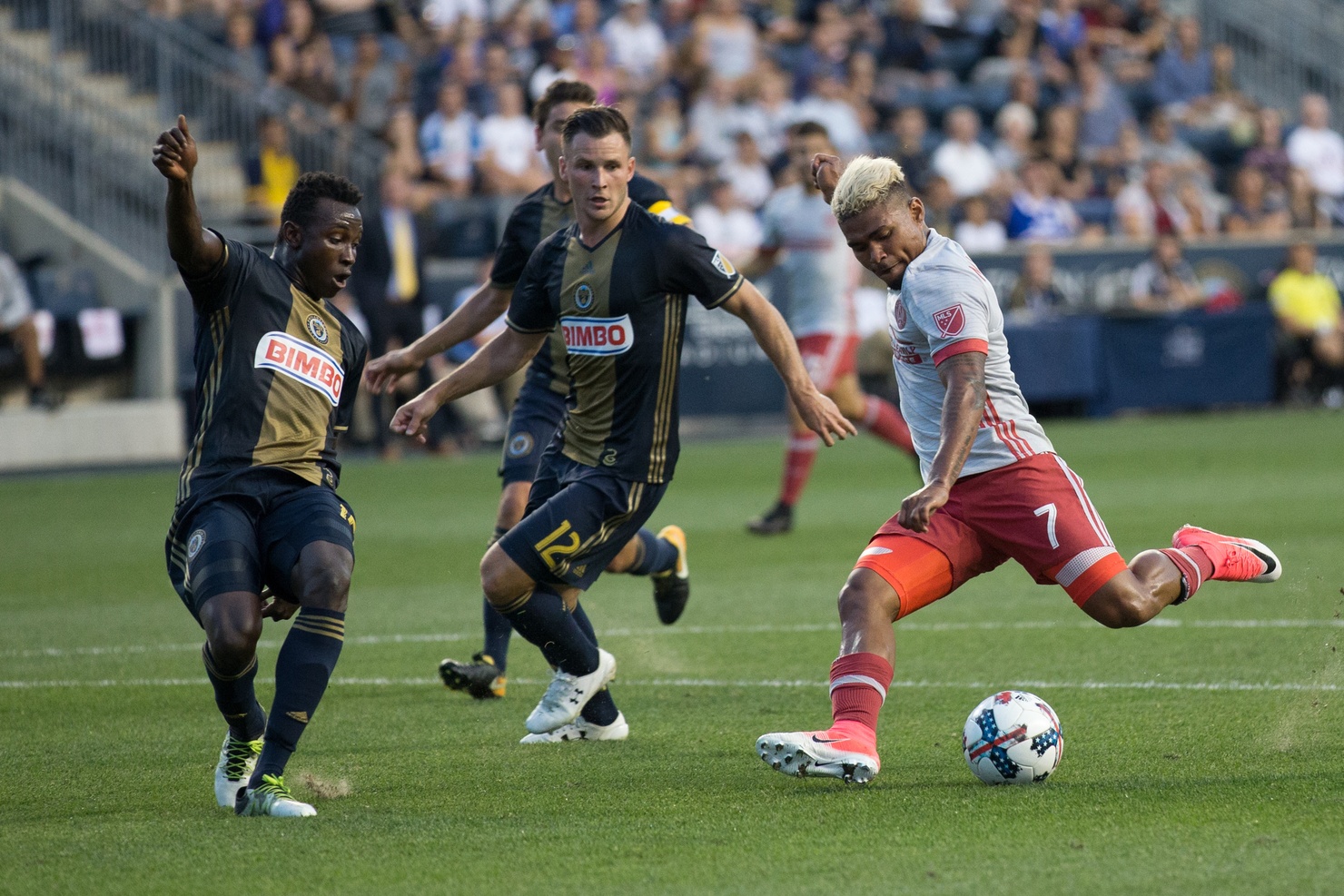 CHESTER, PA– The sequel usually isn't as good as the original, especially if you feel like you've lived through the same movie over and over like the Philadelphia Union.
For the second time in three games, a silly mistake by second-year defender Joshua Yaro ended up costing the Union two points.
A week after conceding a penalty in second-half stoppage time to the San Jose Earthquakes, Yaro was handed a straight red card on Saturday in the 52nd minute for the denial of a goal-scoring opportunity.
For most coaches, the pair of critical point-dropping mistakes would have been enough for a benching, but Union manager Jim Curtin is opting to go a different route with one of the most highly-touted prospects to come out of the 2016 MLS Draft.
"He's a good young player and with young players there's always going to be a learning curve," Curtin said. "He has to continue to go on the field, we believe in him. He's a guy who is a young center back and he's devastated right now, he felt he let the team down. That's a hard thing to go through. We all feel for him and we are a team that will stick together.
"It was a tough night but Josh will continue to play," Curtin said. "He's a young player we believe and he'll only learn and get better from these kind of moments, as hard as they are."
Yaro won't be available for selection again until the Sept. 17 visit to the New York Red Bulls. The stretch will be a long one for the second-year player out of Georgetown, but he has a bevy of veteran leadership to rely upon as he prepares to return to the field.
Veteran midfielder Haris Medunjanin, who has played all over the world and experienced all sorts of highs and lows throughout his career, will be one of the voices in Yaro's ear throughout the international break and when he serves the suspension for the Sept. 9 game at Minnesota United.
"I always tell him, play with confidence," Medunjanin said. "You're a great football player and have all abilities to be a good centerback. Maybe something in his head, maybe he thinks too much, I don't know. When you think too much in the game, you're already late in position.
"I understand, you know. Every player in his career has those kind of moments," Medunjanin said. "You play bad and another game you get a chance and play another bad game. I had that kinda thing happen, everybody has that kinda thing happen. This is football and it can happen, it's so quick."
When the Union get back from the international break, there will be a few more questions to ask of themselves, especially now the playoff race is out of reach following the deflating draws against the San Jose Earthquakes and Atlanta United.
Curtin needs his team to still be competitive versus a tough schedule down the stretch, and he needs to find a way to excite the angered fan base for what next year may look like. Playing young guys like Yaro may be beneficial looking at 2018, but then there's the concern they might not be ready and they'll get blown off the field.
Another issue Curtin has to worry about is the development of certain players. Yaro, Keegan Rosenberry, Fabian Herbers and Richie Marquez all took a step back this year after being key pieces in 2016. Figuring out their worth among a group of young players that includes Derrick Jones, Auston Trusty, Adam Najem and Jack Elliott will be as vital as finding a No. 10 in the offseason transfer market.
For now, all the Union can have belief in their skill sets, even if it has cost them points in recent weeks. The only way Yaro, and the team as a whole can build, is to forget the misery of August and hope September and October point them in the right direction toward 2018.