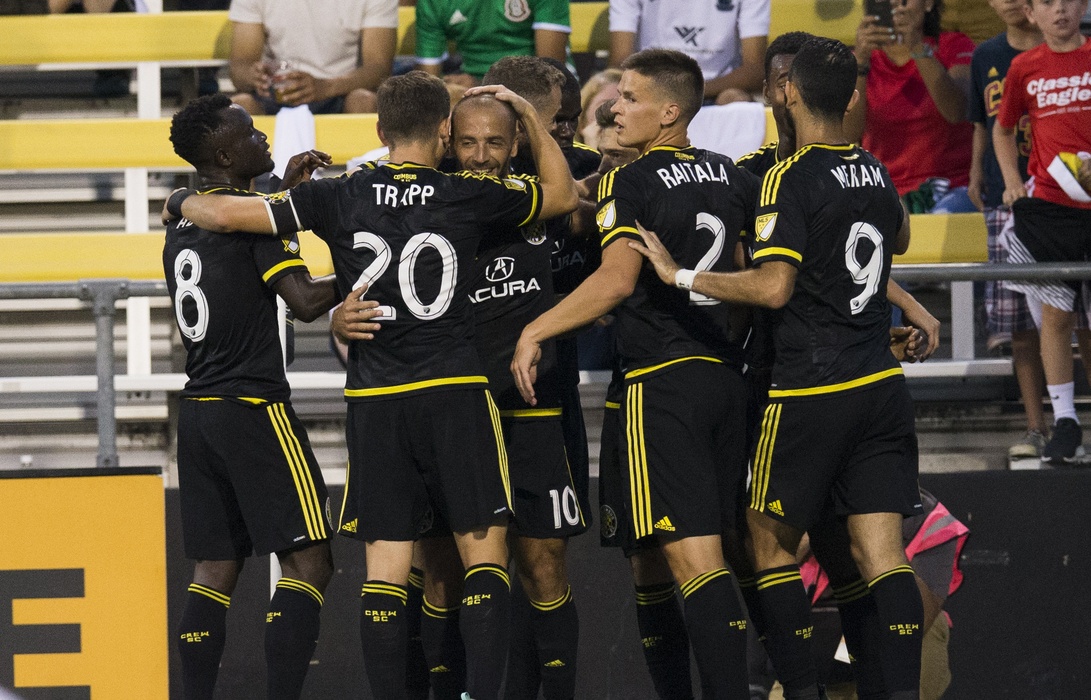 There were a couple of goals between the Columbus Crew and the LA Galaxy, but there were also two penalties called and three video replays in what turned out to be an entertaining 2-0 victory for the Crew at MAPFRE Stadium on Wednesday night.
The game's opening goal came in the last minute of the first half, with new signing Pedro Santos linking up with Ola Kamara. Santos saw Kamara in the penalty area, and from distance passed to the forward through a crowd. From there, the finish was easy for Kamara, who was near the goal.
Before that, though, video review was called upon after Ashley Cole took down Santos near the penalty area. After reviewing the play, Cole was sent off, with the Galaxy going down to ten after only 18 minutes.
Six minutes later, VAR again came to the Crew's aid, as the home side was awarded a penalty. Federico Higuain stepped up to take it, but took it poorly, making it an easy save for Jon Kempin.
Daniel Steres grabbed a goal midway through the first half, but after another replay, the goal was called offside, leaving the match scoreless yet again.
The second half saw the Crew earn yet another penalty, with Kempin taking down Kamara, who ended up taking the spot kick. Kempin again made the stop, and in the 79th minute, there was still only one goal in the game.
Finally, in the 90th minute, the Crew doubled their lead, putting the game to bed. Kekuta Manneh sent a quick pass to Justin Meram, who slotted home from distance.
The match marks LA's third consecutive loss and the team is without a win since June in league play. As for the Crew, they stay in the playoff hunt with the win.
Man of the Match
Pedro Santos made his home debut, and he did not disappoint. He recorded the first assist of the night, which was a clever ball to Ola Kamara. Additionally, he pestered the opposing defense all night, including being involved in the foul that led to Ashley Cole's sending off.
Moment of the Match
VAR almost stole Man of the Match honors as one of the more active participants of the night. The first half, in particular, was dominated by the replays, as the referee consulted it on three separate occasions, all in dramatic calls. Ashley Cole's red card, Columbus Crew's first penalty, and LA Galaxy's goal being ruled offside were calls made with the assistance of video replay.
Match to Forget
Ashley Cole did not last very long on the night. Recording only 18 minutes before getting sent off, he did so with a harsh foul on Pedro Santos. He left his team with limited resources, and the score indicated so at full time.