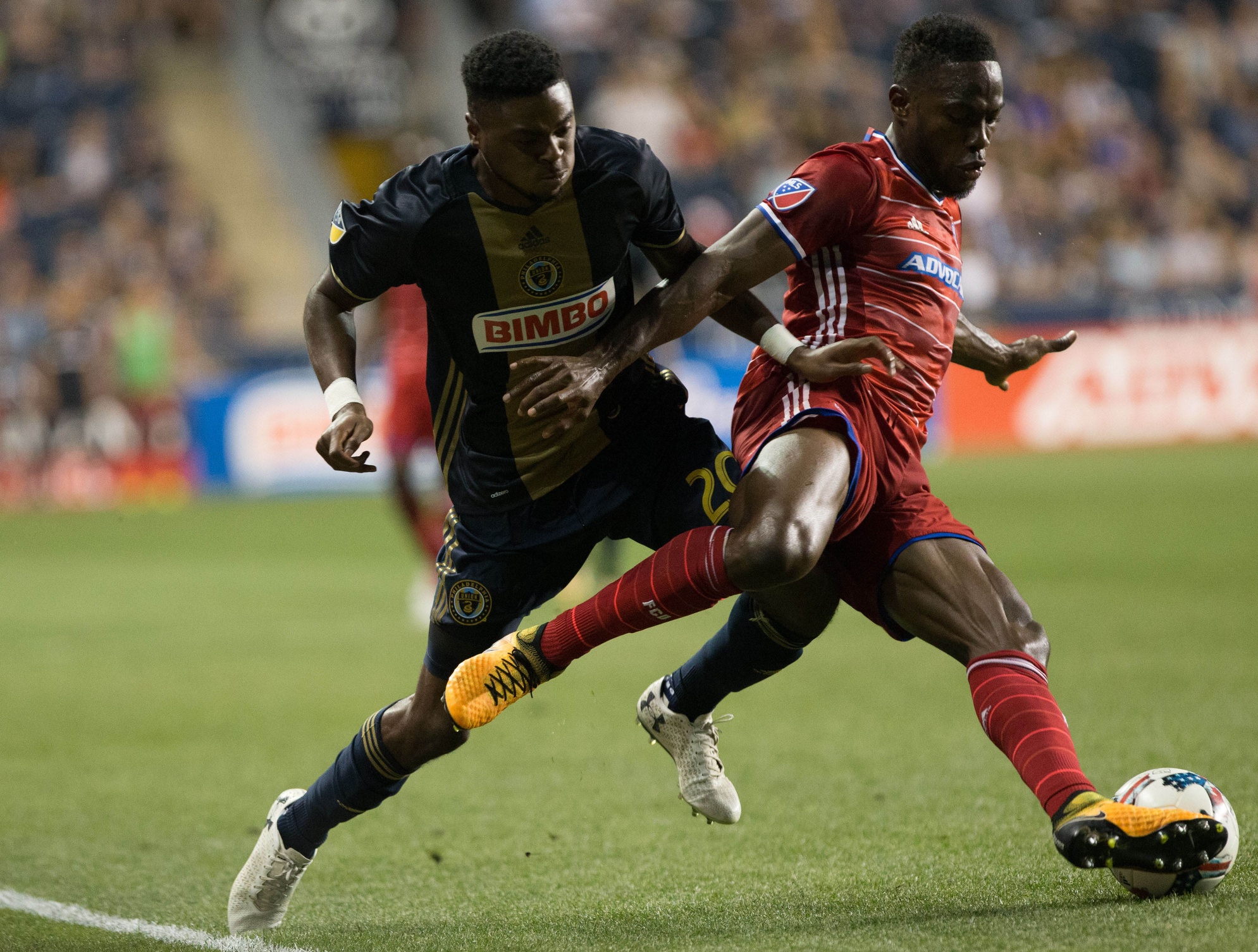 CHESTER, PA–Whether you like it or not, VAR is here to stay in Major League Soccer.
Saturday night was a perfect example of how the polarizing viewpoints across the league will respond to VAR in the coming days, weeks and months.
In the 79th minute of the Philadelphia Union's 3-1 win over FC Dallas, referee Ricardo Salazar was notified by the booth to review a play that resulted in an FC Dallas goal scored by Maxi Urruti. Urruti had found the back of the net after a collision between Cristian Colman and John McCarthy in which Colman made contact on two occasions with the body of the Union goalkeeper.
After 47 seconds at the monitor to the right of the goal, Salazar ruled the goal would not count and the Union would maintain a three-goal lead at that time in the match.
The Union praised the call by Salazar by a replay system we're used to seeing in other American sports. However, the view of FC Dallas manager Oscar Pareja was the opposite.
"It's a process they've put a lot into it," Union manager Jim Curtin said. "It's not just that they tried it tonight and it succeeded. It's something they've put a year's worth of time experimenting here even in our stadium when it didn't count for them. They executed. There's a lot of moving parts now. The poor fourth official now has nine things in his mouth and in his ear so there' a lot going on to it, but the ultimate goal is to get calls right, and it succeeded tonight. That's what you want. We were lucky to be on the end of the first review ever in the league's history and on the good side of it. I think ti accomplished its goal, and now we move on to the next game."
"I saw it after the game. Still, I have to say that it generates a lot of doubts in the system," Pareja said. "But we respect it. I have to be honest and say that if the referee had a chance to review it with the VAR and have time to make the decision, I have to assume that is correct. But when you go and see it, because we have the right to see it after the game, and we may differ on opinions. We're all in the same boat. We accept it and I respect the decision, but this is a call for the referee and you have to accept that."
The feedback from the Union players was overall a positive although they still have to get used to a bit.
"It was interesting to be a part of that," Union forward C.J. Sapong said. "We're all going to look back at that and say, 'Alright, that's the first time in MLS history that a play actually got right'. That's something we want in this game and it was pretty cool to be a part of it."
McCarthy was incredibly happy with the result of the play after admitting how much contact Colman made with him during the altercation in the penalty area.
"I would have been pissed, I would have been so mad, he kicked the hell out of me," McCarthy said. "It came in our favor but if it didn't happen, I'm sure there would have been some yelling and screaming.
"I'm happy they did it right now cause it went in our favor," McCarthy added. "I'm sure there's going to be times our team is not happy about it, but it worked out well for us tonight and we'll see how it goes. It's the first night of doing it so we'll see what happens."
There's no doubt VAR will continue to be a controversial subject, especially if it decides crucial matches in the final few months of the season, but despite Pareja's derision on Saturday night, the system got the call right and didn't interrupt the flow of the match either.
There will be closer calls and there will be decisions made in games that aren't already decided. For now, VAR is batting 1,000 percent, but just because it passed its first test doesn't mean it will get an A at the end of the season. Only time will tell if VAR receives a passing grade in its first go-around in MLS.