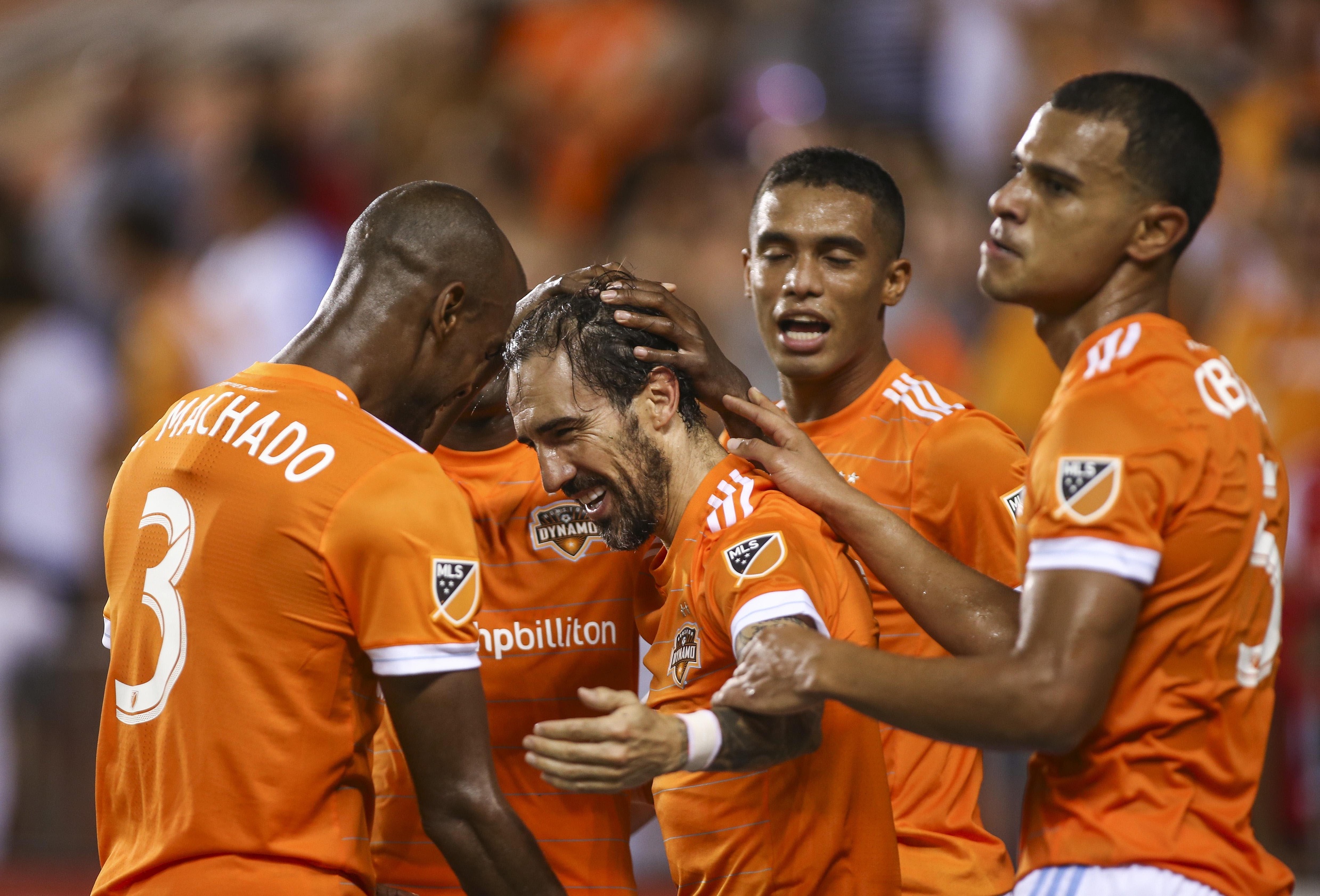 The Houston Dynamo had an unusual hero hdlp propel them to their 10th win of the season.
With a goal from Alberth Ellis and a goal and assist from 37-year-old Vicente Sanchez, the Dynamo rallied over the San Jose Earthquakes, 3-0, at BBVA Compass Stadium on a humid Saturday night.
Sanchez is no stranger to big moments, but anyone could have said that leading into Saturday's match, the Uruguayan was certainly forgetful of the euphoria. That quickly changed in the 86th minute, when the former Schalke 04 winger came pouncing down the center of the penalty box and put a foot to Ellis' heated cross before Tarbell was able to get a hand on the vicious ball. The ball found the back of the net after the ruckus, Sanchez's first of the season and a game-winner for the Dynamo.
Moments before the final whistle, Sanchez continued to ooze his hunger as his pressuring run towards Tarbell caused the inexperienced keeper to commit a serious howler. Sanchez quickly ran towards an empty goal and put a lousy shot that was to be capitalized by substitute Mauro Manotas.
Wilmer Cabrera's men showed dominance early on, and in the 20th minute, Ellis' swift right-footed strike was just a finger tip away from finding the back of the net. But the young Honduran Designated Player had more to give, and just one minute later, his well-placed header off a floating corner-kick was too well placed for a hot-handed Tarbell.
The Quakes failed to showcase much cohesion in the final third; a result of missing a creative No. 10 in the heart of the pitch. Quakes loanee Danny Hoesen, though, had a couple looks at Tyler Deric's goal. In the 46th minute, the Dutch forward's strong header met Deric's hand inches from the goal-line, and in the later stages of the match his rifling first-time volley blasted into the Dynamo's no. 1's shins, but not enough to give the black and blue a reason to hope.
The Quakes head back home to host a patchy Philadelphia Union in exactly a week, while the Dynamo take their winning ways to Vancouver, in what should be a crucial match against a playoff-hungry Whitecaps.
MAN OF THE MATCH
It had been a while since Sanchez was the storyline of a match, but the Uruguayan's emphatic performance against the Quakes did the exact opposite of that.
MOMENT OF THE MATCH
Youth does not have a number, Sanchez's first goal of the season was the icing on the cake for the home side's three points at BBVA.
MATCH TO FORGET
Marco Ureña played 80 disastrous minutes for the Quakes, failing to create in the attack and doing one too many with the ball at his feet resulting in costly turnovers.