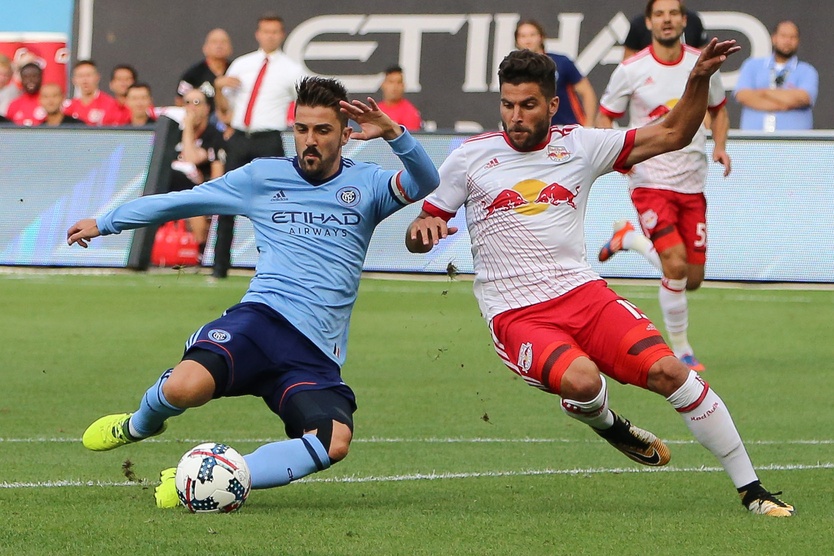 New York City FC has come from beind several times throughout the 2017 season, but they've never come back against their Hudson River rivals, the New York Red Bulls. That was until Sunday evening in the Bronx.
David Villa's first hat trick in New York City guided the Blues back from a one-goal deficit to lead NYCFC to a 3-2 victory, marking the first time in the club's short history that the Blues will take the annual three-match series from the Red Bulls.
The Red Bulls suffered a huge blow early on when Daniel Royer went down with an apparent knee injury in the 12th minute and did not return. Alex Muyl stepped in for Royer in the 14th minute, however, didn't provide the same impact Royer had in the early minutes.
After NYCFC just missed on a few chances on goal, Villa opened the scoring in the 28th minute, beating Red Bulls keeper Luis Robles on a 1-v-1 scenario.
Bradley Wright-Phillips pulled the Red Bulls even in the 41st minute, beat Sean Johnson to his left post. Wright-Phillips then put the Red Bulls ahead in the 64th minute, taking advantage of sloppy play defensively by NYCFC to fire his brace.
Then things got crazy.
Villa beat several defenders in the box, then fired a shot to the far post in the 72nd minute to pull NYCFC even at two apiece. Just minutes later, he earned a penalty kick in the 75th minute to put NYCFC ahead, 3-2, which the Blues held for the rest of the match.
The three goals by Villa marks the first time he scored a hat-trick in an NYCFC shirt and the win marks the first time that NYCFC not only came back to win against the Red Bulls, but also the first time they take the season series against their Hudson River Rivals.
MAN OF THE MATCH
NYCFC's David Villa has carried his club on his back throughout the season and that was on full display Sunday night in the Bronx as he notched his first hat trick with the club, highlighted by a second-half brace to push NYCFC into the lead.
MOMENT OF THE MATCH
David Villa's second goal of the match which equalized it at two goals apiece saw him beat three defenders inside the box and beat Luis Robles to the far post.
MATCH TO FORGET
Red Bulls defender Sal Zizzo had a few strong moments early, but he was called for the penalty kick before being sent off late in Saturday's match.