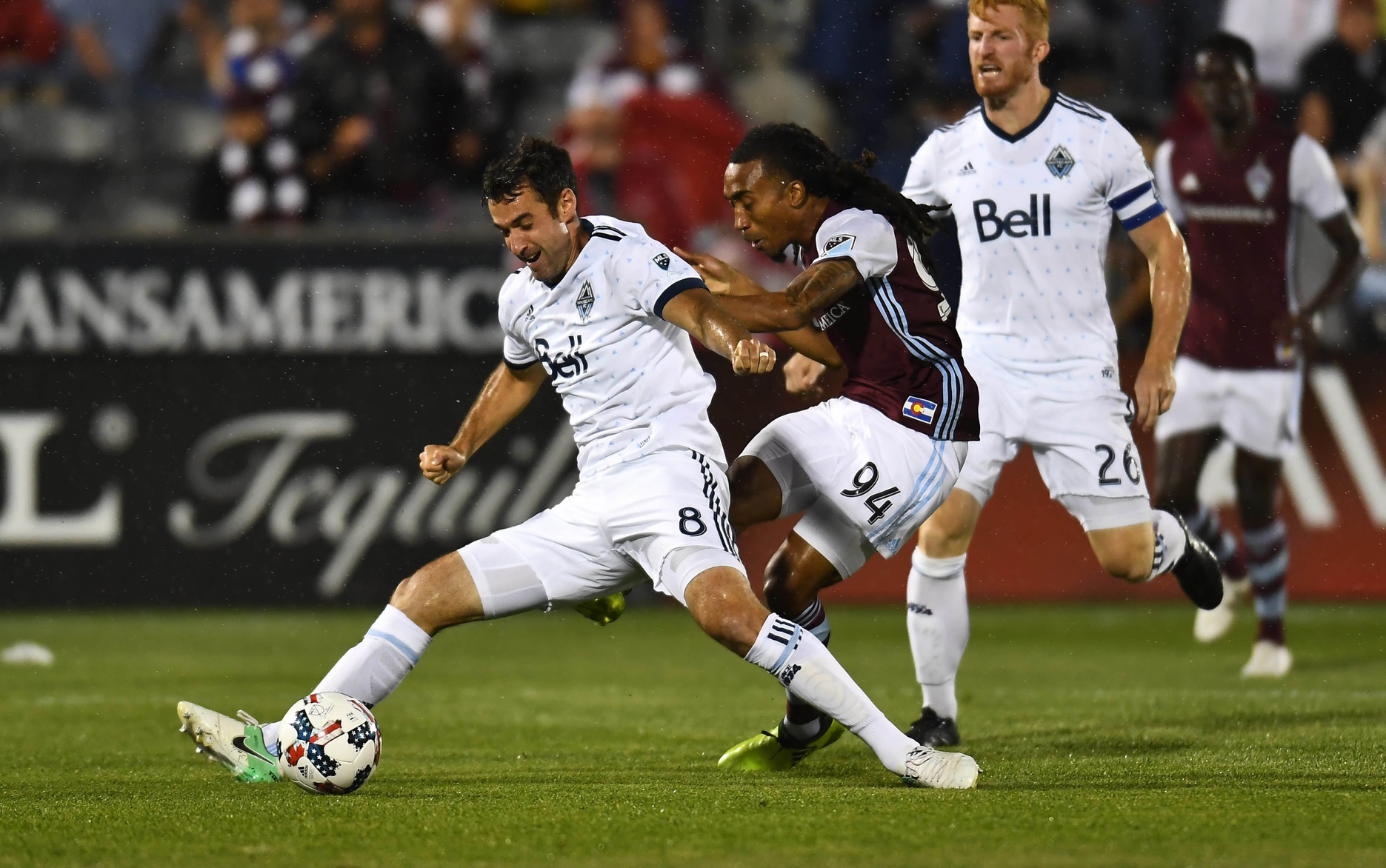 It's like the old saying goes: it's not how you start a match; it's how you finish.
The Vancouver Whitecaps used that saying to the fullest on Saturday evening, earning a point in a 2-2 draw against the Colorado Rapids at Dick's Sporting Goods Park.
The Whitecaps opened the scoring after five minutes as Tony Tchani's right-footed long-range effort found the bottom right corner. It was the Cameroon international's third goal of the season, and his second out of the last four matches.
However, the visitors lead only lasted 10 minutes as Axel Sjoberg's left-footed strike beat David Ousted to the center of the goal. It was the defender's first goal of the season.
Kevin Doyle's 40th-minute effort forced Ousted into the only save of the opening 45 minutes. The Republic of Ireland striker tested the Danish keeper two minutes into the second half before finally getting the better of him. Doyle's right-footed effort after 54 minutes, beat Ousted to the center of the goal. It was Doyle's fifth goal of the season, as Marlon Hairston chipped in his fourth assist of the season.
Minutes after striking the right post, Fredy Montero leveled the score at 2-2. Montero headed Cristian Techera's cross past Tim Howard for a 2-2 equalizer, now giving him nine league goals this season.
Substitute Alan Gordon almost made a quick impact off the Rapids bench, heading Mohammed Saeid's cross just over the bar. However, at the final whistle both sides had to share the points. Ousted made two saves, while Howard made none.
The Rapids (6-12-3) bounce back from a road defeat in San Jose last weekend, and next travel to FC Dallas on Aug. 12th. As for the Whitecaps (9-8-4) they leave Colorado with a point, and conclude a three-match road trip next Saturday in New England.
MAN OF THE MATCH
Whitecaps striker Fredy Montero earned Man of the Match honors after scoring the tying goal for his team. The Colombian forward has been on fire in the last few matches for thw WHitecaps and came up clutch for his side on Saturday evening.
MOMENT OF THE MATCH
Montero's goal snatched the energy out of the stadium at Dick's Sporting Goods Park, and earned his side a valuable road point. Despite seeing their early lead slip, the Whitecaps will be the happier of the sides to return home without dropping all three points.
MATCH TO FORGET
Whitecaps midfielder Christian Bolanos failed to make much of an impact for his side. The 33-year-old only recorded one shot, but lost possession 10 times. Bolanos made way for Brek Shea after 66 minutes.