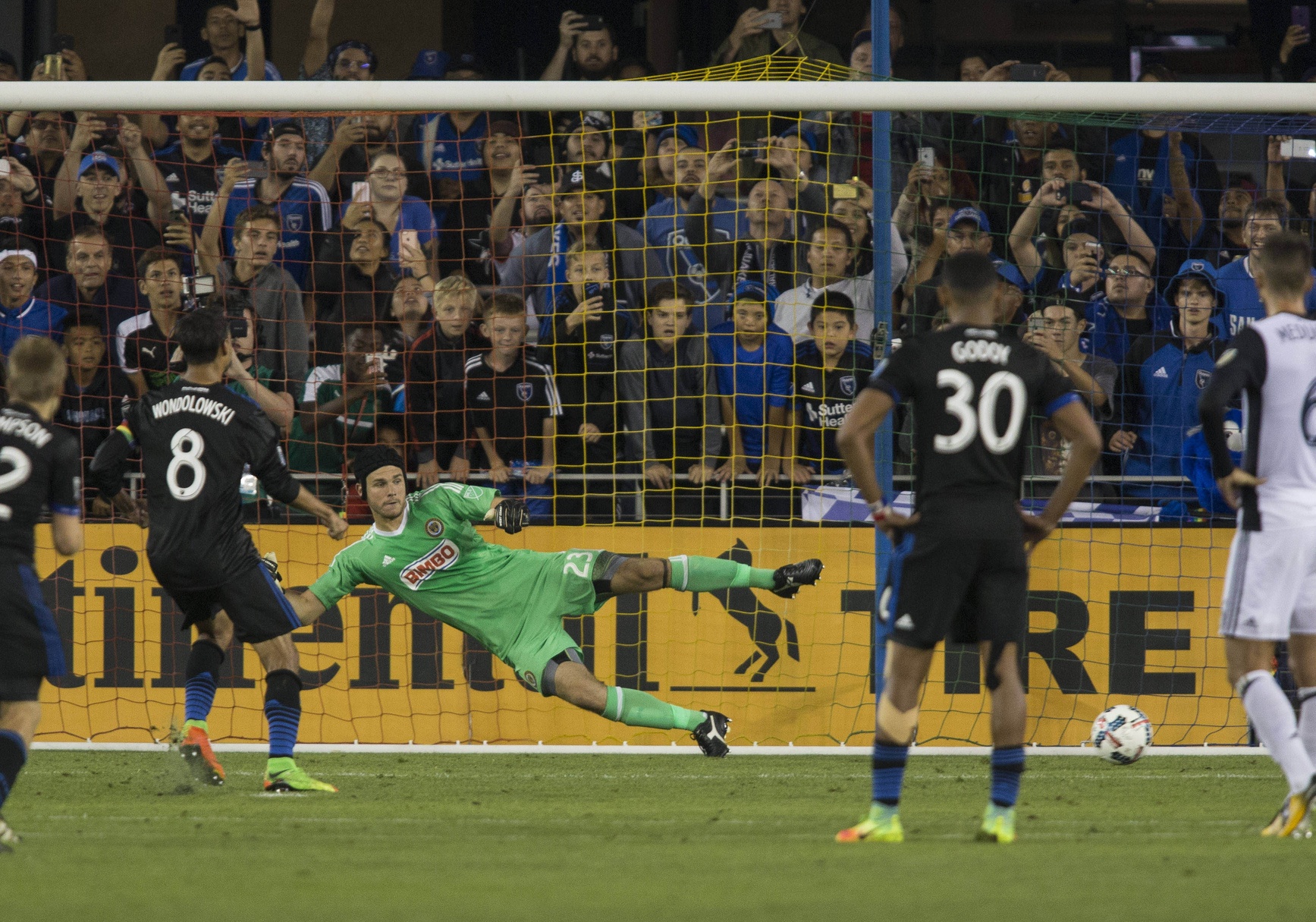 As they have all season, the San Jose Earthquakes once again managed to pull themselves out of a would-be loss to save a point, this time, against the Philadelphia Union on Saturday night.
San Jose's 2-2 draw came after Shea Salinas was taken down by Union defender Joshua Yaro inside Philadelphia's 18-yard box in the final seconds. Earthquakes' captain Chris Wondolowski converted the penalty to save a point for the Quakes.
The draw comes a week after the Quakes suffered a 3-0 loss at the Houston Dynamo. While the point helps, San Jose is still winless in its last three overall matches, dating back to the U.S. Open Cup semifinal loss against Sporting Kansas City.
San Jose opened the scoring early in the match as Vako Qazaishvili beat three Union defenders and goalkeeper John McCarthy in the third minute to put the Quakes up 1-0.
Philadelphia pulled even later on in the first half as Jack Elliott notched his first-career MLS goal, cleaning up a scramble at Andrew Tarbell's post in the 35th minute.
The Union took the lead early in the second half as Roland Alberg scored on a shot from just outside the 18 to beat Tarbell at the far post.
The visitors appeared to have a stunning victory locked up, but Yaro kicked at Salinas on the left side of the box and earned a penalty kick. Wondolowski stepped up to the spot and scored his 10th goal of the season. Wondolowski now has eight consecutive 10-goal seasons.
The draw, and a win by the Whitecaps on Saturday night as well, drops San Jose below the red line at 33 points. The Union remain well below the red line in ninth place in the East after Saturday night's result.
MAN OF THE MATCH
Vako Qazaishvili added a ton of pressure to the Earthquakes' attack Saturday night, scoring the early goal and creating chances.
MOMENT OF THE MATCH
Vako Qazaishvili's goal in the third minute should be a Goal of the Week nominee. He beat three defenders, then Union keeper John McCarthy to the far post to put the Quakes up 1-0 early.
MATCH TO FORGET
Joshua Yaro cost his team a shot at a needed three points with his tackle on Shea Salinas inside the box in the final seconds Saturday night, leading to Chris Wondolowski's penalty kick.