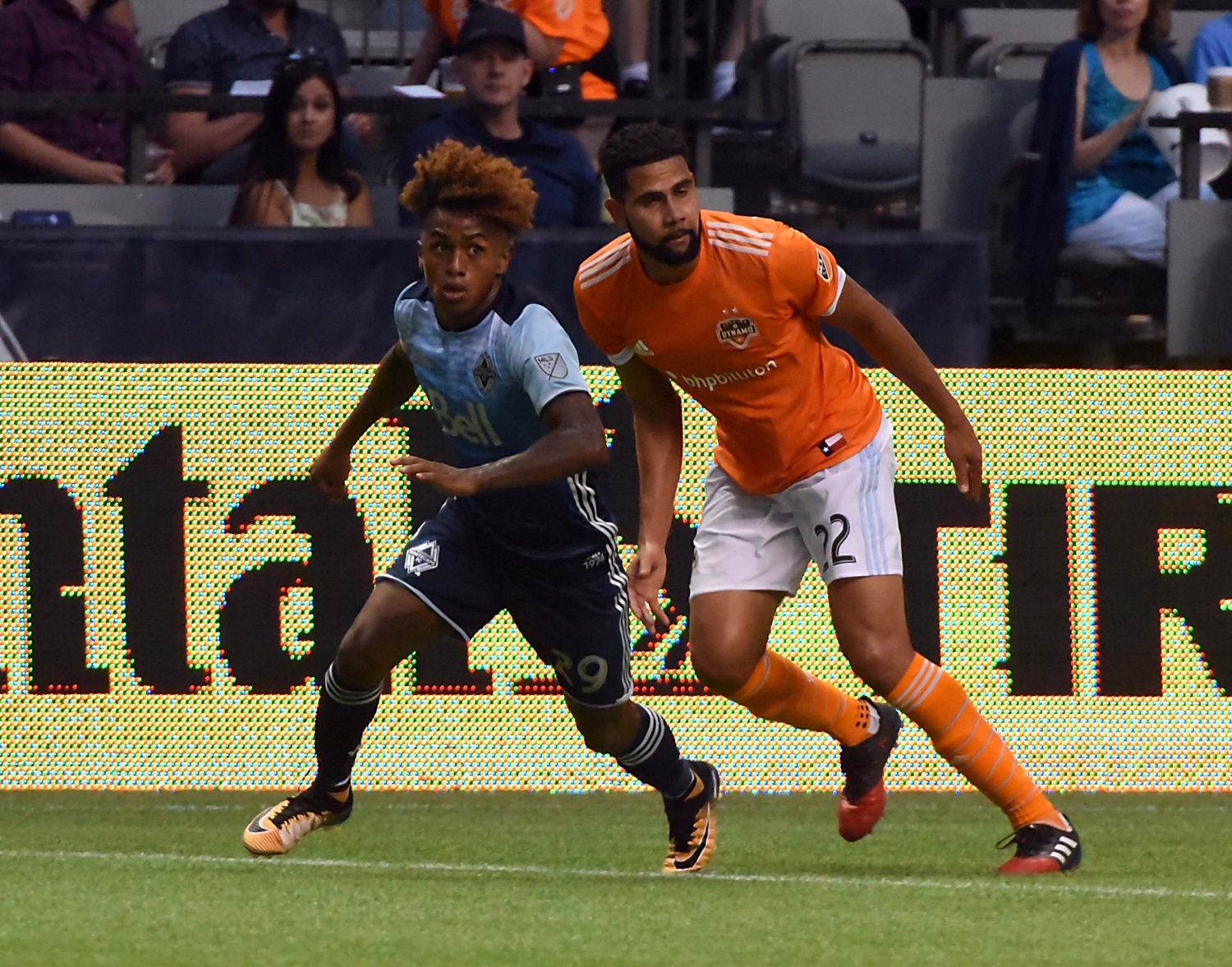 Yordi Reyna wowed the crowd inside of BC Place with a magnificent curling goal from outside of the penalty area to lead the Vancouver Whitecaps to a 2-1 victory over the Houston Dynamo at BC Place on Saturday night.
The first-year Designated Player Reyna took advantage of a lapse in concentration during a Dynamo throw-in. Fredy Montero pressured Boniek Garcia into committing the turnover and Reyna looked up and fired the shot to the far post, curling over Tyler Deric in the 32nd minute.
The winning strike capped a strong effort from the Whitecaps, pushing them back into the playoff race with the 2-1 victory. Each team approached the game with a quick attack and stout, physical defending. The physicality of the match earned a total of eight yellow cards in the match.
A Montero penalty kick opened the scoring in the 17th minute for the home side. Garcia ran into the back of Reyna just inside the box to create the penalty. Montero fooled Deric into diving the wrong way on the penalty kick, setting the tone for the match.
The Dynamo attempted to climb back into the match through quick transition play before breaking down the Whitecaps defense in the 15th minute.
Romell Quioto played a perfect give and go sequence with Mauro Manotas. Quioto continued his run into the box, latching onto a lofted pass from Manotas, and delicately chipping David Ousted.
Despite surrendering the goal, the Whitecaps looked confident and compact, keeping a truly dangerous Dynamo attack from becoming the story of the match.
The win brings the Whitecaps to 10-9-4, good enough for sixth place in the Western Conference. The Dynamo, 10-8-7, dropped to second place in the West with the loss.
Man of the Match
Yordy Reyna played the part of a pesky fly to great satisfaction for the Whitecaps fans as his stunning goal served as a game-winner.
Moment of the Match
Reyna's curling winner was a thing of beauty, and certainly a goal of the week candidate.
Match to Forget
Boniek Garcia was largely to blame for both goals the Dynamo conceded.