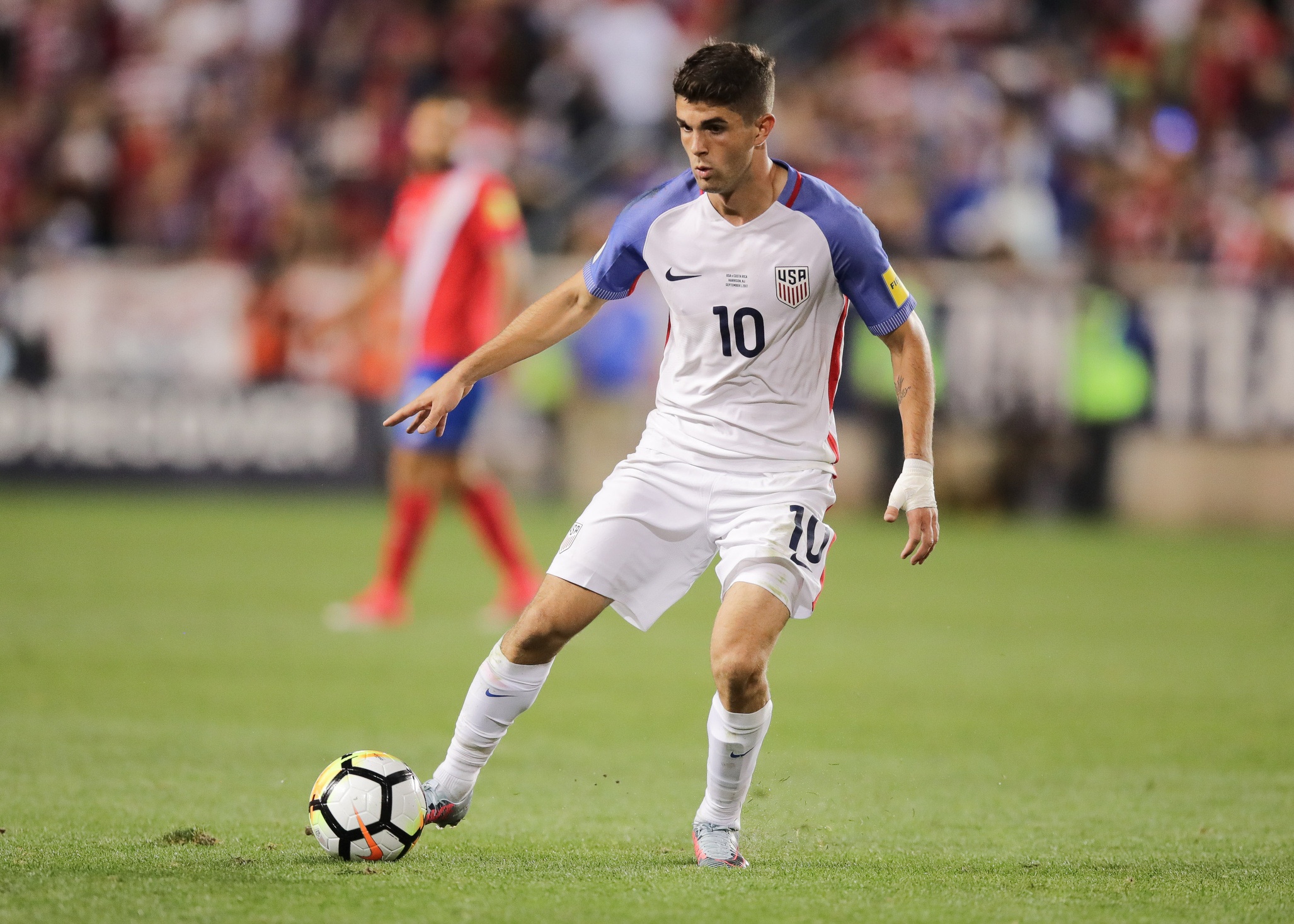 Christian Pulisic is a heck of a soccer player. He has a variety of talents at just 18 years old. He has a full complement of attacking skills and the physical tools to match, making him a handful for any defender he faces on any level.
Now, those skillsets can be used in a variety of ways. Anyone with that much talent can play in multiple ways within multiple styles or formations. The question remains, though, just where Pulisic best fits with the U.S. Men's National Team as its currently built.
On the club level, there's little doubt of what Pulisic's position and role within that position is. He's a winger, and he's charged with using his speed and technique to create havoc. He does so regularly, beating defenders with some combination of pace and skill to either get towards the end line or dart centrally to open up doors for star forward Pierre-Emerick Aubameyang. Within that team and its system, Pulisic's role is clear and his skillset fits it perfectly.
Friday's match against Costa Rica saw Pulisic cast as a winger for the USMNT as part of a 4-4-2. However, aside from one moment of brilliance down the right, Pulisic was largely ineffective.
Now, there are a variety of reasons behind that, and the biggest one is probably the fact that Costa Rica is really, really good. Pulisic was consistently doubled and consistently herded into numbers. Pulisic is very talented, but skill can't overcome numbers in that way.
The other factor? The formation. With Borussia Dortmund, Pulisic plays as part of a 4-3-3. In that set, he has room to cut in without bumping into the space maintained by his forward. In the 4-4-2, that area is a bit more clogged by Costa Rica's five-at-the-back set. There are a lot of bodies in the mix there, and those bodies strangled Pulisic and the USMNT attack.
Now, Pulisic has also been played as more of a No. 10 with the USMNT, and it's a position that probably maximizes his influence. Influence, though, is much different than talents. He'll be on the ball more with more chances to do something special, but it's not the spot at which his skillset fits most. It's a decision of quantity vs. quality, in some ways.
Back in March against Honduras, Pulisic played more centrally, and the USMNT was much better for it. With Jozy Altidore holding up play, Pulisic was free to dart inside the central gaps. As a result, he combined masterfully with Clint Dempsey, scoring a goal while assisting two more.
A recent Goal USA story took a look at Pulisic's role as No. 10. Like predecessors like Landon Donovan, Claudio Reyna and Tab Ramos, Pulisic may be cast in the position, even if its not his best natural fit.
That gives Bruce Arena a decision. Do you utilize Pulisic as a No. 10 once again given what we've seen from him against this very same Honduras team? Or does Arena opt to use someone like Dempsey centrally while keeping Pulisic in a more natural wing position?
Against Honduras, the former might just be the right choice, even if Altidore's suspension complicates plans. Playing as a No. 10 will put more defensive responsibilities on Pulisic's shoulders at times, but it also gets him on the ball, and the USMNT is dangerous with the ball at Pulisic's feet. You can't afford to have Pulisic trapped out wide in a match this important, especially with the U.S. missing a key central piece.
Regardless of where he plays, the USMNT will need a better effort from Pulisic, and the rest of the attacking group, on Tuesday.