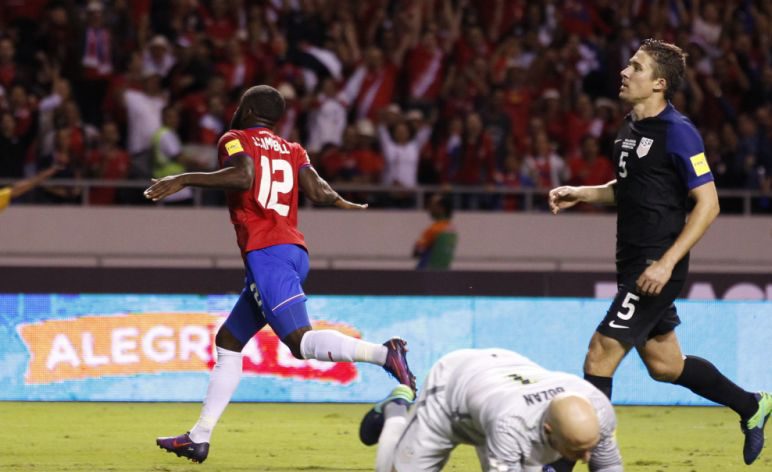 The last time the U.S. Men's national team met Costa Rica in a World Cup qualifier, they lost 4-0 after dropping a home match to Mexico to open up the Hexagonal last November. The team's head coach and technical director, Jurgen Klinsmann, was subsequently fired after the aforementioned poor results and general dissatisfaction from his five-year tenure as the coach.
Ten months later, the USMNT could not be further removed from that state of disarray. The team has gone undefeated all year, a stretch of 14 matches and a run that includes a victory in this summer's CONCACAF Gold Cup. Additionally, the U.S. has corrected their abysmal start to the Hexagonal, from dead last after two matches to now sitting in third place with four matches to play.
"I wouldn't say that we spend a whole lot of time thinking about that game," Michael Bradley said before the team's training session at Red Bull Arena on Thursday. "It feels like a very long time ago."
The main difference between the U.S. team of November 2016 and the current one has to be the coach, as Bruce Arena has returned to his old post after a decade away. As Tim Howard puts it, he's given "new life" to the national team.
"It's a new voice, [a] new coaching staff, and I think that for a team that's always good, particularly national teams, … they need to be given fire," the goalkeeper said. "I think we've rewarded him with the results we've gotten. He's also given us a heck of a lot in return."
Something Arena has given the U.S. team is confidence heading into the final stretch of World Cup qualifying. Arena credits some of the success in his second stint as national team coach to the fact that the rosters have not been dramatically different over the calendar year, other than the group he brought to the Gold Cup. 
The head coach also added that he has not gotten comfortable, despite the results getting better, but the squad continuity helps.
"All the players that are on our roster have been with us this year, so I think it makes it easier for us to transition the team into these two games," he said.
"Having our group together for a long period of time in 2017 makes it easier to prepare and we understand each other," he continued. "The week is a lot smoother than it may have been in March when we started [with] the games against Honduras and Panama."
Though preparation has gotten easier, qualifying for the World Cup has not gotten easier for Arena with each passing match.
Regardless, with the U.S. still very much in contention finish in one of the top three spots at the end of the Hexagonal, ensuring automatic qualification to the World Cup, Arena has done his job thus far.