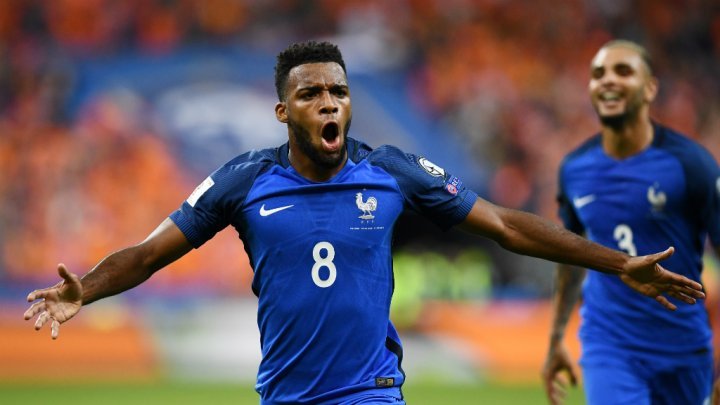 In the must-watch match of the day in UEFA World Cup Qualifying, France jumped back into top spot in Group A after pummeling the Netherlands 4-0 in Paris. A second-half brace from Monaco's Thomas Lemar sparked a second-half rout of Holland at the Stade De France. Antoine Griezmann's 14th-minute finish gave the French a 1-0 lead which they took into halftime. The Dutch were reduced to 10-men after Kevin Strootman saw a second yellow card after the hour mark.
Lemar's 73rd-minute strike added to the French lead, before the midfielder netted his second on a French fast break. Kylian Mbappe added insult to injury in stoppage time, dancing his way past several Dutch defenders and slotting past Jasper Cillessen. The Netherlands suffered their third defeat in qualifying, while France bounced back from a June loss to Sweden.
Elsewhere in Europe, Sweden suffered a disappointing road defeat in Bulgaria, while Belgium routed Gibraltar. Cristiano Ronaldo's hat trick propelled Portugal to a convincing home win, while Bosnia-Herzegovina blew a 2-0 lead in a defeat in Cyprus.
Here is a rundown of all Thursday's World Cup Qualifying action:
GROUP A
Sweden missed a huge chance to remain atop Group A, falling 3-2 in Bulgaria on Thursday. The Bulgarians used goals from three different goalscorers, to bounce back from a June defeat in Belarus. Stanislav Manolev's 12th-minute header opened the scoring from Sofia, giving Bulgaria a 1-0 lead. Emil Forsberg's 16th-minute penalty kick was saved by Plamen Iliev, which kept the hosts ahead. Mikael Lustig leveled the score after 29 minutes, before Georgi Kostandinov headed the hosts back in front four minutes later. Marcus Berg headed home Lustig's cross prior to halftime, making it 2-2. Ivaylo Chochev scored the winner for Bulgaria after 79 minutes, slotting home from outside the box. Iliev made six saves in the victory, which pulls Bulgaria to a point behind the second-place Swedes.
Luxembourg earned their first victory of qualifying, edging Belarus at home, 1-0. Following a scoreless first half, the hosts received a 60th-minute winner from Daniel Alves Da Mota, whose right-footed finish proved to be the difference. Belarus recorded three shots on goal, but ultimately fell for the fourth time in qualifying.
1. France | 16 points | 5-1-1 | 15 goals scored | 5 goals allowed
2. Sweden | 13 points | 4-2-1 | 14 goals scored | 7 goals allowed
3. Bulgaria | 12 points | 4-3-0| 12 goals scored | 14 goals allowed
4. Netherlands | 10 points | 3-3-1 | 13 goals scored | 10 goals allowed
5. Belarus | 5 points | 1-4-2 | 4 goals scored | 12 goals allowed
6. Luxembourg | 4 points | 1-5-1 | 7 goals scored | 17 goals allowed
GROUP B
Switzerland remains perfect in World Cup Qualifying, defeating Andorra 3-0 in St. Gallen. A brace from Haris Seferovic sparked the Swiss to an important win to remain atop Group B. The Benfica man headed the hosts in front after 43 minutes, finishing Xherdan Shaqiri's assist to the high center of the goal. Seferovic added to the lead after the hour mark, before Stephan Lichtsteiner headed in a third goal for Switzerland. Andorra was held to one shot on goal, and suffered their fifth loss of qualifying.
Portugal used a hat trick from Cristiano Ronaldo to rout the Faroe Islands 5-1 in Porto. Ronaldo opened the scoring after three minutes, finishing Bernardo Silva's assist to the top right corner. Ronaldo added to the lead after 29 minutes, scoring from the penalty spot. However, the hosts pulled one back before halftime in the form of Rogvi Baldvinsson, who rifled home from inside the box. William Carvalho's 58th-minute header made it 3-1 Portugal, before Ronaldo capped his hat trick six minutes later with a calm finish. Nelson Oliviera added an insurance strike from close range to cap the final score at 5-1. In the win, Ronaldo passed another legend, Pele on the all-time international scoring chart taking his tally to 78 international goals.
Hungary bounced back from two consecutive qualifying defeats, defeating last-place Latvia 3-1 in Budapest.  A fifth-minute header from Tamas Kadar opened the scoring for the Hungarians, finishing Roland Varga's assist. Adam Szalai added to the lead after 26 minutes, finishing from close range. Latvia pulled a goal back before halftime in the form of Gints Freimanis, whose right-footed effort beat Peter Gulacsi to the center of the goal. Balazs Dzsudzsak's wonderful 68th-minute free kick put an exclamation point on Hungary's third victory of World Cup Qualifying.
1. Switzerland | 21 points | 7-0-0 | 15 goals scored | 3 goals allowed
2. Portugal | 18 points | 6-1-0 | 27 goals scored | 4 goals allowed
3. Hungary | 10 points | 3-3-1 | 11 goals scored | 8 goals allowed
4. Faroe Islands | 5 points | 1-4-2 | 3 goals scored | 15 goals allowed
5. Andorra | 4 points | 1-5-1 | 2 goals scored | 16 goals allowed
6. Latvia | 3 points | 1-6-0 | 3 goals scored | 15 goals allowed
GROUP H
10-man Belgium remained unbeaten in qualifying, routing 10-men Gibraltar 9-0 in Liege. Romelu Lukaku and Thomas Meunier each scored hat tricks, while the goal of the match went to Axel Witsel. Dries Mertens opened the scoring after 15 minutes, before Meunier scored his first three minutes later. Lukaku's 21st-minute header extended the lead to 3-0 before Witsel's bicycle kick added to the lead after 27 minutes. Lukaku scored his second after 38 minutes, before Witsel was sent off for a foul on Jamie Bosio. Eden Hazard made it 6-0 from close range in first-half stoppage time. Meunier's second came on the hour mark, before the PSG wingback capped his hat trick after 67 minutes. Gibraltar was reduced to 10 men after 82 minutes after Erin Barnett fouled Kevin De Bruyne inside the box. Lukaku slotted in Belgium's ninth from the penalty spot, capping his hat trick. Gibraltar keeper Deren Ibrahim made 11 saves in the lopsided affair, as the visitors remained winless.
Cyprus fought their way back from a 2-0 deficit to defeat Bosnia-Herzegovina 3-1 in Nicosia. Toni Sunjic opened the scoring for Bosnia after 32 minutes, before Edin Visca added to the lead prior to halftime. Demetris Christofi's right-footed finish pulled Cyprus back to within one, before Vincent Labin made it 2-2 after 67 minutes. Pieros Sotiriou scored the winning goal for Cyprus after 76 minutes, finishing Jason Demetriou's assist inside the box. Cyprus are unbeaten in their last four qualifiers, while Bosnia are winless in their last two.
Hosts Greece were held to a point in a 0-0 draw against Estonia. The hosts outshot Estonia 10-to-1, but only had four shots on goal to show from it. Estonia showed a lot of determination on the defensive end, frustrating Greece for most of the match. Estonia earned their second draw in their last three qualifiers, while Greece have drawn their last four matches.
1. Belgium | 19 points | 6-0-1 | 33 goals scored | 2 goals allowed
2. Greece | 13 points | 3-0-4 | 10 goals scored | 3 goals allowed
3. Bosnia-Herzegovina | 11 points | 3-2-2 | 15 goals scored | 8 goals allowed
4. Cyprus | 10 points | 3-3-1 | 8 goals scored | 11 goals allowed
5. Estonia | 5 points | 1-4-2 | 5 goals scored | 17 goals allowed
6. Gibraltar | 0 points | 0-0-7 | 3 goals scored | 33 goals allowed