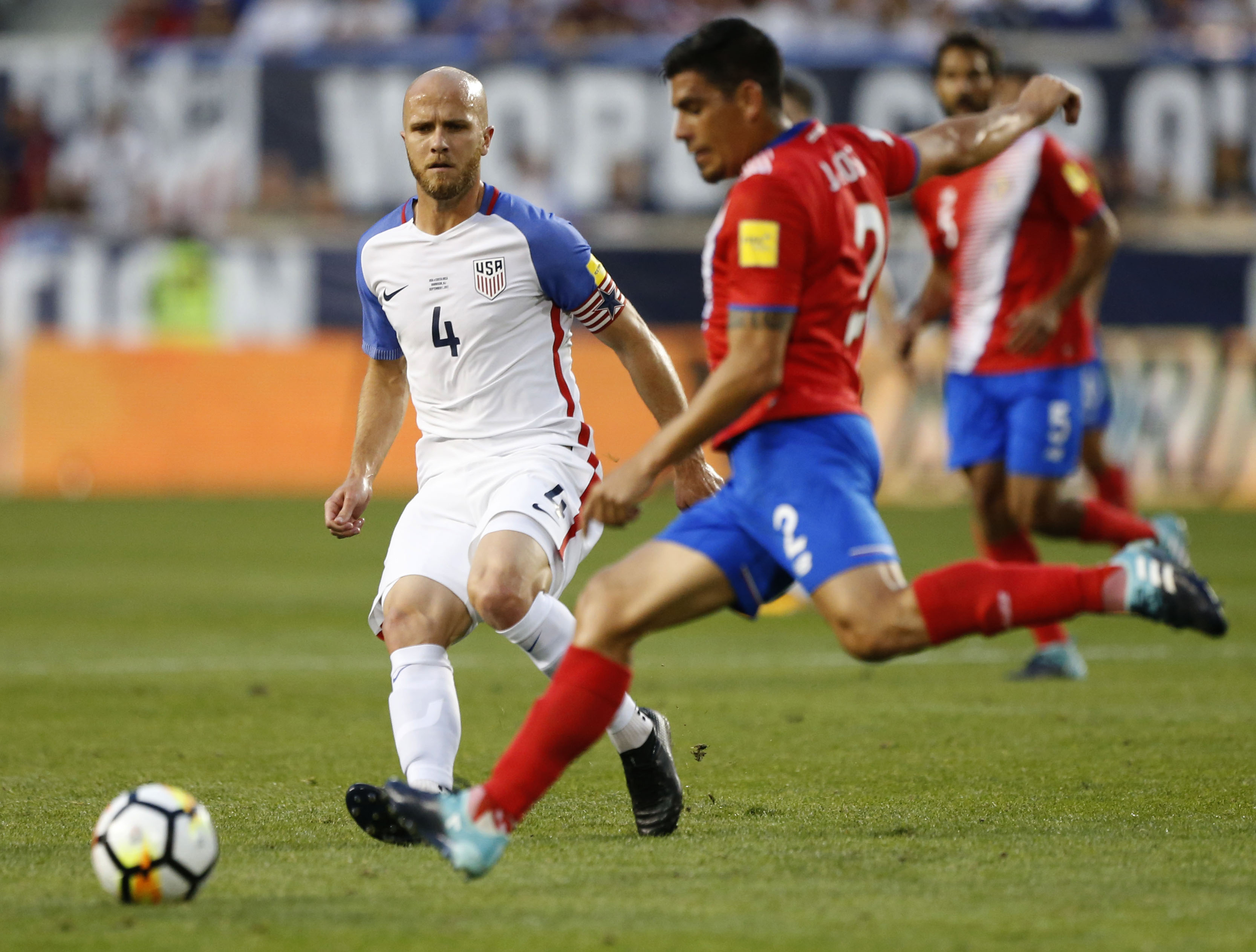 Bruce Arena and the U.S. Men's National Team knew the stakes of Friday's match. A win would all but put the USMNT on the road to Russia. A loss? Well, that would change the perception and certainly bring in a whole new line of questioning.
"We know that all hell breaks loose when you lose a game," Arena said on Thursday ahead of the World Cup qualifier against Costa Rica. "All of the critics come out and that's part of it. That's why we compete and we know that when we sign up for this stuff."
Well, Friday's match wasn't quite hell breaking loose for the USMNT, but it felt pretty close to it.
The USMNT's first loss of 2017 came on Friday night at Red Bull Arena as Costa Rica completed a qualifying sweep with a 2-0 win. It was a USMNT performance devoid of energy. It was an effort devoid of focus. Most importantly, it was a result devoid of points, and that's the worst part of it all.
Is the U.S. done? No. Are they in trouble? Probably not. The USMNT's fate is still very much in its own hands with three games remaining in the qualifying cycle. Wins cure all, and Friday's match may just be a late blip in a year where there hadn't been any prior. However, it certainly did seem like a gut punch, one which adds a bit more doubt to the qualifying picture.
"Qualifying has been in jeopardy for most teams," Arena said after Friday's loss. "Right now, Mexico and Costa Rica are, I would think, I don't know the math, probably qualified. It's going to be a battle among the remaining four teams.
"You hate to look at one game and not look at the whole," he added. "Tonight was not our night. We didn't play well. We still have three games left in the competition… We're still in position to qualify for the World Cup."
As things stand, that statement is true, yes. Mexico's win over Panama keeps Los Canaleros on the outside looking in and one point adrift of the USMNT. Honduras took care of business against Trinidad & Tobago, but the USMNT still edges Los Catrachos by a whopping eight goals when it comes to goal differential. The USMNT maintained a hold on third place, albeit a very loose hold.
However, things get a little more nervy from this point forward. The upcoming trip to Honduras takes on a whole new significance given the stakes that are now very, very real. Matches against Honduras and Panama remain on the horizon, and they're suddenly much more important.
Getting points is paramount. The USMNT has already had two home slip-ups in World Cup qualifying, and they can't afford any more whether on the road or in the U.S.
Before, a road point in Honduras would have been just fine, but with two teams lurking, the USMNT needs every point available if they are to assemble any sort of breathing room.
"I think so," Arena said when asked if the approach changes for Tuesday's trip to Honduras, "but we'll take a day to reflect on this and come up with a plan certainly by Sunday or Monday. Clearly, walking away without any points tonight is very disappointing."
"We didn't have an approach until right now because you worry about one game at a time," added Michael Bradley. "The approach is that we go down there with the mentality to win the game. We're going to be aggressive and make sure we have 11 guys on the field that are willing to give everything, and we will."
A win against Honduras would certainly ease any doubts and make the path to Russia a bit cleaner, and Los Caratchos have a difficult road to Russia with the USMNT, Costa Rica and Mexico left on the schedule. Panama's is a bit easier with the next match coming against T&T, but looming clashes against the U.S. and Costa Rica won't be easy.
The qualifying push will come down to what happens in the final two games of the cycle regardless, but the USMNT will need to help themselves if they want to keep the scenarios and percentages in their favor.
Third place would send the USMNT straight to Russia. Fourth? Well, that opens up a playoff scenario against an Asian team, one which will always be tricky regardless of who stands on the other side.
"We're not worried," Bradley said. "This is our reality at the moment. The likelihood is that it's going to go down to the wire. That can't phase anybody. That can't scare us. Costa Rica and Mexico are gone. Us and Panama and Honduras play a few games and, at the end, one will go to the World Cup, one will go the playoff and one will be out.
"We'll respond in a big way, like we always try to do," he added. "There are three games to go. Nine points still on the table. Everything still to play for…It's all still in our own hands and we're ready to go down to the wire to get ourselves into the World Cup."